Many terrorism victims left out of Afghan assets plan
By
Special to Stars and Stripes
April 13, 2022
---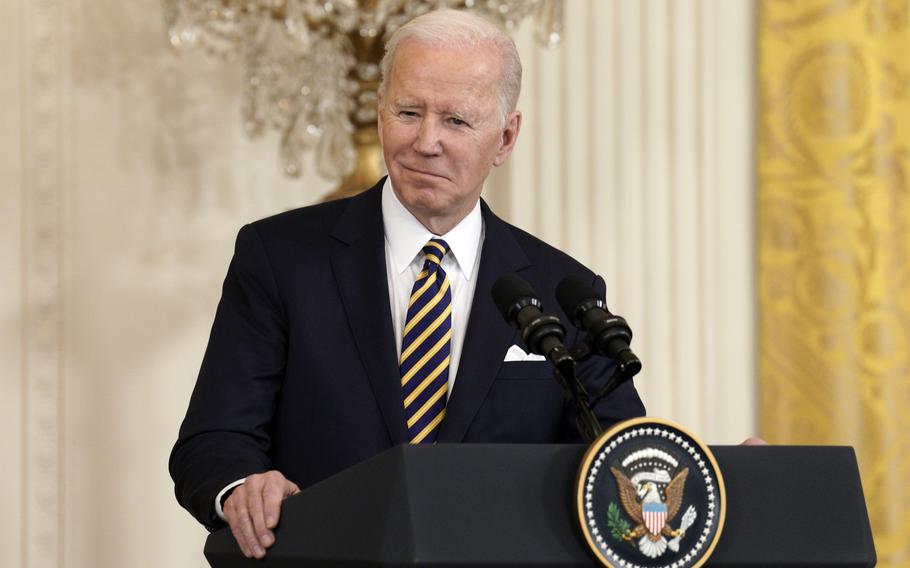 In February, President Joe Biden rightfully seized nearly $7 billion worth of Afghanistan assets. Wrongfully, however, he has designated fully one-half of it to go to only about 150 victims of the horrific Sept. 11, 2001, attacks and their lawyers, who are in for 33% of the total.
The president's executive order excludes all other victims of terrorism, living throughout the United States, many of whom are veterans or families of veterans who were killed by terrorist attacks, including those who guarded embassies or served on ships. This should not stand, and it is easily rectified.
I believe that elected officials have a special responsibility to support uniformed Americans and this community should be a priority during high-stakes policy making processes. That is why I am so disappointed with Biden's February executive order regarding the distribution of seized Afghan funds — a decision that shortchanges many of America's heroic veterans, and creates a dangerous precedent.
As a veteran, a son of a veteran, and a father of a veteran, and former secretary of Veterans Affairs, I have seen firsthand how service members and their families have suffered. Tours of military bases in Afghanistan and Iraq, and my own tours of duty in Vietnam, affirm my commitment to the needs of the military and their families who have sacrificed so much.
Unfortunately, Biden's order sorely misses the mark in this regard. While the president has been a committed supporter of the armed forces and our veterans, he erred in writing the language in such a way that only a select few and their families would benefit, at the exclusion of other victims. He has also created a legal crisis in which military victims are forced to go to the courthouse against one another.
This situation is regrettable but also correctable. Biden can rectify it by simply following an existing congressionally crafted law to support military and nonmilitary members alike by directing these funds into the U.S. Victims of State Sponsored Terrorism (USVSST) Fund to ensure that all victims of terror, military and civilian, benefit equally.
The history of the fund is noble — and a reflection of how a bipartisan spirit can work. In response to the tragic terrorist attack on 9/11, Congress correctly provided taxpayer support to the victims to alleviate their suffering. The many thousands of American terror victims who had been victimized in other attacks, however, were once again forgotten. This includes the sailors, soldiers and Marines involved in the USS Cole and U.S. Embassy bombings in Beirut, those stationed in East Africa in 1998, and others.
Democrats and Republicans in Washington, understanding that every American victim of terrorism deserves compensation for their suffering, created the USVSST Fund to fill this gap and ensure swift delivery of entitled funds regardless of when and where an incident occurred. Using money obtained by the U.S. government as a result of terrorism, the Fund distributes non-taxpayer money to all eligible victims.
This bipartisan policy is fair, equitable and effective. The Fund supports 9/11 victims, as well as uniformed Americans and their families who have not received taxpayer-funded compensation. That money is distributed to all victims through a carefully designed mechanism without the need for additional litigation or claims to money by families who have already suffered tremendous injuries or loss.
Unfortunately, the president has elected not to use this system. As various victims' groups rush to the courts to claim financial entitlements on a first-come, first-served basis, American servicemen and women who were critically injured and the families of those who were killed in the line of duty will not receive the support they deserve.
There is still time for the president to correct course, and it can be done quickly. If he does, he will be sending a loud signal to America's veterans that he has their back — and they will really appreciate it.
R. James Nicholson was secretary of the Department of Veterans Affairs from 2005 to 2007, U.S. ambassador to the Vatican from 2001 to 2005, and chairman of the Republican National Committee from 1997 to 2001. He is currently Senior Counsel at Brownstein Hyatt Farber Schreck, where he represents American victims of terrorism.
---
---
---
---