Opinion
To avoid fighting Russia, NATO must act decisively to aid Ukraine
By
Special to Stars and Stripes
March 29, 2022
---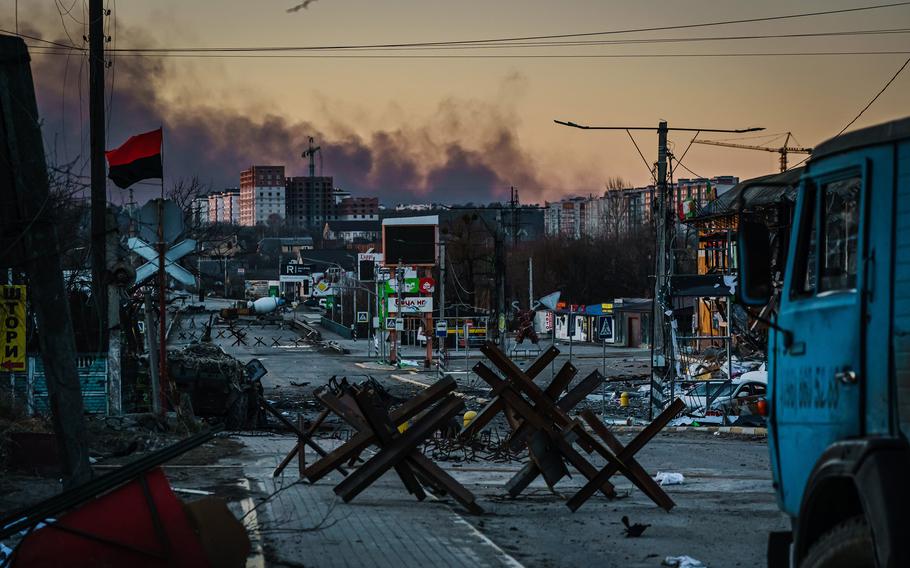 "If you know neither the enemy nor yourself, you will succumb in every battle."
Russian President Vladimir Putin, in surrounding himself with yes-men too scared to tell him the truth on the ground, created an unwinnable situation in Ukraine for his regime. Putin expected to waltz into Kyiv to fanfare and open arms. One month into a stalled invasion, the once mighty Russian army is looking more like a washed-out former boxer drunkenly waving a gun around his local bar. But like a cornered animal, even a once-great shell of a former superpower can be dangerous if pushed. President Joe Biden's recent comments are food for thought — once the war ends and Putin doesn't get exactly what he wants, what's next for him? What's next for NATO? Could this finally be the beginning of the end of Putin's tyranny?
The key takeaway from this conflict is that manpower alone is not enough to win a war: Armies of starving conscripts don't do well against battle-hardened and principled defenders, no matter how hard their commanders push them. Russian generals received practical experience on why the battle-tested World War II tactic of throwing more bodies at a problem is not effective in modern near-peer conflicts. Stories of surrender, desertion, and even fragging — the killing of officers by their enlisted men — paint a harrowing picture of the state of Russian combat readiness. 
Russia's seeming failure to achieve a swift victory comes with an important lesson in not drinking your own Kool-Aid. Russian propagandists spent decades glorifying the Soviet Union's rallying cry from World War II: victory at all costs. This mentality has directly contributed to Russia's colossal costs of victory — Russian military losses have always been higher than their Western counterparts in similar engagements, and the flagrant disregard for human life is evident in the extent of Russian losses as well as the brutality of the invasion.
War-ravaged Ukraine has thus far been able to stymie the Russian offensive — NATO estimates 7,000-15,000 Russian soldiers have been killed in action. Even Russia's far more conservative official losses of 1,300 troops over the past month paint a harrowing picture. For context, over a decade in Afghanistan, Soviet losses numbered 14,500 killed. The discrepancy in lethality of the conflict comes from the three major challenges faced by the Russian invaders in this operation: logistics, fighting spirit and technology.
Technology has played a crucial role as a force equalizer. The Russian forces are ill-equipped and underprepared for this conflict, with the quantity of troops deployed largely making up for a clear lack of quality. Russian infantry lacks encrypted communication and night fighting capabilities — things Western warfighters have long taken for granted. Russian armor, operating without sufficient infantry support or the latest defensive countermeasures, are decimated by anti-tank guided missile and Bayraktar fire when they are not abandoned without fuel in muddy fields. Unable to make new ground, the stalled invading force turned to shelling civilians. As Putin expected a quick victory, a decision to deploy older equipment without the necessary countermeasures for modern combat has come back to bite the invaders.
Bayraktars in particular have proved very effective, both in reconnaissance and ground attack roles. The Turkish-made drones have been stunningly effective in destroying enemy infantry, armor, and surface to air attack capabilities, making it difficult for the Russian air force to establish air superiority. Indeed, one month into the invasion and despite no support in this regard from Western allies, the Ukrainians somehow managed to prevent Russia's vastly larger air force from closing the skies. The cheap drones, just a fraction of a $40 million predator system, have been so effective that Ukraine has ordered an additional 40 units, equipped with Ukrainian-made engines. 
As experts have pointed out since the start of the conflict, Russia is woefully underequipped for fighting outside its territory. Russian armed forces rely heavily on rail for transporting troops and equipment — a relic of WWII, and doctrine of the type of war the Soviets have spent decades preparing to fight in. As a result, a glaring lack of logistics infrastructure has led to a shortage of fuel, food and munitions. Reports show many Russian soldiers suffer from frostbite. Some are even trading equipment for asylum. Rampant desertion has led to generals appearing on front lines to personally motivate troops — generals who are exposed to defensive fire. Russia has lost seven generals in the conflict to date, an average of one every four days. Some reports claim that so-called "barrier troops" — soldiers tasked with shooting their deserting comrades – have been deployed in Ukraine.
Ukraine has managed to turn a 72-hour invasion into a month of hell. This defensive miracle occurred with the merger of an unwavering fighting spirit and incredible technology. To prevent a larger global conflict, the West must ensure the Ukrainians can continue their fight. Ukrainian hopes and dreams alone will not repel the enemy from their land, and a victorious Putin is an emboldened Putin. Today, Ukraine is fighting not just for its own sovereignty, but for the safety of all of Europe. Give President Volodymyr Zelenskyy the tanks, MiGs and anti-ship munitions he needs to protect the peaceful lives we have all come to expect in Europe. The Ukrainian people have proven their resolve and their results. They can win this war on their own, without Western involvement, by putting the tools to work. All they need is a steady supply.
David Zaikin is a co-founder of Key Elements Group. Born in Ukraine and based in London, he is a strategic adviser to a several multinational brands, current and former leaders, and nongovernmental organizations.
---
---
---
---