Opinion
Privatized Army Lodging program creates lasting impact for service members and their families
By
Special to Stars and Stripes
March 28, 2022
---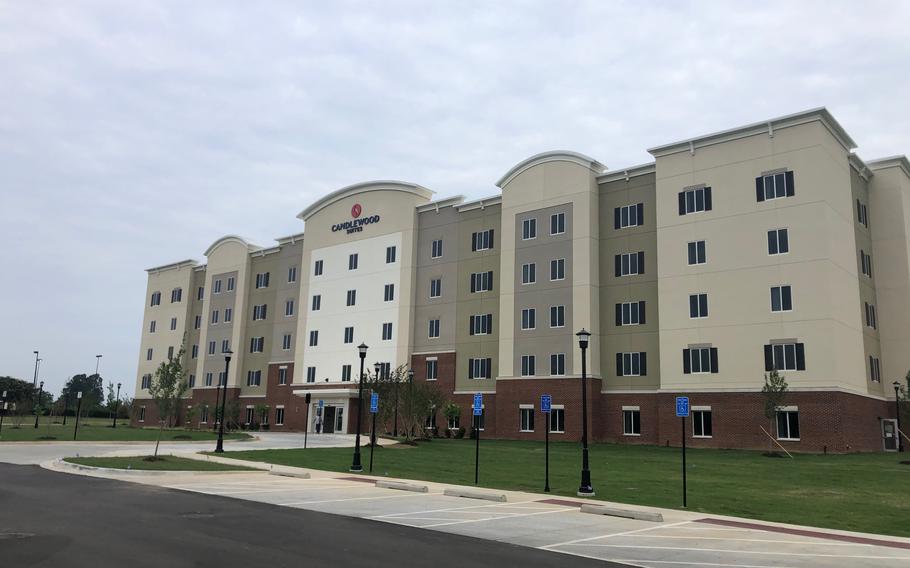 Prior to 2009, if you were a member of the military traveling with your family and looking for a hotel room on base, chances are high that you would have been in a hotel built in the 1960s that was in need of serious repair. These subpar hotel rooms, even some with shared bathrooms, would not leave you or your family feeling very appreciated for the sacrifices that you have made to serve your country.
The Department of Defense's primary focus is running the military, not operating hotels. Lodging was not their core competency, thus long-term investment via appropriated funds was minimal. By the early 2000s, the Army realized the need to exit a non-core function, the need to aggressively recapitalize and modernize hotels, and the need for a long-term sustainment plan. Over 15,000 hotel rooms were operated by the Army and of those, 80% were substandard with inventory in need of serious life safety upgrades. It was initially estimated that a whopping $1 billion was needed for repair — the current estimate is over $1.8 billion due to the hotels being in worse condition than initially assumed and the Army's desire for additional new hotels.
In 2009, Lendlease, a globally integrated real estate and investment group (where I am senior vice president and head of lodging), partnered with DOD to improve the quality of life for soldiers, their families, and all government travelers through the Privatized Army Lodging program.
With Lendlease as the owner, developer and asset manager and IHG Hotels & Resorts as the hotel operator and brand manager, PAL is a partnership between the Army and private industry. PAL leverages private sector best practices and hotel industry standards to meet the on-post lodging mission through partnership. By engaging an experienced developer and hotel partner, the PAL program improves the quality of life for service members and their families while eliminating appropriated funds for lodging.
Prior to privatization, many of the lodging facilities had been around since World War II and lacked even the most basic of necessities, including fire safety precautions. When PAL got underway, many properties were demolished and replaced with new hotels while others underwent major renovations to meet today's standards. During the first 90 days alone, there were immediate impact upgrades including deep cleaning of all facilities, upgraded bathroom components, modern flat screen TVs, new mattresses and bed linens, new signage and collateral, and improvements to amenities.
The average age of a room at an Army lodging facility prior to privatization was 42 years old, with a weighted average year of construction of 1967. Post privatization, the average age of a PAL room decreased to 29 years old, with a weighted average year of construction of 1991.
Today, benefits for guests staying at PAL hotels continue to be generous with amenities like free hot breakfast, courtesy shuttle services, swimming pools, outdoor leisure space (at select hotels), pet-friendly accommodations, weekly socials, guest internet and laundry (free of charge), business and fitness centers, central reservation services with a dedicated phone number and website. Travelers can earn loyalty points through IHG Rewards and take their family on vacation. Military spouses can work from these hotels, moving between them when their spouse is relocated.
During the first phase of Operation Allies Welcome, thousands of Afghan refugees were provided temporary lodging through the Holiday Inn Express hotel in Fort Lee, Va. Many of the family members, including children, spoke little to no English when they first stepped onto American soil. The hotel was the first impression of America to so many families — even some infants were born in the hotel or local hospital. The hotel staff at Fort Lee embraced the true meaning of customer service when "simple" tasks had to be taught to the guests — such as trash disposal, how to operate laundry machines, and the large number of children roaming throughout the hotel "shadowing" employees and practicing English using the guest room telephones. Along with learning English, families also received hundreds of donated items and necessities from numerous organizations including the Lendlease Community Fund. Just like the soldiers, sailors, airmen and Marines who worked side by side with the hotel staff, we are proud to say that we completed yet another mission for the Army.
Another example of PAL's dedication to its servicemembers was announced in July, when Lendlease and IHG Army hotels agreed to extend the offering of the Basic Allowance for Housing rate at all 40 on-base IHG Army Hotels located throughout the U.S., ensuring that service members' needs are met. This extension provides individuals and their families with temporary lodging at BAH rates until they find permanent accommodation at their new duty station.
With the help of PAL, today, there are over 12,000 hotel rooms on 40 Army installations in the U.S. with over $1.2 billion spent on construction and renovation to date. No Army funds are contributed in any way and there are no government guarantees. PAL continues to outperform on key metrics such as guest satisfaction and garrison commander feedback. All revenue stays within the PAL program and approximately 43 cents of every $1 made is reinvested toward construction and sustainment over the life of this partnership.
PAL continues to evolve with hotel industry best practices in terms of amenities and services and individuals working at these hotels have a passion for serving those who serve. Even during the pandemic when many amenities were curtailed, guests continued to report very positive experiences, with guest satisfaction scores achieving an all-time high. With a goal of improving quality of life for service members and their families, PAL continues to meet the mission of the Army's program through partnership and accomplish what it set out to do — provide military travelers and their families with a home away from home where they are truly appreciated for their service and dedication.
Gretchen Turpen is senior vice president and head of lodging for Lendlease. 
---
---
---
---