Compromising with bad actors on the world stage is hard, but vital
By
Special to Stars and Stripes
March 9, 2022
---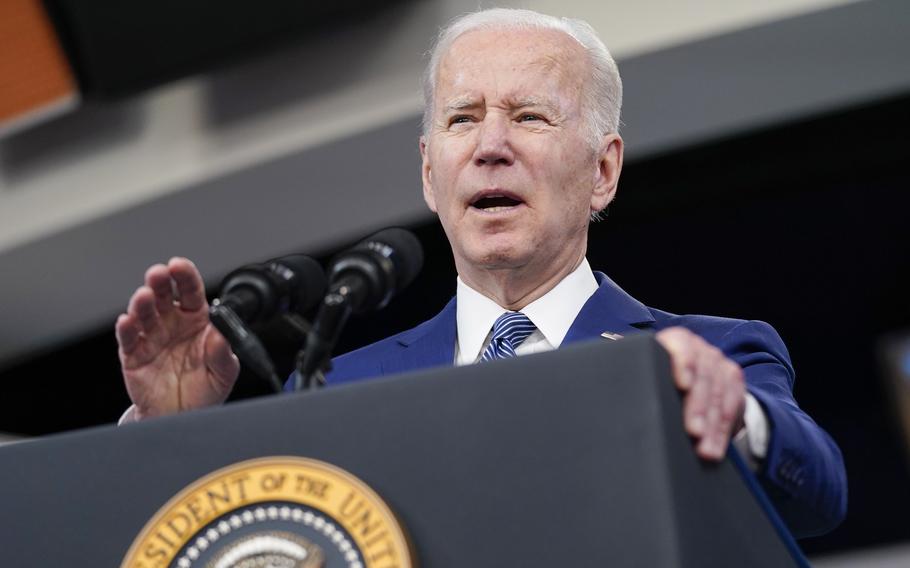 Despite their differences, Democrats and Republicans can agree on one thing: The United States has entered a period of great power competition with China and Russia. The bipartisan push to counter Chinese influence in the Indo-Pacific has been building for years. Now, in the wake of Vladimir Putin's unprovoked invasion of Ukraine, political attention will be firmly fixed on the threat posed by Moscow in Europe, too.
Competing with two powerful adversaries will be hard enough for the United States. But to successfully manage relations with Russia and China over the long term, leaders in Washington must do something even harder: They must relearn the art of meaningful compromise. In today's domestic climate, the task of finding common ground with America's adversaries will make great power competition look like the easy part.
Blending elements of competition and compromise into an effective grand strategy is challenging at the best of times. Veer too far in the direction of competition — especially in the military sphere — and leaders risk sleepwalking into unwanted and unwinnable wars with powerful foes. Lean too much on compromise, however, and a president becomes vulnerable to charges of weakness, negligence and appeasement.
As they consider how to achieve the right mix of competition and compromise today, officials in the Biden administration could do far worse than draw inspiration from two diplomatic initiatives set in motion 50 years ago under President Richard Nixon: the opening to China, and the Helsinki Accords.
In February 1972, Nixon's historic visit to China began the process of thawing relations between Washington and Beijing. It was a controversial move, drawing anger from both sides of the aisle in the United States. Rapprochement with China meant loosening ties with Taiwan, upsetting relations with Japan, and lending respectability to a regime in the midst of its murderous Cultural Revolution — all things that hardcore "Cold Warriors" found difficult to stomach.
Later that year, preliminary talks began in Europe on what would become the Helsinki Final Act. Signed in 1975 under Nixon's successor Gerald Ford, this agreement — a milestone in Cold War history — gave legal recognition to national frontiers in Eastern Europe that the Soviet Union had imposed by force at the end of World War II. Critics were incensed that all that the West got in return were nominal concessions on issues such as human rights.
On the 50th anniversary of these two events, leaders in the United States should be reminded that compromise between the world's leading states is possible even during periods of sharp international discord. Moreover, reaching such compromises — however painful at the time — can redound to the great benefit of the United States. Two lessons stand out as particularly important.
First, today's leaders should be reminded that the most important task when it comes to managing relations with Russia and China is not to prolong U.S. primacy abroad, but to prevent those two powers from aligning with one another. This was the central purpose of Nixon's opening to China: to secure a stable balance of power in Eurasia. The United States forgets this lesson at its peril. If Russia and China are able to overcome their differences today, their combined power to redraw the maps of Europe and the Indo-Pacific would be greatly enhanced. Diplomatic efforts to drive a wedge between them might seem costly today, but the costs of inaction could be much worse: a geopolitical bloc impervious to U.S. attempts at military or economic coercion.
Second, however, adroit diplomacy need not come at the expense of values such as democracy and human rights. At Helsinki, after all, Washington and its allies reached a wide-ranging compromise with the Soviet Union while still maintaining a clear commitment to human rights. Most historians now agree that the power of the West's example made a huge difference behind the Iron Curtain.
The point is that substituting patience for imperiousness can pay dividends over the long-term. Being far-sighted comes with costs but ignoring the realities of power politics is not a viable option. To advance over the long-term, ideals depend on deals.
The idea of finding a constructive modus vivendi with either Russia or China might seem badly mismatched to the current moment. Russia today is a blatant aggressor, led by an intransigent autocrat. China visits heinous abuses of human rights upon its own people.
But during the Cold War, nobody in Washington doubted that Soviet and Chinese leaders were despotic rulers of brutal regimes. Nor did America shy away from robust military deterrence. Yet those in charge of U.S. foreign policy understood that compromise was an essential part of great power politics.
Competition will remain a key element of how the United States engages with its great power rivals, but it will not be enough to sustain a solvent grand strategy for long. Sooner or later, compromise will also be in order — to rebuild the peace in Europe, to be sure, but also to preserve the peace in Asia.
America's leaders better prepare themselves for this difficult reality.
Peter Harris is an associate professor of political science at Colorado State University and non-resident fellow with Defense Priorities.
---
---
---
---