For military service members, vaccination is the law
By
Special to Stars and Stripes
March 1, 2022
---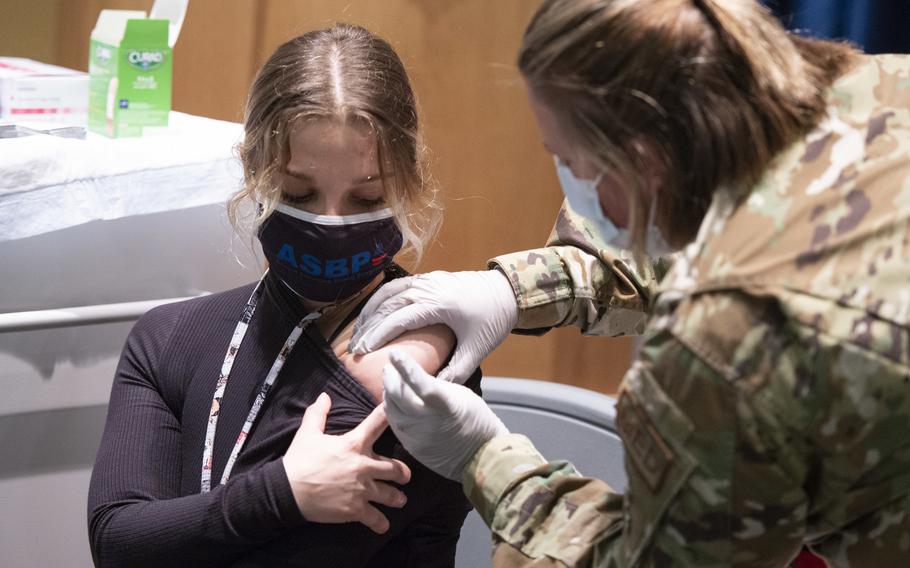 Anyone who has worn the uniform has a distinct memory of standing in a line to receive an array of mandatory vaccines. Our shoulders hurt for a while. We felt dehydrated for a day or two. And we moved on. This was simply a part of signing that dotted line and choosing to serve. In fact, like most veterans, my medical records show I received more than a dozen vaccinations, including one directly in my rear end that seriously interfered with my ability to do a pain-free situp for a few days.
I do not remember one person I served with refusing to take a vaccine. I do not remember one person I served with complaining about getting a vaccine. The military's most-recent vaccine mandate, instituted shortly after the U.S. Food and Drug Administration put its stamp of approval on the Pfizer/NioNTech COVID-19 vaccine, has changed that. Now, my law firm receives call after call from military members who want to serve and not take the vaccine. "Can they do this?" they ask. "Is it legal?" "What can I do to fight it?"
Here are the answers to these questions: Yes, they can do this. The vaccine mandate is legal because there's a direct nexus between a healthy fighting force and winning the nation's wars. You can fight it, but your chances for success are very small. Let's look at these questions in more detail.
Is the Covid vaccine legal? The short answer is yes. The first known vaccine administered to our troops was ordered by Gen. George Washington in 1777. He ordered the mandatory inoculation against smallpox for all soldiers not otherwise immunized. Why? He could not fight the British and smallpox at the same time. History has proved him correct. Disease ravaged soldiers during the Civil War, killed more soldiers than bullets in the Spanish-American War, and remains a threat to our fighting force today.
The law is clear on this issue. An order is presumed to be lawful and is disobeyed "at the peril of military members." See United States v. Nieves, 44 M.J. 96, 98 (C.A.A.F. 1996). To be held lawful, "the order must be related to military duty, which includes all activities reasonably necessary to accomplish a military mission." United States v. Moore, 58 M.J. 466, 467-468 (C.A.A.F. 2003).
Secretary of Defense Lloyd Austin and leadership from all branches of the U.S. armed forces agree: Administering the vaccine to our fighting forces is necessary to protect and defend the American people. In other words, the vaccine is necessary to accomplish the mission. While COVID-19 may go the way of the dinosaur, the vaccine is here to stay.
What can I do to fight the vaccine mandate? The most direct way to fight the vaccine mandate is by getting an exemption. The military allows two types of exemptions from immunization: medical and administrative. The medical exemption focuses on underlying health conditions unique to the vaccine candidate, or evidence of immunity based on serologic tests, documented infection or similar circumstances. The administrative exemption focuses on time in service until separation or retirement or an objection on religious grounds.
To prevail under the religious exemption, the military member must demonstrate 1) that they have a sincerely held religious belief, and 2) that the exercise of that belief will be substantially burdened by the vaccine. According to recent data released by the U.S. Army, 3,088 religious exemptions have been requested and, so far, zero have been granted. For soldiers seeking an exemption, that is, to say the least, an uphill battle.
What is going on in the federal courts? A federal judge in Georgia recently ruled that an Air Force officer who was denied a religious exemption does not have to receive the vaccine. Similarly, a federal judge in Texas held that the Navy could not punish a group of 35 Navy SEALs who claimed the religious exemption. However, these small victories, for most military members, are fool's gold. These rulings are narrowly tailored and only apply to a very small portion of the force. Moreover, the attorneys and organizations filing these lawsuits on behalf of their clients engaged in their fair share of forum-shopping to find a judge likely to rule in their favor. These victories will not last. The law supports the government, and as far as the government is concerned, the vaccine is here to stay.
It is a privilege to wear the unform and the benefits that accompany that privilege are sweet. But part of that privilege means the individual must sacrifice some of themselves to serve a higher calling; a greater purpose. The military tells us where to live, what to wear, and, ultimately, what to put in our bodies. This is the sacrifice necessary for service, and it's a sacrifice directly tied to protecting the American people. I understand that for many military members this is an incredibly hard situation, but the law is clear, and the law says if you want to serve you must take the vaccine.
Robert Capovilla is a founding partner of the law firm of Capovilla & Williams. He was an Army Judge Advocate and now focuses on military law and defending military members who are accused of misconduct.
---
---
---
---