Beyond Ukraine: Kazakhstan's stress test
By
Special to Stars and Stripes
February 23, 2022
---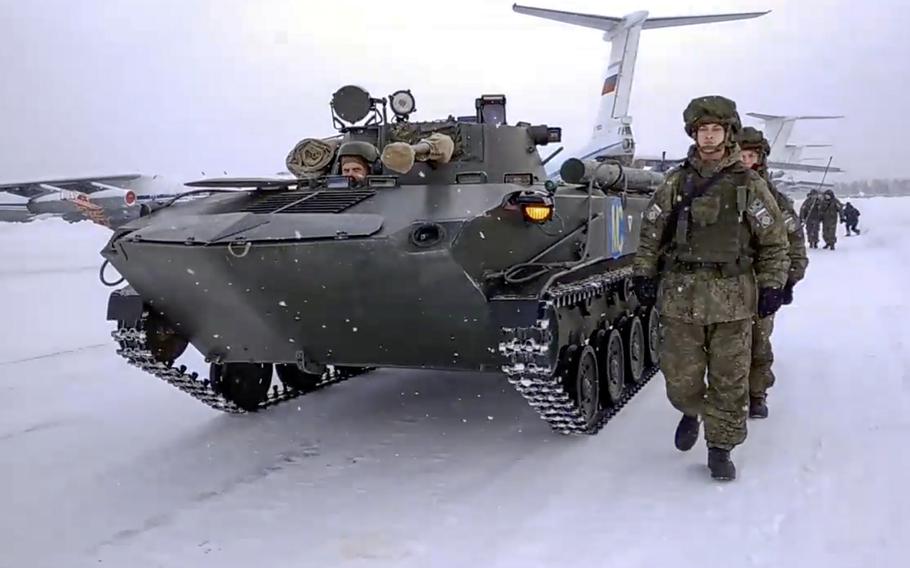 While the world is watching in horror as the Russian imperial predator is devouring Ukraine, there are other events and places in the former Soviet space that deserve Washington's attention.
More than a month has passed since protests swept across Kazakhstan, the second-largest post-Soviet state and strategic heart of Central Asia. As demonstrations erupted, many observers called the rioters either "freedom fighters" or "Islamic terrorists," yet the police and domestic security forces did little to maintain order. Today, the overall picture of the unrest, as well as country's new direction, are clearer.
After 30 years of independence and significant socioeconomic achievements, Kazakhstan's economic gap between rich and poor is widening. In 2019, discontent over income inequality was complicated by the onset of a "dual presidency," as first President Nursultan Nazarbayev shared power with his hand-picked successor Kassym-Jomart Tokayev while re­maining a constitutional leader of the nation and head of the Security Council. January events, while fueled by economic causes, immediately turned into a political clash.
Facing the security forces' ineffective response, Tokayev dismissed the Cabinet, accusing the group of his opponents -- led by National Security Service chief Karim Massimov -- of treason. He and several ex-senior security officials were arrested.
Many extremists and gangsters who for several days terrorized and vandalized the old capital and the business hub, Almaty, were reportedly part of criminal networks. Kazakhstan's domestic security forces initially failed to quell the uprisings.
The un­rest was eventually suppressed due to two factors: on the one hand, ex-president Nazarba­yev kept a low profile and later publicly supported Tokayev; on the other hand, on Jan. 7 the president invited Russian-led Collective Security Treaty Organization forces, that were deployed to strate­gic spots throughout the country. As government forces re-established control within a week, peaceke­epers swiftly returned to their homelands.
Thus the main result of the January unrest was President Tokayev quelling instability, leading Kazakhstan to pass its most serious stress test in three decades. Both in his speeches in the lower house of the Parliament and at the summit with the country's business community he argued for the elimination of monopoli­es, breaking the ties between bureaucrats and entrepreneurs, reestablishing fair competition, and opting for more economic and social justice. The state-owned in­vestment fund, "Samruk-Kazyna" and the Kazakhstan Development Bank were put under independent audit.
The government is expected to deliver a new road map for reforms in one month, and the president al­ready reached out to the expert community, encouraging it to participate in elabo­rating on the country's "new economic course." All Tokayev's speeches are reminiscent of the initiatives he voi­ced immediately after being elected president back in 2019 at the Astana Economic Forum. These policies should guide Kazakhstan into the future.
Clearly, the events of January 2022 proved that pro­found reforms are needed for allowing the country to go forward. Kazakhstan is not only a "global gas station," as some use to disparage oil producing nations, but is home to many innovative businesses. One visible success was the IPO of nati­on's most advanced bank, Kaspi, that was valued at $6.5 billion at the London Stock Exchange amid the pandemic in late 2020.
Today Kazakhstan's developmental trajectory is reminiscent of "classical" East Asian experience -- of modernizations in South Korea, Taiwan and Indo­nesia. All of these modernizations started under strong centralized regimes, and their first steps were marked by excessive concentration of wealth and a visible gap in li­ving standards.
The progress toward a liberal and democra­tic or­der went through violent clash­es associated with economic hard­ships and power change. More than 200 people were killed in May 1980 during the Gwangju pro­tests that led to partial liberalization in South Korea during the Park Chung-hee to Chun Doo-hwan transition.
In Indonesia, close to 1,200 perished in May of 1998 as nationwi­de riots led to the fall of President Suharto and his replacement by B.J. Habibie's government. In both cases, the changes accelerated economic growth, and finally paved the way to a democratization that arrived to South Ko­rea in 1987, and to Indonesia in 2004.
The average timespan between radical protests and transi­tion to democracy in these countries ranged from six to eight years, which happens to match that of Tokayev's tenure (he has already promised to obey the Constitution and serve not more than two terms).
Western nations should welcome and support Kazakhstan's current transition. Tokayev needs to be seen not as Rus­sia's (or China's) "puppet" but as a leader who will foster the reforms ini­tiated under Nazarbayev and would lead his country into the future with working markets and elected institutions.
The Western world has a vital need for a friend and ally in the region that borders both Russia and China. Some policymakers in the United States seem to understand this better than others. In the bipartisan America COMPETES Act which passed the House on Feb. 4, Central Asia is specifically mentioned as a strategically critical region that should be courted as a buffer to China and Russia. Lawmakers called on the Biden administration to come up with a new Central Asian regional strategy.
Central Asia is also surrounded by nuclear states India and Pakistan, and the nuclear aspirant Iran. Kazakhstan -- one shouldn't forget -- also faces the challenges of militant Islam, including in Afghanistan, that poses formidable threat for both Europe's and America's security.
The West possesses a huge transformative power in the region -- not only because of its multi-billion investment into Kazakhstan's economy, but also since the region is seen as a necessary counterbalance to both neighboring superpowers. Today, western companies' and governments' engagement in Kazakhstan could be considered a priceless asset shaping the fu­ture of this emerging nation -- and the West should not miss a historic chance for securing and protecting its foothold in the most dynamic and geopo­litically crucial part of the post-Soviet realm.
Vladislav Inozemtsev is special adviser to MEMRI's Russian Media Studies Project in Washington and director of the Center for Post-Industrial Studies in Moscow.
---
---
---
---