Return-to-office decrees should wait a few more weeks
By
Bloomberg Opinion
January 31, 2022
---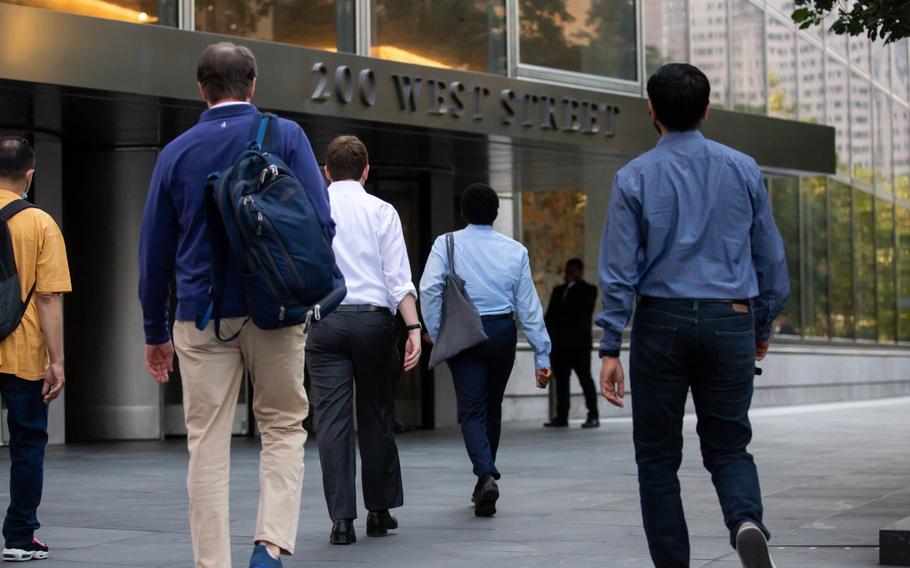 Stars and Stripes is making stories on the coronavirus pandemic available free of charge. See more stories here. Sign up for our daily coronavirus newsletter here. Please support our journalism with a subscription.
Last summer's back-to-the-office push ran into a delta-shaped speed bump. Then omicron threw up a concrete wall. With daily COVID-19 infection rates again falling, some companies are reissuing RTO deadlines. Employees of Citigroup, Credit Suisse, BNP Paribas, Goldman Sachs and JPMorgan Chase are among those who've been asked to return in early February, at least in New York City.
There's a case to be made that these sweeping decrees are premature.
As the world shifts, if it can, from pandemic to endemic COVID-19 — from emergency footing to mere vigilance — various people and sectors of society will move forward at varying rates. This is especially true in the U.S., where COVID rules have been inconsistent and regional, and COVID risks have been unequally distributed.
For many people, getting COVID, even without symptoms, is still something very much to avoid. While vaccines protect against severe disease, they don't prevent infection. And positive tests can undermine anyone's best-laid plans.
Someone with COVID and a child in day care needs to keep their child home and quarantine. Someone awaiting a medical procedure — anything from an eye exam to a root canal — will see their appointment canceled.
Is going back to the office worth missing the endodontist or losing day care? Not if the only benefit is chatting with coworkers about the local football team. A meeting with a major client is something else. Employees can be trusted to know the difference.
Infection rates, though dropping, remain extremely high. Nearly 2,000 people are dying every day. Some 150,000 people remain hospitalized across the U.S., and many hospitals are still at capacity. "Right now it's as bad as it's ever been," Jeff Pothof, an emergency medicine doctor in Wisconsin, told NPR. Or as Lisa Abbott, a Rhode Island health system executive, told Bloomberg News, "Omicron is the accelerant on the dumpster fire."
Many businesses and organizations without the luxury of remote work are experiencing staff shortages. Those whose employees can work without coming into a physical office should consider themselves lucky.
Some managers argue that remote work doesn't work well. But then why, after two years of COVID, aren't more knowledge-work companies going out of business? It's true that patent applications took a dip in 2020, but analysts ascribe that to uncertainty about the future of the pandemic, not a loss of innovation. More recently, patent applications in technology have surged, and entrepreneurship is up — new business starts also soared in 2020 and 2021. And the documented downsides to remote work — primarily loneliness and a lack of work-life balance — are not easily disentangled from the pandemic itself.
I understand that the bosses who want workers to return are frustrated. Most white-collar workers are vaccinated, and everyone wants normal life back. The end of the pandemic seems to always keep receding. But as my colleague Justin Fox has said, the end might be coming soon.
Workers won't avoid the office forever. People need to connect with one another. Even if hard data supporting face time are lacking, there are less-tangible benefits to in-person work. Mentoring and motivating are easier in person, and managing people is less time-consuming.
Over the next month, cases will drop further and, with them, certain rules and restrictions. A positive COVID test may no longer mean forgoing child care or a medical appointment. While hospitalizations stay elevated, going to the office — or to a restaurant or gym — is still a question of risk and reward.
Employers who insist on vetting individual employees' requests for forbearance will find themselves weighing one staffer's knee surgery against another's immunocompromised mother. Offering employees some autonomy over when they come into the office, as Columbia University professor Adam Galinsky has observed, would be "a surprisingly straightforward way to calm (at least partially) the frazzled nerves wrought by COVID and its many variants."
For at least a few more weeks, employers should give workers more choice about whether to return to their desks.
Sarah Green Carmichael is an editor with Bloomberg Opinion. She was previously managing editor of ideas and commentary at Barron's, and an executive editor at Harvard Business Review. This column does not necessarily reflect the opinion of the editorial board or Bloomberg LP and its owners.
---
---
---
---