A turning point for sexual assault in the military
by
Rep. Jackie Speier
Special to Stars and Stripes
December 23, 2021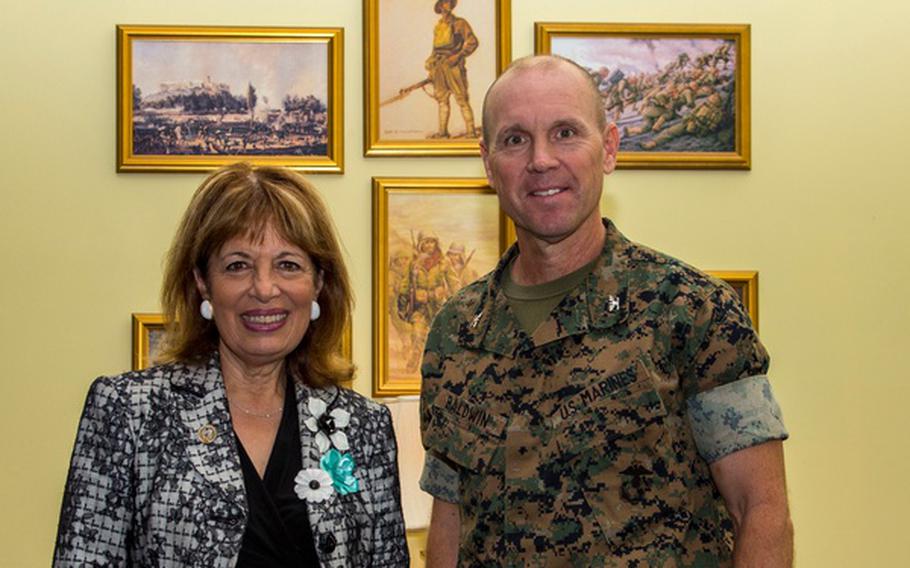 On Nov. 17, 2011, I introduced the first bill taking sexual assault out of the chain of command. I was jeered by military brass and Democrats and Republicans alike, told the cries of survivors would never be heard, and watched as Congress threw money at the problem instead of pursuing meaningful reforms. President Joe Biden soon will honor his commitment to survivors by signing into law historic legislation taking sexual assault, domestic violence, stalking and other serious crimes out of the chain of command and to trained, independent prosecutors.
For those who want to throw water on this transformational change, ask Mayra Guillén, the sister of murdered Army Spc. Vanessa Guillén, who said she can finally "have some peace tonight." Ask the 20,000 servicemembers a year who are sexually assaulted. Ask the more than 100,000 servicemembers who are sexually harassed each year. This change is seismic. It's also not perfect, and there's more that we can and must do. But I refuse to subscribe to a narrative that trashes these reforms for survivors because not every nonmilitary crime, like arson and robbery, have been moved from the chain of command.
Survivors and advocates remember how this movement started and what it has sought to overcome. From Day One, it's been clear to them that the commander's role was a major conflict of interest. Commanders, to whom the alleged perpetrator reported, almost always have a relationship and history with the accused. Their involvement in charging servicemembers who report to them creates distrust among victims, many of whom wonder if their cases are taken seriously. In fact, it is the victims who typically face scrutiny and discipline, discouraging reporting. My first bill went nowhere — it was widely opposed by the generals, the Defense Department civilian leadership, and my congressional colleagues of both parties. But then came the brutal murder and dismemberment of Vanessa Guillén and a groundbreaking #IAmVanessaGuillén movement that Congress could no longer ignore.
What changed? First, we must understand what didn't change. The Defense Department surveys that show about 20,000 servicemembers are sexually assaulted every year have remained relatively constant over the past decade despite spending about $2 billion of taxpayer money on myriad programs. Because the DOD and Congress did not address the largest reason for failure to report and failure to hold assailants accountable, the problem has continued and the cancer of sexual harassment and assault has been allowed to spread.
Guillén's slaying has come to represent the epic failure of this policy. She was sexually harassed by her supervisor, a senior noncommissioned officer. Despite knowing about it, her leadership failed to lift a finger. No investigation, no accountability, no justice. And then Guillén was attacked by a fellow servicemember and killed on base. A lot went wrong in the Guillén case, from hapless criminal investigators to a Kafkaesque policy (since replaced) on missing servicemembers. But the core issue — the fear of not being believed when subject to sexual violence, and of leadership not taking any action — represents why the military has made lackluster progress in combating this insidious insider threat.
The reforms in this year's defense bill require that experienced military prosecutors decide whether to charge sex offense cases — as well as murder, manslaughter, kidnapping and certain other offenses — and send them to trial. Importantly, these prosecutors — who will be known as Special Trial Counsel — will report to the secretaries of the Army, Navy and Air Force, who are Senate-confirmed civilians. No military commander has authority over them or can influence their decisions. Commanders will no longer have a say in whether and how these cases are prosecuted. Commanders do not now pick the judge, the final jurors or the witnesses, and that won't change under the House and Senate National Defense Authorization Act agreement. Servicemembers will know that their case is being handled by a trained, independent lawyer and can be confident that they are being taken seriously without interference from their, or their perpetrator's, leadership.
Simply put, these reforms will work because they will enable and empower professionals to do their jobs. Survivors' confidence in the integrity of the military justice system is paramount to success, and these reforms assure that integrity.
Clearly there is more to be done. The next step is to take sexual harassment — which with this bill is now a standalone military crime — out of the chain of command as well. We know that sexual harassment cases are often very challenging and can be a gateway to assault. I've long fought for all nonmilitary-specific felonies to be moved under the independent prosecutor's authority, and will continue to do so. Just as importantly, we must continue to improve investigations. That means better-trained investigators with more experience, including those who investigate sexual harassment. We must recognize that most disciplinary issues in the military are handled without a trial, with approaches like nonjudicial punishment. And we must ensure that these processes treat servicemembers fairly and do not contribute to gender and racial disparities.
Finally, we are building a military justice system that is worthy of survivors' service. We are rising to the occasion to deliver what Vanessa Guillén and so many others who came before her deserved. We are working to ensure the only threat servicemembers are focused on is outside the wire, not within.
Rep. Jackie Speier, a California Democrat, is chair of the House Armed Services Military Personnel Committee and author of the I Am Vanessa Guillén Act and Vanessa Guillén Military Justice Improvement and Increasing Prevention Act.
---
---
---
---