Opinion
'Wings of Gold': The female naval aviators who fought for combat flight equality
by
James G. Zumwalt
Special to Stars and Stripes
October 27, 2021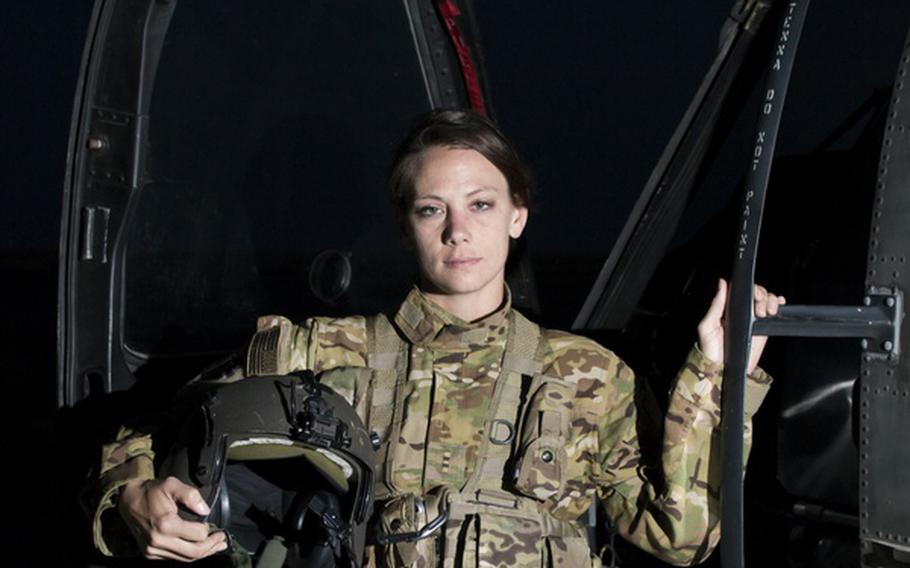 It took the fight for women's suffrage in the U.S. almost seven decades to achieve success. From the time the first woman began flying in 1908, it took 107 years for women to see all barriers to their flying military aircraft in combat lifted. 
"Wings of Gold" by Pulitzer Prize winner Beverly Weintraub details this long fight by women to take to combat flight as U.S. Navy pilots. The Wings of Gold worn on a military recipient's chest are considered by many to signify the best pilots in the world. But the fight for women to wear them would require a series of evolutionary steps, created by America's wars, to be successful. 
By the early 20th century, few women had successfully hurdled the gender barriers that viewed piloting of Navy aircraft as a "man's job." The wars of the 20th and 21st centuries would change that perception as male military leaders began to recognize female aviators were a valuable asset. While this recognition evolved slowly, initially allowing women to serve as clerical workers and nurses during World War I to increasingly more challenging roles in World War II (such as technical jobs in logistics and training), Korea and Vietnam, today women have demonstrated, other than for purely strength related requirements, they can do anything their male counterparts can.
World War II created a special opportunity for female pilots. As American industry met warplane manufacturing demands, there was a shortage of male pilots at home to fly those aircraft from their manufacturing facilities to military bases in the U.S. This opened a role for women aviators, giving rise to the Women's Airforce Service Pilots (WASP). 
No better example of the positive impression female pilots made on their male counterparts was evident than to Gen. Henry "Hap" Arnold. Although originally stating, "the use of women pilots serves no military purpose," he quickly changed his tune after observing them in action. As a true believer in their flying capabilities, Arnold gave the green light for organizing the WASP, which became the first official corps of women to fly for the U.S. military, although in a civil servant capacity. 
In 1944, addressing the last class of WASP pilots, Arnold acknowledged, "we haven't been able to build an airplane you can't handle." Yet, despite their outstanding performance, these female pilots would be retired at the end of World War II, having to wait several decades to finally be recognized for their service with military pensions. Today's military female aviators credit the WASP as role models for having started the long journey by which women could become combat pilots.  
The Navy's 19th Chief of Naval Operations (1970-1974), Adm. E.R. Zumwalt Jr. — who was this author's father — took command of the Navy at a time when morale and retention were suffering and the service was experiencing its lowest reenlistment rates in history. With an all-volunteer military on the horizon, he set up study groups to explore what changes were needed to encourage reenlistment. Among many other problems identified, he concluded the Navy was underutilizing its female talent. 
Zumwalt implemented numerous changes, issued from the top down and known as "Z-grams," to address these problems. Z-gram #66, titled "Equal Opportunity in the Navy," ensured subordinate commanders understood "Equal means exactly that. Equal." A second Z-gram was later required (#116) to ensure commanders knew this included female naval personnel as well. It marked the beginning of the end for the remaining barriers to women flying in combat. By 1974, Rosemary Mariner became the first female aviator to pilot a tactical jet aircraft. She would devote the rest of her career making Z-gram #116 a reality for her fellow female aviators.
With Z-gram #116 in force, women in naval uniform, as well as those who later graduated from the U.S. Naval Academy, were able to break down the gender barriers that had kept military piloting as an exclusive male-only club. But, while receiving comparable training to their male counterparts, unreasonable restrictions remained in place — evidence suggesting senior male leadership still lacked confidence in them. 
By way of example, such restrictions initially banned female pilots from hovering their aircraft over ships or landing one on a vessel. Interestingly, having experienced discrimination of another type, a male African American officer became a cheerleader for several of the first female aviators, encouraging them to stay strong in their fight for true equality. Even after male pilots begrudgingly accepted that their female counterparts were every bit as good as they were, the ban against women serving in combat still left them inherently unequal. But modern-day battlefield technology and new wars would change this. 
The conflicts we fought in Iraq and Afghanistan brought home the reality that efforts to treat women equally while keeping them outside the combat zone were simply impractical. Technological advancements had obscured battlefield parameters. As a result, the last barrier to female aviators serving in combat was removed on Dec. 3, 2015 as then-Secretary of Defense Ash Carter ordered the military to open all combat jobs to women — with no exceptions. 
While Mariner — the woman who became the first female aviator to pilot a jet aircraft — would retire before attaining her dream of becoming a combat pilot, she lived long enough to see her dream become a reality for others. Weintraub's book opens up with how, at Mariner's 2019 funeral, the famous "Missing Man" formation flown for military heroes did a flyover at hers — with female pilots at every aircraft's controls. 
In aviation vernacular, the term "Point of No Return" is an assessment of the aircraft's remaining fuel level whereby a pilot realizes there is no choice but to continue forward as there is insufficient fuel to turn back. For the military services, as far as total equality for women is concerned, they have now reached the point of no return -- there is no turning back as the last vestiges of systemic genderism have finally been purged. 
Due for release Dec. 1, "Wings of Gold" is an inspiring motivational read for all. It is especially motivational for those who, frustrated by a lack of equal opportunity, seek to change the system for the better, despite the long uphill fight they may face.
Lt. Col. James G. Zumwalt is a retired Marine infantry officer who served in the Vietnam War, the U.S. invasion of Panama and the first Gulf War. He is the author of three books on the Vietnam War, North Korea and Iran.