A comprehensive commission on US involvement in Afghanistan is warranted
by
Tammy Duckworth
Special to Stars and Stripes
October 21, 2021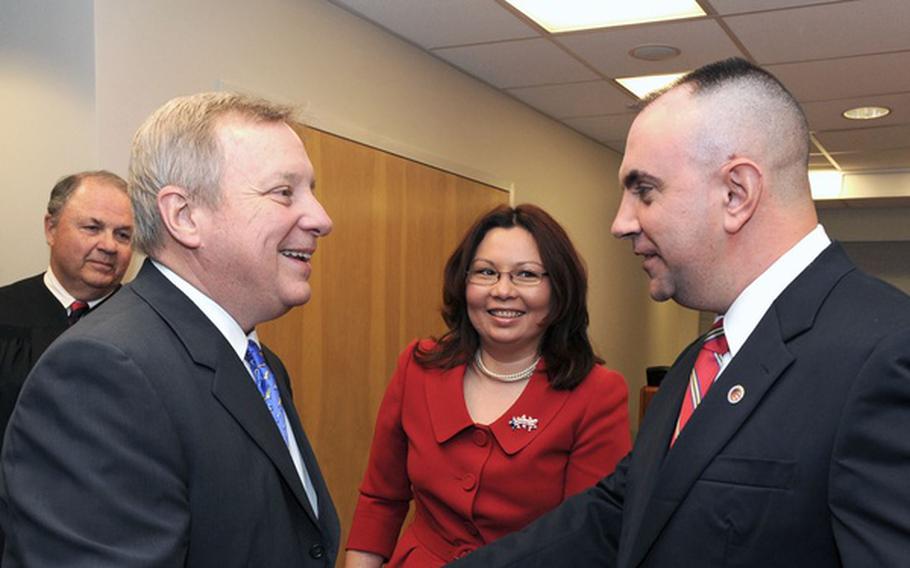 For the past 20 years, American troops deployed four, five, six, sometimes 10 times to a war zone 6,000 miles away. They showed up, saluted and carried out mission after mission in Afghanistan, no matter the personal risk, because their nation called upon them and they believed it their duty to answer. Many of them never came home.
Now, those of us who've remained safe on U.S. soil have a moral responsibility to honor their sacrifices. For their sake, we must ask and answer the tough questions about what became the longest war in our nation's history. We owe it to the troops who sacrificed over the last two decades — and those who will sacrifice in the decades ahead — to do everything in our power to get a clear-eyed look at what went so wrong to ensure that our nation's political leaders never repeat the kind of strategic mistakes that came to define our time in Afghanistan.
Over the past 20 years, four administrations and 11 Congresses set strategy, ordered troop deployments and authorized as well as appropriated funding for the war, all while abdicating responsibility for ensuring our policies were actually achieving our strategic goals. Instead, they chose to close their eyes to the worsening situation on the ground and coast on the status quo of a legal authorization passed in the immediate aftermath of 9/11, before many of the troops who served in Afghanistan were even born. That 2001 Authorization for Use of Military Force gave the military its original mission — but hadn't been debated since it was signed into law that September.
The reality is, each of us who has served at this level of government over these years shares responsibility for the failures that unfolded since we invaded Afghanistan. And anyone looking to score cheap political points right now without acknowledging the all-encompassing failure of political leaders of both parties is actively choosing to traffic in cynical hypocrisy and intellectual dishonesty rather than working to prevent similar mistakes in the future.
We cannot alter the past. But in this moment, we should all be focused on doing whatever we can to guarantee that that past isn't prologue for another war in another time marked — and marred — by the same types of missteps. It is our obligation to analyze both the attempted counterinsurgency and the attempted nation-building along with the political and strategic decisions that resulted in 2,461 American servicemembers killed, more than 110,000 Afghan casualties and over 1.44 trillion in taxpayer dollars spent, all ending with the Taliban once again holding the reins of power in Afghanistan's Presidential Palace.
That's why I've introduced legislation to create a new independent, nonpartisan commission to do just that — to look back at the past 20-plus years of conflict to discern what went wrong and why, and then look ahead to ensure that the same kinds of cascading failures, the same pitfalls and tragedies, never occur again.   
My bill has been carefully crafted in consultation with a range of experts in order to establish the most effective, apolitical commission possible. It gives picks for commission membership to the bipartisan leadership of the most relevant committees in both branches of Congress, specifying that members cannot be current or former members of Congress, may not have held a U.S. or coalition defense contract during the war and must not have been high-ranking military or civilian government decision-makers during the war.
My bill sets the scope of the review as the full length of our involvement in Afghanistan, including the period immediately preceding 9/11, with the knowledge that decisions have compounded upon one another over the past two decades, so failing to consider the full scope of the conflict would not be able to yield thorough, honest or useful answers.
The commission created by my bill would delve into the actions of all government agencies involved in the war, because while the Defense Department will conduct its own lessons-learned exercise — and the insights it uncovers will undoubtedly be valuable — DOD didn't shape the course of this conflict by itself. We must also look at the decisions made at the Department of State, National Security Agency and other components of the intelligence community and White House.
And my bill mandates that the commission cover some of the most difficult yet important facets of our operations in Afghanistan, including the political and strategic decisions that shaped interactions with the Afghan government, the measures of effectiveness used to gauge progress, our nation's military, diplomatic and intelligence interactions with Pakistan as they relate to the war and the long-term impact of the war on our own government institutions.
There will surely be some bright spots detailed, both in terms of the heroism of our troops and allies as well as potential military, intelligence and diplomatic successes. If the commission uncovers successes like these, we should update our law and policies to make sure we can replicate them. But if the commission does its job well — and I will do everything in my power to ensure that it does — it will also detail many mistakes that must never again be repeated.
It will not be easy and it may not be fast, but we owe it to the American people to undertake this process seriously, honestly and in a way that will yield actual recommendations that can be used to install legal safeguards, revise our policy and jumpstart a real conversation about future Authorizations for Use of Military Force. 
What this commission will not do, however, is rake one political party or the other over the coals simply to score points, because we have all erred — we all could have done better to avoid the compounding series of failures that led us to this moment. And it will be driven forward by the belief that we can and must reshape the fundamental way that our nation approaches conflict.
Why? Because we have a moral responsibility to refuse to recommit the sins of yesterday. Because the American people deserve a better use of our resources. And, most of all, because our service members who are willing to deploy countless times half a world away deserve to know that their country's political leaders are behind them. Not just with platitudes or simple thank-yous, not just by giving them ovations at baseball games, but by backing them every step of the way with the kinds of strategic decisions that will help ensure that their sacrifices — and their families' sacrifices — aren't wasted or ignored by the nation to which they've given so much.
Tammy Duckworth, a Democrat, represents Illinois in the U.S. Senate. She is a retired Army National Guard lieutenant colonel.