Analysis
The government has a cybersecurity talent deficit. Agencies should work with the private sector rather than going It alone
by
Bryce Kelly
Special to Stars and Stripes
October 7, 2021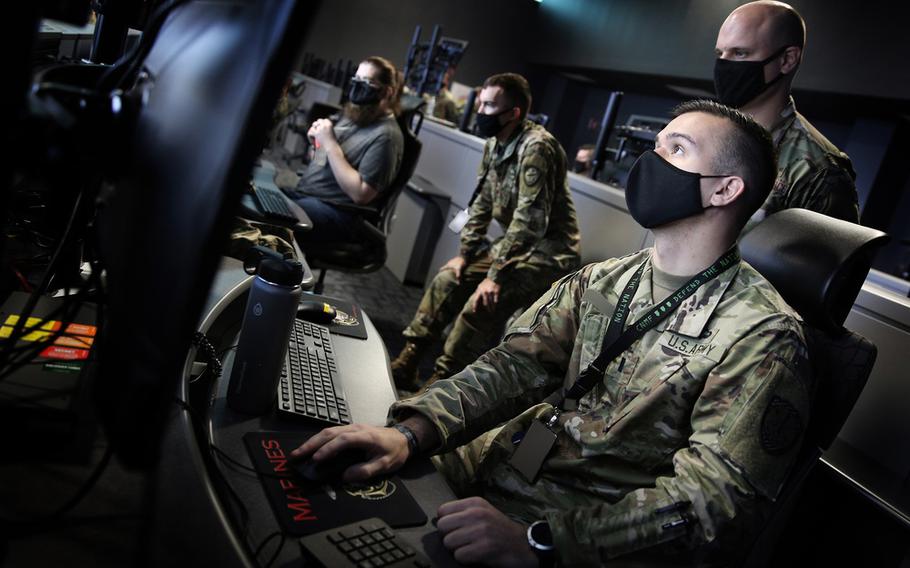 Both civilian and military officials are distinctly concerned by the state of their cyber personnel recruitment and retention and recognize that skills in fields such as data literacy, cybersecurity and artificial intelligence are as vital to America's future as they are in short supply. For this reason, members of Congress and top Defense Department leaders are promoting the idea of a new U.S. Digital Service Academy to address a skills gap in cyber workforce hiring. Before the government dedicates its political and economic efforts to this policy, officials should reevaluate a new academy's necessity and efficiency when compared to ongoing effective programs.
The Debate on a Digital Service Academy
In March 2021, the National Security Commission on Artificial Intelligence, a blue-ribbon panel of top leaders from both the private and public sectors, released its report outlining a "strategy for winning the artificial intelligence era." One of the pillars of this strategy is the establishment of a "Digital Service Academy" -- a federally funded accredited institution where attendees receive a tuition-free education in exchange for 5 years of civilian-side service within the Department of Defense.  
The idea has become a regular topic of discussion at cyber-oriented congressional committees. Top DOD figures such as Defense Intelligence Agency Director Lt. Gen. Scott Berrier, Acting Deputy Assistant Secretary of Defense for Civilian Personnel Policy Veronica Hinton and Undersecretary of Defense for Intelligence & Security Ronald Moultrie have recently spoken in support of establishing a digital service academy at various House Armed Services Committee and Senate Armed Services Committee hearings, and politicians on both sides of the aisle are adding their support.
Established service academies have already spent hundreds of millions of dollars on adding cyber institutes to their campuses: West Point in December 2020 opened a Cyber & Engineering Academic Center using $200 million in federal government subsidies, the Naval Academy created a $143 million Center for Cyber Security Studies in late 2020, and the Air Force Academy got $30 million from the federal government toward a Center for Cyber Innovation that costs $75 million total. And that doesn't even include other federally-funded projects at senior military colleges such as The Citadel, Texas A&M and Virginia Military Institute. Defense intelligence agencies and other civilian defense organizations rightly worry that without an institution of their own, critical parts of their teams will be left with a tremendous talent deficit.  
It is estimated that it costs more than $400,000 to educate a single student at the U.S. Naval Academy or U.S. Air Force Academy, and it would likely be similar at a USDSA. And while the talent deficit merits large spending, there are other possible solutions.
Existing productive programs
That money can instead be used to boost cheaper, verifiably effective, and ongoing programs. The NSA, in partnership with U.S. Cyber Command and a slew of other civilian defense agencies, has created over 80 National Centers of Academic Excellence in Cybersecurity at universities and colleges across the nation, with each institution committing to a standardized cybersecurity curricula and establishing an interface with the DOD. The DOD's chief information officer, John Sherman, has confirmed: "We are seeing a return on investment (in this program)," meaning qualified talent is already entering the government's workforce
There is also CyberCorps: Scholarship for Service, a program by the National Science Foundation that provides scholarships and a living stipend for up to three years of undergraduate or graduate education in a cyber-related field in exchange for an equal amount of time spent working for the U.S. government in a position related to their training. And while it is still in its early stages, another program, the Defense Civilian Training Corps is creating what is essentially an ROTC program for STEM-focused public service in the DOD.  
An unnecessarily adversarial relationship
The Defense Intelligence Agency, National Security Agency and beyond seek a USDSA, the argument goes, because they simply cannot compete with the salaries and lifestyle flexibility the private sector offers high-skill tech workers. Many firms leverage those advantages so well, especially when recruiting students, they effectively cut defense agencies out of the picture.  
But as Sherman states: "there's not an adversarial relationship. There is a very symbiotic relationship right now with much of industry, in terms of the tech sector, in terms of support for what we're trying to do." The public sector can work together with the private sector to increase the total size of the talent pool, rather than acting as though industry has too dominant a share of it. The Industrial Base Analysis and Sustainment program, for example, does just that: partner with industry to address critical talent deficits.
There is a considerable population of workers who are uniquely accessible to the civilian defense community. Each year, thousands of Americans apply to established military service academies, and each year the acceptance rates at those institutions go further down into single digit percentages. Undoubtedly, a large proportion of those rejected applicants, many who express an interest in cyber and a commitment to the necessary lifestyle, would leap at the opportunity to participate in these existing programs. Further research is necessary on the outcomes of these rejected applicants to analyze where they end up, be it in ROTC programs, enlistment, in STEM degree programs, or the private sector, to determine how this population can be utilized to meet the DOD's talent needs.
Civilian defense agencies should indeed leverage their unique benefits such as service to the country and tuition-free education when recruiting talent, but to create an entirely new Digital Service Academy may not be the best solution. Calls for a USDSA are an understandable response to a grave problem, but miss out on a chance to expand talent pipelines that already exist, maybe even with those who already want to answer the call.
Bryce Kelly is a third-year International Relations major at Pomona College. He has worked at the National Defense Industrial Association and the U.S. Department of State, specializing in defense workforce issues.