Opinion
New engine for F-35 would be too much of a gamble
By
Special to Stars and Stripes
January 13, 2022
---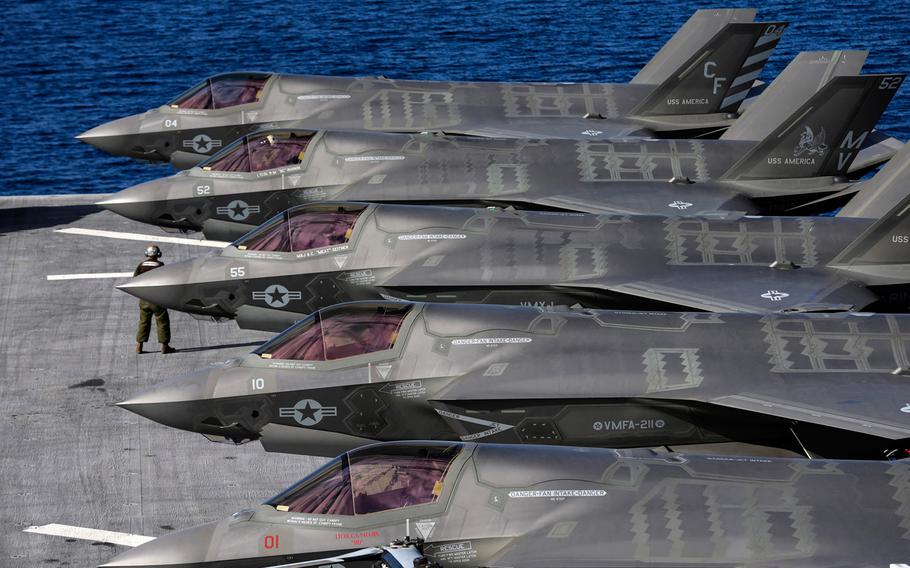 While threats to U.S. national security continue to evolve, as they always do, they are as serious as ever. Potential Russian aggression in Ukraine, for instance, could threaten the hard-maintained European peace and the security of our European NATO allies. Rogue regimes such as Iran and North Korea, meanwhile, always present regional challenges that could erupt into something much larger.
But perhaps the most serious threat we face at present is the one posed by the People's Republic of China in the Western Pacific. Rapid Chinese advances in hypersonic missile technology and anti-carrier weapons systems are deeply concerning challenges that we must quickly overcome. These could force our carrier fleet to remain too far from the Chinese mainland to be of much help in countering any move on Taiwan.
One of the best weapons in our national arsenal in countering these threats is the F-35 Joint Strike Fighter. It has great prospects but has a complicated history and an even more challenging future. Policy decisions are under consideration in Washington that could see America's newest fighter plane sidelined, at least for a time, instead of being fielded to push the envelope in its myriad capabilities and to provide us with the tools needed to meet growing and unique threats.
At issue is a debate over the future of the F-35 engine. The heart of the Joint Strike Fighter is the Pratt & Whitney F135 engine currently employed on the aircraft, the next generation evolution of the F-22 Raptor's F119 engine. While the F135 was cutting edge when it was first fielded in 2009, there is no doubt that the engine now needs an upgrade. As the F-35's mission requirements have been expanded, so have the demands on the airplane's power plant, such that the new requirements will exceed the F135's thrust and thermal management limits within a decade. A propulsion upgrade is needed to help our air assets meet the technological advances of our potential adversaries.
Fortunately, plans are in place for an upgrade to the existing engine. The Enhanced Engine Package meets or exceeds all the enhanced requirements, increasing thrust and range by 10%, improving thermal management by 50%, and providing the V/STOL version, the F-35B, with up to 5% increased vertical lift. The best part is that since this is a retrofit of an existing engine, there is little risk of losing any of the engine's proven capabilities, and insofar as the same supply chain, contractors and parts will be used, the modernized engine can be on the line in a relatively short time, with minimal disruptions and some control of costs.
Which makes it puzzling why there are some in Congress and the White House who are advocating for the development of an entirely new engine for the F-35 instead. Starting from scratch may sound good on paper, but the reality is that trying to field a whole new engine on our most advanced strike aircraft would be fraught with issues.
In the first place, designing a new engine and getting it onto airframes, as well as going through all the testing that will be required, takes time. This precious commodity cannot be wasted with so much potentially at stake. Second, a new engine means a whole new supply chain, new vendors, new parts, all of which add up to bureaucratic headaches and growing pains, when what our pilots need is an engine that allows them to do what they and their aircraft are asked.
Most importantly, from the viewpoint of a former combat pilot, is the risk of replacing an engine that we know with one we do not. Our pilots take enough risks every time they strap in, especially in an evolving and increasingly dangerous threat environment, without having to worry about the countless number of things that can go wrong with breaking in a whole new engine. Reliability is the supreme virtue when you are in the air, and when you have an engine that has already been through the ringer, and is proven, it makes far more sense to make necessary improvements to that existing system rather than to undo all the work that went into it and go back to the drawing board.
The F-35 will be a major part of our nation's and our allies' defense for the next several decades. The threats and challenges our commanders and pilots face demand that they have the best, most reliable equipment in their hands. The F135 engine needs to be updated, and those updates must happen; but it is far better to make those updates to an existing, known, reliable platform than to roll the dice on an entirely new, unproven engine. There is far too much at stake to commit to such gambles.
Col. Gary Tobey is a former U.S. Navy jet attack pilot with 188 combat missions, mostly over North Vietnam. He is the former commander of the Civil Air Patrol in Colorado, then of the five-state Rocky Mountain Region.
---
---
---
---