Opinion
Why I chose trucking as a career after military service
by
Henry Bruster
Special to Stars and Stripes
November 10, 2021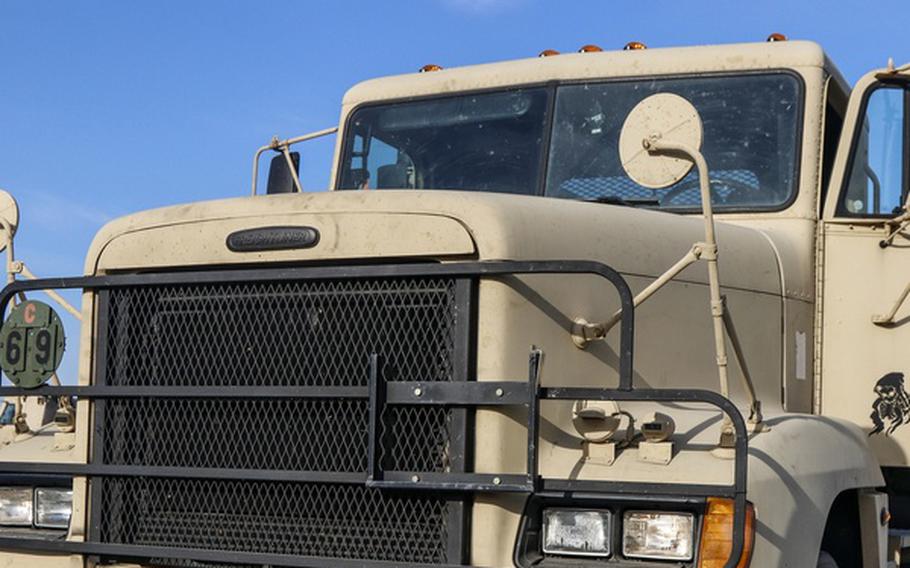 I've been driving a truck for 23 years. While driving, I've seen many scenic landscapes around the country, and I've met many generous and interesting people. But what I am most proud of is to be on the front lines of an industry that works day in and day out to ensure America's products and goods are delivered safely to America's homes and storefronts, year after year. As a truck driver my job is critical to keeping America's economy moving.
Before my time on the road as a trucker, I served in the United States Army. The transition to the trucking industry was a logical one for me. America's veterans are trained to be the best, whether it's working in the field or at a field office. As we commemorate Veterans Day this year, it's important to remember that trucking companies are actively seeking to hire more skilled veterans.
At a time when we are needed most, the trucking industry is experiencing a significant driver and technician shortage. There are currently 80,000 driver jobs available to those who are up for the challenge of delivering America's freight, and that number is expected to double by 2030. There are also 60,000-70,000 technician job openings over the next 10 years. Our nation relies on the trucking industry to deliver the essentials we need every day. In fact, 80% of American communities rely solely on trucking as the transportation means to deliver everything they eat, wear or use, including medication and vaccines. Trucking delivers safely and on time, through rain, snow, sleet, or shine - even a pandemic - to keep our lives and communities supplied, the economy thriving and this great country strong.
Teamwork, leadership, dedication, loyalty, and a strong work ethic, is what the industry needs from our veterans, and there are recruiting efforts happening across the country. Many trucking companies offer free training programs for veterans to prepare them for a job in trucking. There are several scholarship and apprenticeship programs available for veterans to connect them with available industry jobs. The industry also established a partnership with the U.S. Chamber of Commerce Foundation's Hiring Our Heroes Program, which was founded to help veterans and transitioning service members find meaningful employment opportunities. Further, the ATA's Workforce Heroes Program is a great visual reminder of our work, where we visit with our camo-decaled Workforce Heroes tractor-trailer at military bases to talk with and encourage returning military veterans to join the industry.
There are many similarities between the trucking industry and the military. There is also a genuine camaraderie throughout the industry. The trucking industry is 8 million strong, including 3.6 million hardworking drivers. We take great pride in getting the job done within a commitment to safety.
I encourage returning veterans to consider the occupations that the industry has to offer. There are also office positions, including dispatchers and technology staff who help keep the industry moving. These jobs offer great starting salaries and benefits and provide the training needed to jump-start a rewarding career. Trucking is a career that one can take considerable pride in. Veterans can learn more about the available jobs and resources online.
I am proud that the trucking industry is doing their part to assist veterans' transition from military to civilian life by providing economic opportunities for those who have sacrificed. I am grateful to be part of an industry that gives back to our veterans during a time when they need it most. Brave men and women sacrificed everything to protect our freedom and democracy. Setting our veterans up for success after military life is just one way that we can show our gratitude for their service. Join us and help keep our country moving and economy strong.
About the Author:
Henry Bruster is from Woodville, Mississippi and has been a professional truck driver for 23 years, currently driving for TForce Freight. Henry served in the U.S. Army. Henry has received many industry awards, including being named Driver of the Year at the 2016 Louisiana Motor Transport Association (LMTA) Truck Driving Championships, which are safety skills competitions. He was asked to serve as a member of ATA's America's Road Team and ATA's Share the Road highway safety program, and to lead the Wreaths Across America truck convoy in 2017.
---
---
---