Episode 4: An interview with Erik Prince, Blackwater founder, proponent of contracting
By
Stars and Stripes
April 3, 2019
---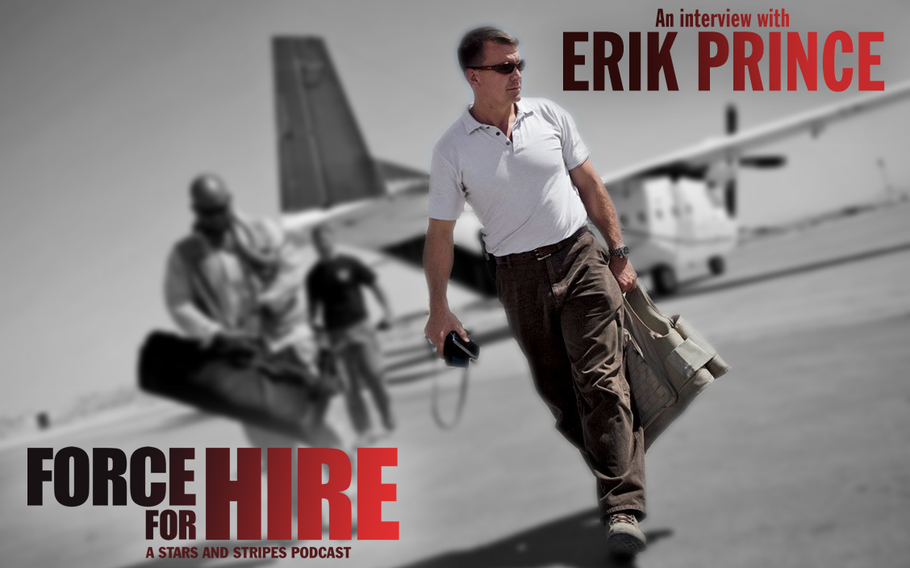 We sit down with Erik Prince, co-founder of Blackwater and the face of an industry that generally tries to stay out of the limelight. Listen in as he talks about the history of Blackwater, his vision for the war in Afghanistan and what he views as the mistakes the military has made there during the past 17 years.
Under Prince's command, Blackwater raked in billions of dollars' worth of contracts, protected VIPs during the worst fighting of the Iraq War and worked with Afghan warlords in the fight against the Taliban. Prince has said on numerous occasions that no person protected in Iraq by the company was killed or seriously injured.
Prince was also at the helm during the 2007 Nisoor Square massacre, in which Blackwater contractors killed 17 Iraqis and wounded 20 more. He made national news for his outspoken defense of his employees during that incident, telling a congressional panel in 2009 that "Blackwater and its people have been the subject of negative and baseless allegations reported as truth."
Prince remains a controversial figure within the private military contracting community. Opponents have called him a pariah and a mercenary. Nevertheless, working for Blackwater was a goal of many servicemembers, who were drawn by big pay days — by some accounts as much as $15,000 a month.
Prince sold Blackwater in 2010, but he never left private security contracting behind. He now serves as the executive director of Frontier Services Group, a security firm headquartered in Hong Kong. Prince has also been back in the news in recent months for his proposal to give private military contractors a leading role in Afghanistan.
Hosts Michelle Harven and Desmon Farris sit down with Prince to talk about his vision for Afghanistan, his views on Blackwater's place in history, his role at Frontier and private military contracting's role in modern warfare. Outspoken as ever, Prince gives his views and insights on those topics and more in the latest episode of Force for Hire.
A transcript of this episode can be found here.
---
---
---
---