Minibar popularity has waned, but some hotels are finding ways to revive interest in the amenity
By
The Washington Post
February 10, 2022
---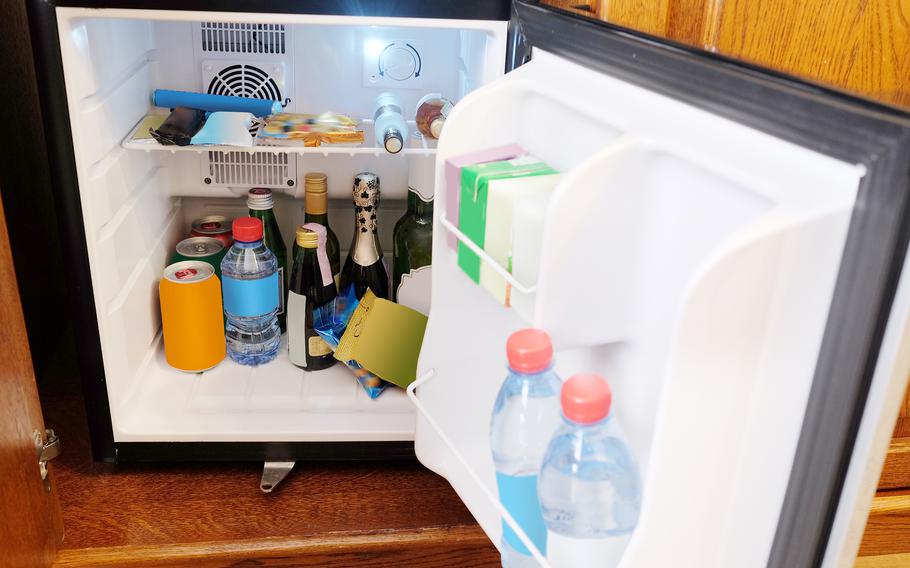 Growing up, Susan Buckley heard a common refrain from her mother on family road trips: Don't even think about touching that minibar.
"Skull and crossbones. Don't go there," she said. "Everything is super expensive."
They might be expensive, yes, but they're also inviting to the weary traveler: a cold can of Coca-Cola, a refreshing bottle of water or a tiny bottle of booze paired with a can of Pringles and bag of M&Ms. That's practically a meal.
But over the past decade, many hotel companies have steered clear of the once-vaunted amenity. "Hotels call time on the minibar," The Independent wrote in 2013, referencing the hassle and cost of upkeep. "The Death of the Minibar Is Nigh," an Esquire headline proclaimed that same year. The Atlantic ran a story that year simply titled "Elegy for the Minibar."
The Atlantic piece reported that a German company invented the minibar in the early 1960s. The first one to become famous was at the Madison Hotel in Washington D.C. Hilton claims to have "popularized" the in-room concept in 1974 in Hong Kong.
The heyday that followed for minibars is largely over. Large hotel chains have been scaling down their use for several years. The Wall Street Journal reported in 2011 that Hyatt Hotels & Resorts was removing stocked minibars from some convention hotels, and Hilton and Omni were making similar moves.
Popular new brands emphasize a communal atmosphere, with wine hour in the lobby or a market near the front desk. Delivery services also make it easier to order a meal to the door - even if room service isn't available.
"Are minibars still necessary if you can order things to be delivered to you, whether it's at 8 a.m., 2 p.m. or 2 a.m.?" said Henry Harteveldt, travel industry analyst and co-founder of Atmosphere Research Group.
But some hotels have held on - and even tried to reinvent the amenity.
Buckley, who once avoided minibars at all costs, is now invested in their success as vice president of food and beverage for Atelier Ace, the company behind the small boutique chain Ace Hotel. The company seeks out local partners to build its minibar program with a focus on diversity and inclusion - while also stocking choices that will appeal to the masses.
"That's our goal right now, to really work with that diversity and really work with interesting vendors that are putting out amazing products, and small businesses that don't have the opportunity to penetrate these bigger markets," she said.
At one of the company's newest properties, the Ace Hotel Brooklyn, that means the kombucha, gummy bears and whiskey are from borough-based companies whose owners are women, people of color or members of other underrepresented groups.
"It gives people the opportunity to shop local but also learn about the community that they're traveling in," Buckley said.
The top seller is water, she said - Ace partners with boxed water brand Just Water, co-founded by actor Jaden Smith - and gummy bears, granola and power bars are also popular. While Buckley said the company will include a small amount of well-known items such as M&Ms, about 80 percent of the minibar stock is locally sourced.
Quirky boutique hotels may have their own approach. But many luxury properties and casino resorts have also held on to the minibar. That's where Bruno Agrario, vice president of sales and marketing for Bartech Systems International, gets the bulk of his business.
The family-owned company supplies automated minibars and trays to 1,300 hotels around the world with this selling point: Technology keeps track of everything, so the daily labor demand is significantly lower than a traditional minibar that requires someone to check each room regularly.
"Our minibar system is fighting all the negative aspects of traditional minibars," Agrario said. "In other words, we fully understand why minibars are usually hated (by guests and hoteliers)."
Agrario also said water is the top seller; cashews, beer, white wine, Kettle Brand chips, Pringles and chocolate almonds also do well. Diet Coke is the top-selling soda. He touts a "familiar is best" approach, and he encourages customers to avoid specialized local products because, he argues, the heart wants what it already knows and craves - not something new.
"You don't know those local items," he said. "A minibar is all about impulse purchase; you see the item, you consume. If you don't know the item, you are not likely to use as much."
MGM Resorts, which has minibars in its luxury Las Vegas properties, said in a statement that hotels "always keep the favorites in stock" - including vodka, tequila, beer, chips, nuts and candy bars.
"We evaluate and review all feedback provided on a regular basis and then use that information to make decisions based on trends and common themes," the company said. "Additionally, we will test new products on a floor or two within one of our properties to get real-time feedback so we can use that data to make sound choices on products we will carry in the future."
Minibars had a pop culture moment late last year an in episode of the HBO comedy "Curb Your Enthusiasm." Larry David, the creator of the show who plays a version of himself, wants to curate the offerings for his friend's hotel, but his suggestions - wasabi peas, Parmesan crisps, figs and the "coup de grace," York Peppermint Patties - fail to impress.
"If you don't have the vision to know how amazing a wasabi pea would be in a minibar, I don't really want anything to do with you," David grumbles before storming out of the meeting.
(Buckley, with Ace Hotel, said the fictional David would probably get hired as a minibar curator: "We like that avant-garde approach," she said.)
The pandemic dealt the latest blow to the old amenity and inspired a new round of "so long, minibar" predictions. In May 2020, NPR quoted one consultant as saying: "I think the death of the minibar is probably finally here.
Harteveldt said there were practical reasons for hotels to ditch the stocked fridges or trays of non-perishables as the coronavirus spread: Properties needed to limit the presence of workers in guest rooms and get rid of unnecessary contact points.
Buckley and Agrario said they noticed a different trend as the pandemic progressed: After initial restrictions on minibars lifted, they saw demand increase.
"Sales are up because a lot of times, people don't feel comfortable going out," Buckley said. "People like to be in their safe space."
So what's next for the minibar? Experts say there is plenty of downside - including an ongoing labor shortage and the persistence of COVID-19 - but opportunity remains.
Mehmet Erdem, an associate professor of hotel operations and technology at the University of Nevada at Las Vegas, said innovative and creative approaches could appeal to a new generation of travelers. If hotels could figure out a pricing model that would make the minibar more attractive, he said, they might keep more people spending money on-site rather than looking elsewhere.
"It can be a win-win for everybody: nice affordable convenience for the guest, and it can be one more amenity offered for the hotel room that adds to the competitive edge of a particular brand," he said.
Erdem added: "I wouldn't write off the minibars quite yet."
---
---
---
---