Leaf-peeping and spooky vibes make Estes Park, Colo., a dynamic fall destination
by
Bailey Berg
The Washington Post
October 27, 2021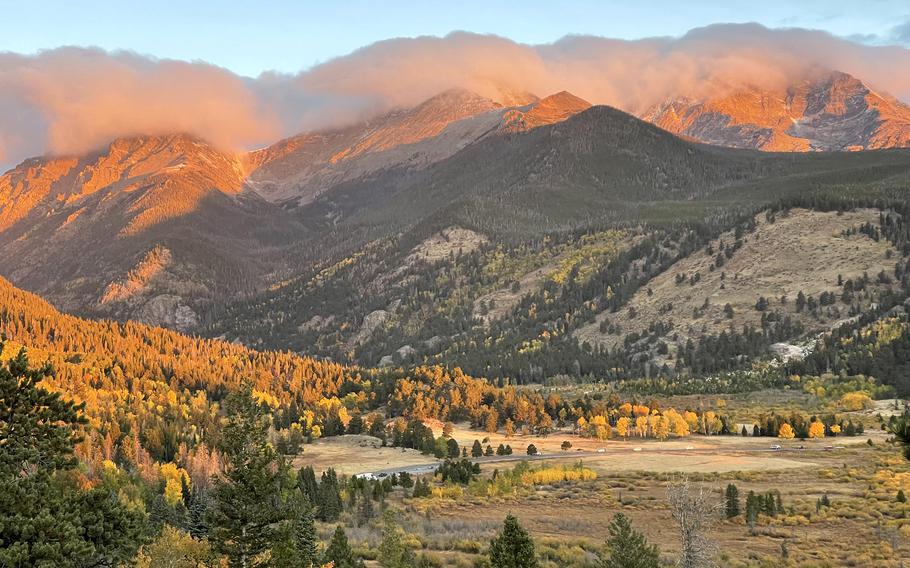 They're everywhere. They're hogging sidewalks, rooting around in locals' gardens, butting heads in parking lots and causing traffic jams.
They're not tourists, though that population is well-represented, too. They're elk. Specifically, elk on a mission to multiply. It's rutting season in Estes Park, Colo., and before an audience of riotously colorful aspens and visitors feverishly clicking their camera shutters, the town's unofficial mascots are ... ahem ... busy.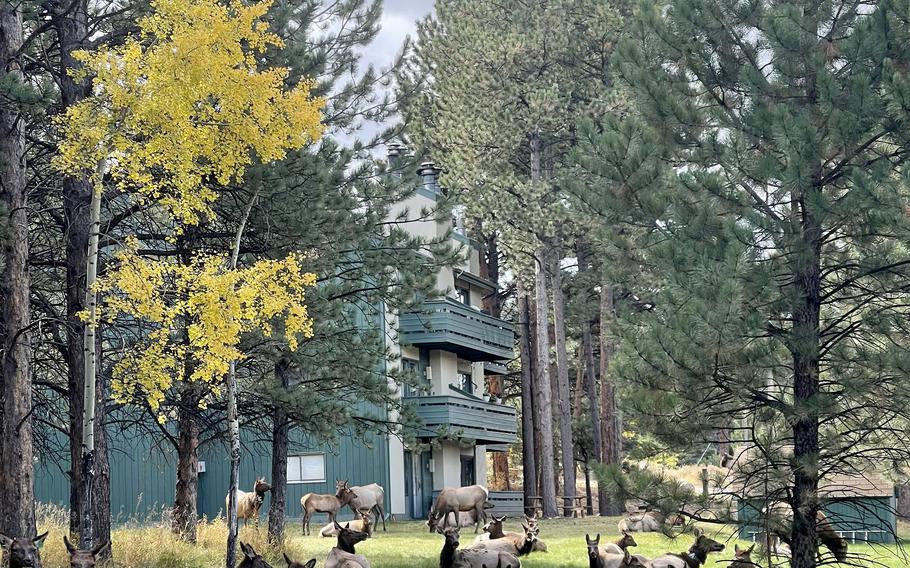 While the elk population is somewhat unique to Estes Park, the town is often hyped by Coloradans as being rich in all the traditional totems of fall, including golden-hued leaves and spooky activities. As newly minted Colorado residents, my partner, Shaun, and I decided to do a weekend getaway in mid-October to get a better idea of what that meant.
"It's not a secret that elk procreate in the fall and the aspen trees are pretty," Jared Gricoskie from Yellow Wood Guiding, a private tour company in Estes Park, told me of the sheer number of visitors in town.
It's just after sunrise, and Gricoskie and I are driving into neighboring Rocky Mountain National Park. Though it's early in the day and late in the safari season, there are still oodles of elk roaming around.
"That one is huge," I say, pointing to the first bull I see in the distance. Gricoskie, peering through his binoculars, disagrees. He wagers that the female elks view him as about a C-plus.
"It's all about length, girth, width and structure," Gricoskie explains. "He with the best antlers gets all the girls. His are just OK."
Every day of the rutting season (September through October), Gricoskie said, is different. Earlier in the season, when pecking order for males is being re-established, there are more elks doing battle. Later in the season, when most of the females are pregnant, visitors may just see some hopeful flirting and hear the animal's distinctive bugle.
Though our venture in the park fell on a quieter day, it was fascinating - especially when you consider there was a time where there were no elks in the area, let alone a population that rangers think may be too large.
If you can look away from the elk in the national park, there's incredible fall foliage, particularly on the Top of the Rockies, one of the highest continuous motorways in the United States. Up there are spectacular panoramic views of the aspens that ignite the mountainside with yellow and orange for much of autumn.
Although the de facto mascot's popularity may not be surprising, what might be is the fact that the elk are forever linked to the town's most famous former resident: Freelan Oscar Stanley.
A Maine-born inventor (you may have heard of his Stanley Steamer, a steam-powered automobile), Stanley first came to Estes Park in 1903 to live out his final days. He had a particularly nasty case of tuberculosis, and his doctor told him to find somewhere peaceful to spend his final few weeks. To his physician's surprise, not long after coming to Estes Park, Stanley made a full recovery.
Stanley soon had a grand home built there, as well as a massive lodge, so he could invite his important friends to visit. That lodge would famously become known as the Stanley Hotel.
In the years that followed, Stanley lobbied to preserve Rocky Mountain National Park, partially because he believed the area saved his life, but also because, if there was a draw like a national park, more people would stay at his hotel. Although he was undoubtedly a capitalist at heart, he did have some altruistic motives; in the photos of the opening of the park, he's shown beaming, waving a tiny American flag. And according to Gricoskie, when elk were reintroduced to the national park, they were carried in on Stanley Steamers.
Although Rocky Mountain National Park's popularity has only increased since its inception, there was a time when the Stanley Hotel's grandeur diminished. In fact, it was doomed to be demolished - and probably would have been, if not for Stephen King.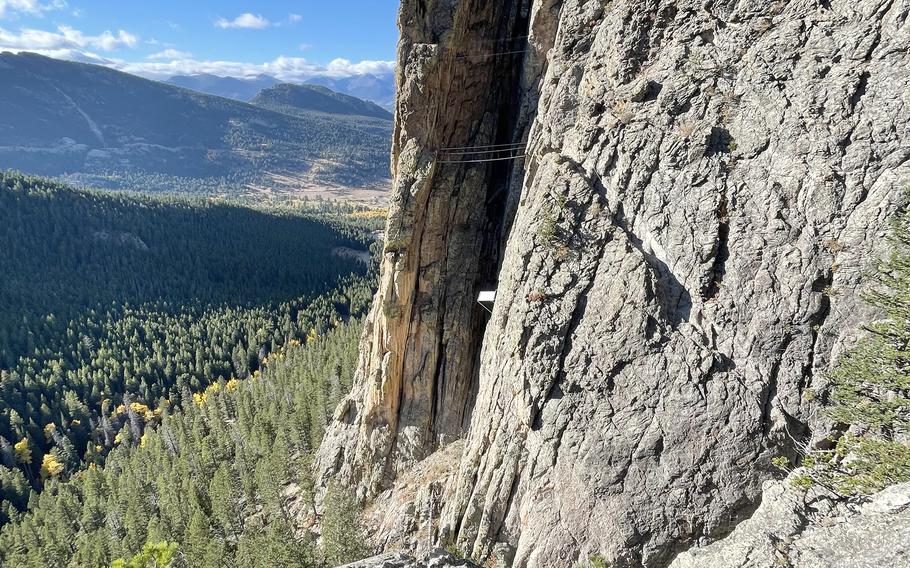 The famous author and his wife visited the Stanley in 1974, on the last night before the hotel closed for the winter season. The story goes that the couple had the hotel to themselves and, after dark, King spent time wandering the corridors. When he eventually fell asleep, he had a nightmare that his son was screaming, running down the hallway while being chased by a fire hose. He jolted awake, lit a cigarette and started plotting a new book in his mind. By the time he was down to the filter, he'd fleshed out what would become his novel "The Shining."
After the book became a bestseller, the Stanley suddenly had increased levels of interest. The hotel is often entirely booked in September and October. And if you want to stay in the room where King bunked down when he was inspired to write the novel, good luck. That particular room, 217, is usually booked out six months in advance - or nine years if you're hoping to stay on Halloween.
Although the movie rendition starring Jack Nicholson wasn't filmed at the Stanley (that honor goes to Oregon's Timberline Lodge, which was used for the exterior shots of the hotel), the TV miniseries was, as was another Hollywood production: "Dumb and Dumber." Most of the scenes where Jim Carrey's and Jeff Daniels's characters are in "a little place called Aspen" were actually filmed at the Stanley. However, the hotel arguably leans harder into its King connection, even if it maintains that it's not a haunted hotel. (This is largely because it doesn't want guests to be disappointed if they don't have a paranormal encounter while there.)
Each night, the hotel hosts multiple ghost tours. They're admittedly pretty hokey; our guide, at least, spent the bulk of the 90-minute tour recounting his and others' alleged interactions with the otherworldly, telling attendees to "sleeeeeeep tiiiiiiight" after each tale. Other reputedly haunted areas include the fourth floor, where female employees and children stayed; the closet door in 401 ostensibly opens and shuts on its own. That room, as well as 407 and 428, are noted on the website as "spirited rooms" and are among the most requested.
Both the Stanley and Rocky Mountain National Park have been around since the turn of the last century, but that doesn't mean the only draws to Estes Park are well-aged. Though it opened over the summer, Kent Mountain Adventure Center's new via ferrata (a type of climbing route that uses rungs and steel cables), the Cloud Ladder, makes for a lovely (or scary, depending on your relationship with heights) fall-time adventure. The views of the gold-plated trees in the valley below may be enough to distract from the fact that you're strapped to a nearly completely vertical rock face.
Also opened this summer, in a new building on the Stanley grounds, is Aiden Sinclair's Underground, a speakeasy-style lounge where the eponymous performer does magic show several nights a week. Like the Stanley itself, the lounge is particularly busy in spooky season. However, it's not "pick a card, any card" or rabbits-from-a-top-hat kind of magic.
"There are two types of people in the world: Those who believe and those who don't," Sinclair said at the beginning of one of his acts. "It doesn't matter which you are. Tonight you're participating in a test of it."
Over 90 minutes, Sinclair uses various props, such as tarot cards (which he claims belonged to Anna Eva Fay, who was a medium at the Stanley), and spins yarns about Estes Park's storied (and perhaps haunted) past, to question where believing in something makes it real.
At various points during the show, both Shaun and I were called up to assist with acts. Even up close, it was impossible to tell whether it was all sleight of hand or real hocus-pocus. Either way, it was compelling enough to come again the next night.
"I hope you return," Sinclair said of Estes Park before exiting the stage. "And who knows, maybe one or two of you will return and stay forever."
IF YOU GO:
Where to stay
The Stanley Hotel
333 E. Wonderview Ave.
970-577-4000
The Stanley Hotel offers four types of stays, including historic rooms, modern rooms, a boutique hotel and apartment-style residences; check website for prices. Tours available for anyone interested, guest or not. Day tours and a "spirited night tour" are offered; both require reservations. Day tours $24 per adult, $17 per child ages 8 to 17, and $21 per hotel guest, military member with ID, and adults 55 and older. Night tours $28 per person 8 and older and $25 per hotel guest, military member with ID, and adults 55 and older.
What to do
Rocky Mountain National Park
1000 U.S. Hwy. 36
970-586-1206
Encompassing 415 square miles, Rocky Mountain National Park has more than 300 miles of hiking trails, a massive elk population, wildflowers, aspens and more. Although certain facilities may be closed, the park is open 24 hours a day, 365 days a year. Single-day pass for non-commerical vehicles $25; single-day pass $15 per person. Annual pass with unlimited entry $70 per person.
Information: visitestespark.com