Back on the road, down Highway 101
by
Anne Calcagno
Special to The Washington Post
July 7, 2021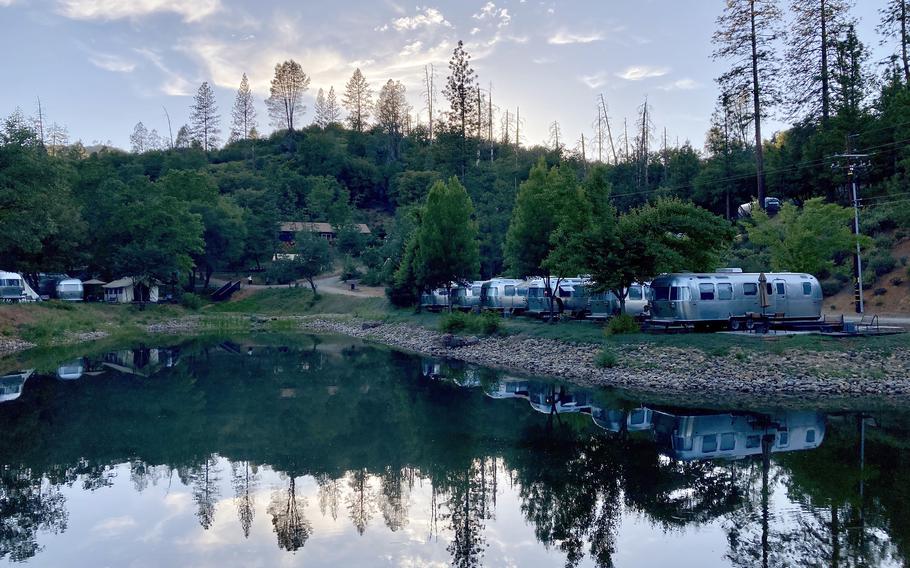 "Keep your eyes on the stars, and the stars in your eyes ... see if you can find out what's over the next hill, and the next one after that."
- Wally Byam, founder of Airstream
Perhaps it's because my husband and I are baby boomers, nostalgically imprinted by mid-century road trips, but it took only an instant for us to settle on a bucket-list trip. Newly vaccinated, we would drive down iconic northern Highway 101 from Portland, Ore., to San Francisco, hugging the Pacific coast; we would hike redwood forests, loll by the Russian River and take an inland detour to witness the soaring granite cliffs of Yosemite National Park. The clincher: glamping in the retro glamour of refurbished Airstream trailers.
The lore has it that Airstream founder Wally Byam began engineering what would become his distinctly rounded, aluminum-clad trailers in the late 1920s to overcome his wife's aversion to tent camping. By the mid-1930s, Airstream production became a thriving business - temporarily halted by World War II - that's still booming today. Byam died in 1962, but his Airstream creed lives on: "To place the great wide world at your doorstep for you who yearn to travel with all the comforts of home."
These days, Airstreams stays are trending on Airbnb and Vrbo. Who could have predicted that nearly a century later, Byam's efficient vehicle would become a symbol of retro novelty? Planning to stay exclusively in rental Airstreams, we set out on our eight-day, 1,000-mile road trip.
The first leg of our drive, from Portland to coastal Pacific City, Ore., turned glorious at Tillamook State Forest. Steep slopes were thick with impossibly vertical Douglas firs, their feathery branches interwoven in a bonanza of dark green, draped in silvery lichen. At Pacific City, where Highway 101 bumps against the Pacific shoreline, our first Airstream awaited at Hart's Camp, a dog-friendly RV campsite and a designated enclave for seven resident Airstreams, each with a privately fenced patio, a firepit, Adirondack chairs and an outdoor shower with a living plant wall.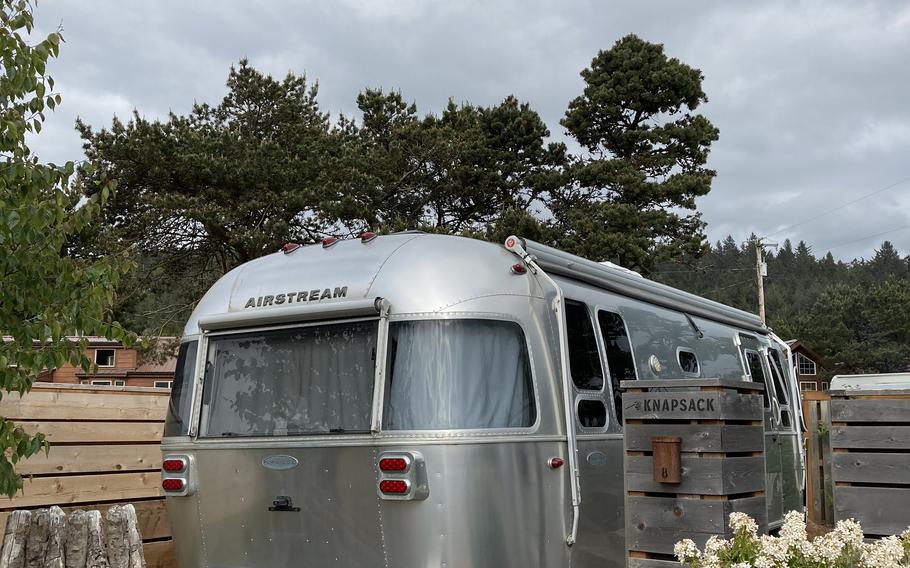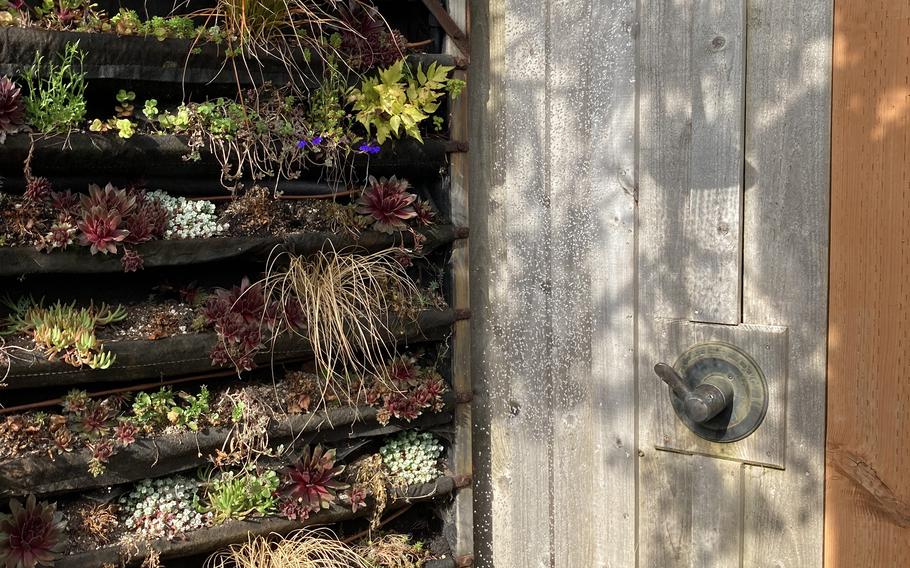 Our temporary home was a gleaming, riveted aluminum "Flying Cloud." We punched in our entry code and instantly stepped into the "offbeat luxury" referenced in the camp's logo. Byam focused meticulously on Airstreams' interior efficiency: Tiny railings prevent items from falling, a press-fit cutting board covers the sink to extend counter space, cabinets are pressure-hinged, roller shades clip into place, even the trash can is snug in a bespoke holder. Nostalgia is balanced with modern amenities: Bluetooth, surround sound, flat screen TV, Wi-Fi, high-thread-count linens. I had definitely overpacked: My large hard-shell suitcase wouldn't fit in the closet.
A row of vertical pastel surfboards playfully marked the camp entrance. Wet-suited surfers left hugging their boards, crossing the street to the Pacific Ocean. A mile out, flat-bottomed dory boats took visitors around gigantic Chief Kiawanda Rock. The Cape Kiwanda State Natural Area's sandstone headland is at the beach's northern end, with a 2.2-mile hiking trail that's not to be missed, whether for its stunning overlooks or glimpses of bright-red-footed pigeon guillemot birds. On the beach, weather-sculpted driftwood provides seating.
We felt the energy of people newly unmasked, as nearly everyone greeted us with, "What a beautiful day!" despite the Pacific overcast. "I grew up with Airstreams," a longtime Oregonian we met on our walk told us. "My dad took us all sorts of places."
Byam believed his campers were perfect venues for gathering with like-minded spirits, playing "some part in promoting international goodwill and understanding among peoples of the world through person-to-person contact." I experienced this in full, as two enthusiastic trailerites back at camp anchored me in place, describing the joys and travails of Airstream ownership.
We departed, pointed south, for about 240 miles of Oregonian Highway 101. Yes, it runs through some pretty plain strip-mall towns, but mostly we encountered dramatic panoramas, each new one outdoing the last: massive offshore rock outcroppings, enormous wave-washed beaches, cliffs rife with yolk-yellow Scotch broom, gnarled Sitka spruce trees rooted in warrior stances. Driving Highway 101 is less about your destination than about stopping spontaneously at pull-offs that require long gazes. Traveling Airstreams abound.
Two hours in, south of Yachats, we reached Cape Perpetua, part of the Siuslaw National Forest, Oregon's highest viewpoint by car and a thickly forested headland that plunges 800 feet into the Pacific. On clear days, the coastal view reportedly extends 37 miles. We had no idea how much panorama we were taking in, but it stopped us in our tracks. Next we made a short descent to totter over tide pools, marveling at neon-green anemones, until a hefty spray of salty water showered us from the spouting horn of Thor's Well.
Another three hours south, and we reached the Samuel H. Boardman State Scenic Corridor. Its 12-mile stretch offers dazzling aquamarine vistas from Cape Ferrelo to House Rock to Whaleshead Beach, and the offshore sea stacks of Arch Rock. This was our wonderful problem: We were tired, but it was impossible not to keep stopping.
The Pacific didn't go anywhere during the pandemic, but it became unattainable to many. No one we met took it for granted. A conversational refrain repeated. It started with the question I asked or others asked of me: "Is this your first trip since COVID-19?" The answer was invariably, "Yes, I almost didn't believe it would happen." Or some variant of wonder, "Isn't it mind-boggling this all still exists?" or "I don't know how I lived without it."
We made it 33 miles south into California's coastal Del Norte Coast Redwoods State Park, its towering trees so immense we felt like we were shrinking. Another 100-plus miles took us into Humboldt Redwoods State Park's Avenue of the Giants driving loop, and the redwoods experience became intense and trippy. We stopped and meandered along the recommended 2.4-mile Drury-Chaney Grove trail, one of several hiking options, moving like sprites around standing and fallen redwoods, navigating through emerald carpets of grand sword ferns and flowering sorrel. My husband climbed into the opening of a living redwood as wide as four people.
An hour south, in Trinidad, Calif., road exhaustion took its toll. We abandoned our mid-century lodging theme and checked into the Emerald Forest Cabins resort.
Refreshed, the 240 miles to Guerneville, Calif., excited us. We headed into Sonoma County wine country to stay in an Airstream at AutoCamp Russian River, where cars stay in a parking lot and guests transport their luggage in nostalgic Radio Flyer red wagons. The sound of children running and laughing outdoors, so missed this past year, was our vivid greeting.
Our site was shaded by the many trees lining the banks of the river, and lushly landscaped. Our patio was outdoorsy weathered-wood glam. Inside, it was all 21st-century amenities: minimalist decor in pastel tones, thick towels and guest bathrobes, a marble-tiled spa-style shower, with a marvelous high-end mattress. AutoCamp is a national chain whose trailers are tailor-made at the Jackson, Ohio, Airstream factory. The 31-foot Airstream shells dutifully boast classic retro appeal, but each has a comfortable modern interior.
Here the enticements included a 1,000-year-old redwood grove, complimentary Linus bikes, outdoor yoga, winery tours and kayaking the Russian River. Truth is, I wanted to stay - maybe forever. But Yosemite beckoned, and we moved on.
A half-hour west, and we were back on Highway 1, inside Sonoma Coast State Park for a spectacular stop on the Pacific. In Bodega Bay, where Hitchcock filmed "The Birds," the scary church remains. We stopped for a hearty lunch at the waterfront Lucas Wharf Fishetarian Fish Market. Its sustainably sourced dishes were the best we'd had on this trip: plump, lightly crusted calamari, tender Dungeness crab cakes and deliciously seasoned clam chowder. Add two amusing elephant seals, noisily competing to sunbathe on the pier, and we departed well-fed and entertained, ready for the four-hour drive to AutoCamp Yosemite.
The next hour of narrow wildness on Highway 1 was an enchantment, deliriously close to turquoise waters swathed in intermittent mist. Subsequently overtaken by bright sun shining on cattle and horse ranches, our eyes and noses processed the interweaving smells of animal hides and salt spray. Veering inland, the scenery was long stretches of almond and pistachio farms, until we glimpsed foggy San Francisco Bay with cargo ships trawling wares.
Then it was down to real business: 3 1/2 hours going east on Interstate 580 - four-lane commuter traffic, lush scenery behind us - to reach AutoCamp in Midpines, 26 miles outside of Yosemite. We were tense and discouraged, knowing we had tried to cram too much into an eight-day span.
We staggered into AutoCamp's mid-century-modern lodge, barely able to appreciate its cool respite. But we knew the drill: Leave the car, choose a luggage wagon. On the way in, we passed a swimming pool that immediately became a priority.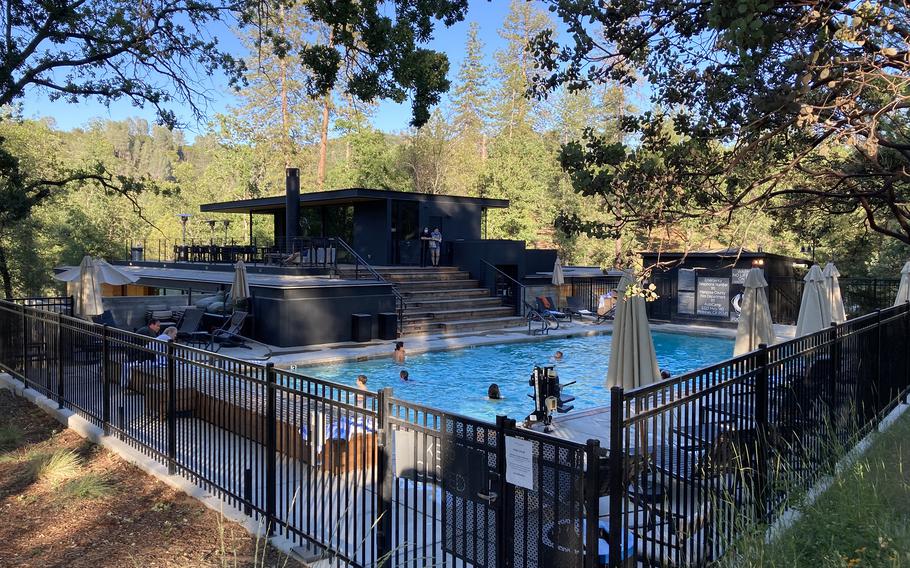 If Russian River was a sweet enclave, Yosemite was a hilly village. Our Airstream faced the camp's central pond. Settling in around our firepit, munching food we bought at the lodge, we listened to the evening's awakening crickets and eager-to-mate bullfrogs.
Once again, an astonishing number of outdoor activities were on offer: horse rides, hikes, skydiving, white-water rafting and more. But we had arrived with monocle vision, determined to drive into Yosemite, our required $35 car permit settled in the glove box. In hindsight, I realized we could have taken the daily YARTS bus, which stops right outside the camp, for $20 round trip.
State Route 140 to the park is a gnarly but scenic 26-mile drive, sort of like mogul skiing. Evidence of past fires appeared in swaths of forest remaindered into black skeletons. Road repairs and rock slide prevention work made for periodic long stops. We had never been so done with driving. Roads were shut to Cathedral Rocks, Bridalveil Fall and the Mariposa Grove. And yet Yosemite Valley transformed our sagging hearts. We parked along Northside Drive and ambled, transported, on a looping trail through meadowlands and oak groves, Steller's jays zipping by.
On the banks of Yosemite Creek, brown-headed canvasback ducks plunged and preened. But of course, it's not so much about looking down as about gazing up at the massive granite cliff faces of Half Dome and El Capitan. The latter, rising 3,593 feet, is perhaps the tallest exposed vertical face of granite on Earth; in proximity, we realized how starved we had been for natural wonders. Outside Yosemite Village, we took a very crowded trail to Lower Yosemite falls. People clambered over boulders at its base to catch the spray. Perhaps risk-taking is one COVID legacy - the response to disbelief at being sprung free.
It was a shock to suddenly find ourselves in crowds. Plus, it was time to head back, anticipating being stalled by roadwork (which we were). In the parking lot, a young couple stepped out of a van. They opened the side and back doors, revealing a self-outfitted camper. Soon we were talking about the downsizing movement, the long lockdown and our shared resolve to never again put places we want to go on the back burner.
Back at camp, children dashed gleefully among the Airstreams, their laughter echoing.
A mother looked on, "They're finally sprung free."
"Why did you choose an Airstream stay?" I asked.
"I've never been much for camping," she said, "but when my husband found this, and I saw the pictures, I was like, I can do that."
Just as Wally Byam envisioned.
- - -
IF YOU GO:
WHERE TO STAY
- Hart's Camp
33145 Webb Park Rd., Pacific City, Ore.
503-965-7006
Retro-look Flying Cloud Airstreams with contemporary amenities such as fenced-in patio, grill area and private outdoor shower. Across the street from the Pacific Ocean. From $289 per night.
- AutoCamp Russian River
14120 Old Cazadero Rd., Guerneville, Calif.
888-405-7553
Airstream trailers and hip minimalist interior design in wooded location bordering the Russian River. Multiple concierge-arranged activities. Also offers yoga, biking, tubing, kayaking, winery tastings. Airstream rentals around $430 per night. Activity prices and hours vary.
- AutoCamp Yosemite
6323 CA-140, Midpines, Calif.
888-405-7553
Luxury Airstreams in a hilly setting surrounding a freshwater pond. Amenities include a mid-century clubhouse with firepit lounge and a temperature-controlled outdoor pool. Many ready-to-cook options, including grilling and s'mores kits, plus beer and wine available from General Store. Rooms from $450 per night.
WHERE TO EAT
- Meridian Restaurant
33000 Cape Kiwanda Dr., Pacific City, Ore.
503-483-3000
Locally sourced, high-end Northwest coastal cuisine with excellent views of the Pacific and Chief Kiawanda Rock. Inside the Headlands lodge. Entrees from $29.
- Fishetarian
599 Hwy. 1 S., Bodega Bay, Calif.
707-875-9092
fishetarianfishmarket.comDog- and flip-flop-friendly, the outdoor patio faces turquoise Bodega Bay. Entrees from $14. No reservations.
WHAT TO DO
- Cape Kiwanda State Natural Area
Pacific City, Ore. 800-551-6949
stateparks.oregon.gov/index.cfm
Hike the Cape Kiwanda State Natural Area for stunning Pacific panoramas. Free entry. Designated pay-to park areas available off the beach on the south side of Cape Kiwanda.
- Yosemite National Park
Arch Rock entrance: El Portal Rd. on Hwy. 140 near Mariposa, Calif.209-372-0200
The Arch Rock entrance leads into Yosemite Valley's meadowlands with impressive views of El Capitan and Half Dome. Nearby Yosemite Village has trails to Yosemite Falls and the grand Ahwahnee lodge. AutoCamp's staff arranges outdoor activities such as horse rides, private guides, skydiving, snowshoeing and white-water rafting. YARTS (Yosemite Area Regional Transportation System) bus stops outside camp for $20 round trip. The park has five entrances; author used Arch Rock entrance. Open year-round. Seven-day passes, $35 per vehicle; annual passes, $70 per person.
INFORMATION