5 Tips for Better College Visits
By
Special to Stars and Stripes
September 16, 2022
---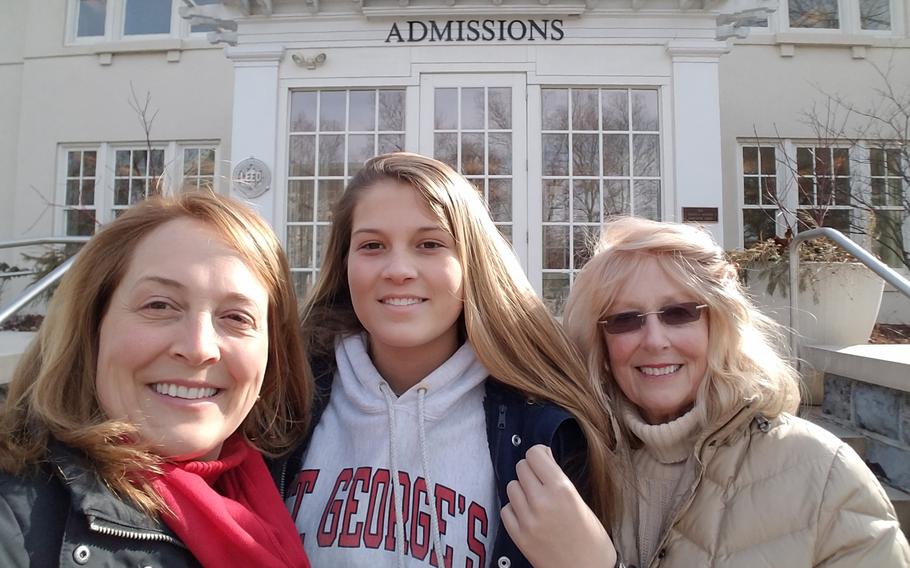 It's that time of year again, so listen up, hallowed halls. Take note, institutions of higher learning. Lend me your ears, foundations of educational excellence.
You may think you know it all, but even the snootiest universities could use a few words of sage advice from the parents of prospective applicants. I'll admit, we search for glasses that are perched on our heads, forget to defrost the pork chops and wander around trying to remember why we came upstairs, but take heed: parents are experts when it comes to what makes a good college visit.
Having put three offspring through college while a military family, my Navy-veteran husband and I are intimately familiar with that frazzled state of parenthood marked by financial panic, misplaced dreams and rapid debt accumulation. But our strong parental instinct drove us to blindly ignore our Chapter 11 premonitions, and encourage our children to pursue their educational goals, whether they required public (please, yes!) or private (GULP!) educational institutions.
During all those memorable college visits with our children, I endured many information sessions and campus tours at countless schools. We learned a lot on our college visit odysseys, and feel it is our duty to pass these tips on to college admissions officials across the nation.
1. Free stuff. That's right, we're not too proud to admit that we like getting stuff for free. Pens, key chains, lanyards, water bottles, whatever. We've driven a gazillion miles, stayed overnight in questionable motels, and were fed like cattle through breakfast buffet lines where we ate pasteurized egg product omelets that could have doubled for brake pads, and cups of coffee that tasted like they were filtered through my son's gym socks. So yeah, a couple of free pens might be nice. And if you really want to make an impression, why not print us up some cool T-shirts and shoot them at us through air cannons like they do at football games?
2. Walk backwards. I know it's gimmicky, but we like it when student tour guides walk backwards for the entire campus tour. It keeps us entertained like the daredevil routine at the circus. Will he trip over that curb? Will that branch snag in her hair? Why not work in few uneven sidewalk pavers or an open manhole cover to add a touch of suspense? Oh, what fun!
3. Potty breaks. Parents of our learned age have a plethora of bladder control quirks, so provide plenty of breaks to use the facilities, be they gender neutral, gender specific or porta-potty in nature. These are especially important if you generously offered refreshments (we do like free stuff, mind you) and don't want parents exposing themselves on the Quad to "water the shrubs."
4. Point out the elephant in the room. By "charming college town," did you mean that strip mall across the street with the pawnshop and the e-cig emporium? Was that the Hell's Angels that just drove by the Student Union? Even if your bubbly tour guide acted like we were walking the streets of Mayberry, we noticed every sketchy-looking corner, and now can't stop envisioning our daughter wandering into "Tanya's Tattoo & Piercing Parlor" or being mugged by that unsavory character on his way back from the methadone clinic. So yeah, let's talk about it.
5. Get to the point. We may spend the entire day wandering your dappled walkways and ogling your columned architecture, but make no mistake about it -- we really just want a school that will make our kid happy and won't break the bank. So don't bother going on and on about collaborative research, evolving identities and transformative enlightenment. Let's go over financial aid, and I'm not talking loans.
A special note to the Ivy Leagues: Don't be so stuck up. We have every right to tour your campus, even if we know you'll never let our kids in. It's kind of like going to the zoo, except that all the animals are way smarter than we are. Besides, we're only here because your school was on our way home, and we thought it would be cool to add another pen to our collection.
Read more at themeatandpotatoesoflife.com and in Lisa's book, "The Meat and Potatoes of Life: My True Lit Com." Email: meatandpotatoesoflife@gmail.com
---
---
---
---