Modelers pay tribute to military moments, memories
By
Special to Stars and Stripes
June 17, 2022
---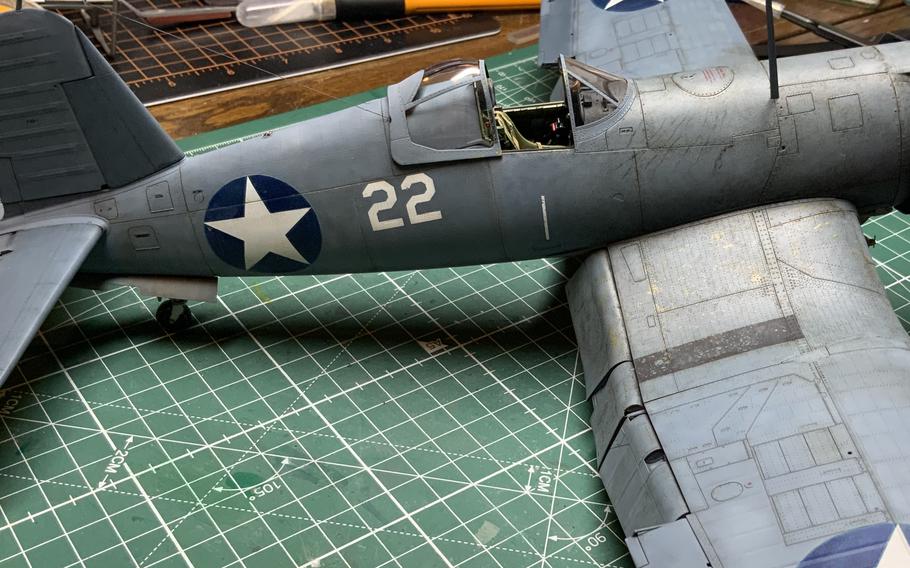 In the back room of a Patuxent River game store, on the third Thursday of every month, men gather at long tables formed into a square. They aren't there for the video and board games. Nor are they there to play Dungeons & Dragons, which takes place in the store's back rooms. They are the Southern Maryland Scale Modeling Club, and they come to discuss and work on plastic models of miniature military aircraft, ships, armored tanks and artillery.
As gamers wander the store, these men take turns sharing their models with the group. Most are military active duty members, veterans and retirees, like club president, Capt. Timothy Holland (USN, Ret.).
Others, like my brother-in-law Paul Warren, come for their interest in military battles and equipment. "Building airplanes, tanks, ships and artillery honors those who served and fought in wars," Warren told me recently. "The club I belong to [has] mostly retired Navy guys," he explained. "Modeling gives them something to keep the brain stimulated and they connect with the aircraft and ships they served on."
Their regional club has approximately 60 members between age 8 and 80, currently all men, but women have participated over the years. The club is a regional chapter of the International Plastic Modelers Society (IPMS), which has about 220 US chapters, and other chapters throughout 64 countries, alphabetically from Argentina to Venezuela.
Holland, who took over as President of his chapter in 2015, told me he started modeling at age 5 when his dad gave him and his sister Boeing airplane kits before they were taking their first flight to visit their Nana.
"I fell in love with model making," Holland said.
"Until my teen years, I'd build anything ... [a]ircraft, cars, rockets, ships, trucks and tanks." He built small models (1:72-inch scale) to hang from his bedroom ceiling so that he could imagine real battles from the past. "Having a B-17 with a Messerschmitt and Focke Wulf and Mustang, and knowing that 1,000 of each would be in the skies over Germany on any given day with 10,000 men fighting was very impressionable," he recalled.
"I ultimately decided to join the Navy," said Holland, who after his commissioning from the Naval Academy, served as an Aerospace Engineering Duty Officer and retired as Captain in 2011.
Warren also began plastic modeling as a child. "Most of my childhood was spent at the kitchen table gluing pieces together and painting models," he told me. He lost interest in his teen years, when girls, sports and cars caught his attention. "It's always girls," he recalled.
After reading about World War II as an adult, Warren began modeling again. "I like propellers and jets. I build the occasional car and I have a couple tanks, but war birds is what I enjoy most … I like to tell the story of Pacific theater and European dog fights."
His favorite project, a 500-piece, 1:32-inch scale, Corsair F4U-1A, took 10 months to build. "These planes operated in the harsh Pacific environment. They were island-based and covered in dirt and dust … heavily weathered and rarely maintained."
Warren seeks advice about realism from the military veterans in his group. When Holland is asked for his recollections of real navy aircraft, he said he remembers "which panels typically were open, how dirty they would get, which fluids leaked and from where. These leaks all cause staining and accumulation of dirt and grime that when added to a model makes it appear more realistic, more a miniature of the real thing."
Warren is also realistic about public perception. "I'll be the first to tell you, I have a geeky hobby," he admitted. But like most members of IPMS clubs, Warren feels a sense of honor in his part-time passion.
"I think model building takes practice, planning, structure and discipline. The veterans have these qualities. It's no surprise they are the best modelers. I love hearing their stories and I'm proud to call them friends. The vets make this so much more than just a hobby," Warren said.
For a list of IPMS chapters, events, and modeling resources, see ipmsusa.org.
Read more at themeatandpotatoesoflife.com, and in Lisa's book, The Meat and Potatoes of Life: My True Lit Com. Email: meatandpotatoesoflife@gmail.com
---
---
---
---