What I discovered at a Manhattan flea market
By
Special to Stars and Stripes
June 2, 2022
---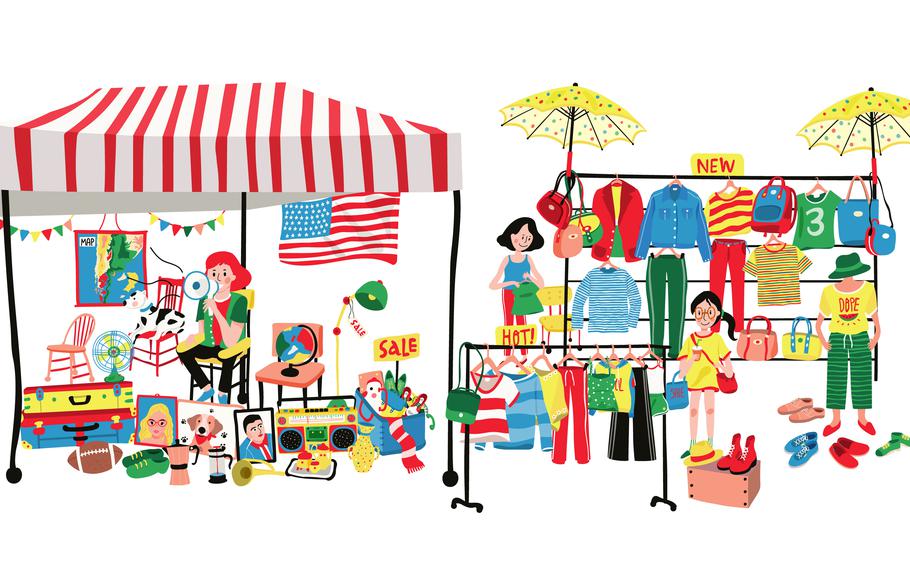 "We're looking at a 92-degree high, but it'll feel like 100 today," the weatherman said while we sipped our morning coffee. I was visiting my daughter, Anna, and it was going to be an unusually hot spring day in Manhattan.
When Anna moved to New York City to start work as a fashion designer, we worried. So many people. So much garbage. So much crime. However, much to our surprise, she and two college friends found a lovely apartment in the East Village's "Stuytown." The well-kept buildings are nestled in a sylvan campus-like setting, with a cohesive mix of elderly retirees, graduate students and young professionals, not to mention adorable dogs and babies.
On that steamy Saturday, Anna planned to take me to Stuytown's Annual Flea Market, where residents sell secondhand items, collectibles and crafts along the curved walkways surrounding the apartment complex's parks and fountains.
In Anna's air-conditioned apartment that morning, we tag teamed in the mirror. I dressed to feel cool, in shorts, a linen shirt and practical tennis shoes. Anna dressed not to feel cool but to look cool, in a pleated Jean-Paul Gaultier skirt, a fringed denim handbag and vintage Harley Davidson platform shoes adorned with red flames, echoing Anna's long, wavy red hair.
Outside on the hot sidewalk, we expected to be blasted with whiffs of steaming garbage. But instead, we found the warm weather quite tolerable, enjoyable even, among the mature trees in Stuytown's verdant complex.
Like an injection, we entered the flow of customers winding through the flea market's veins. Anna found a funny game. I scored nautical brass bookends for my Navy husband. Children ran to stalls selling toys. Dogs pulled on their leashes, seeking shade under tables.
The eclectic mix of flea market goods reflected the residents selling them, and I found myself investigating the people as much as their merchandise. A woman with a thick Asian accent insisted that I was her long-lost friend Brenda. "I swear, my name is Lisa," I told her.
"Are you sure?" she asked skeptically.
On our way to another stall, I spotted an elderly woman dressed to the nines. Her bleached hair sat under a bubblegum pink felt hat, which precisely matched her shoes and bright floral dress. She didn't walk or stroll, she strutted with her head held high, like a pink peacock. Unlike shoppers, she had no bag for carrying newly-acquired treasures. Like vendors, she was there to display her wares for others to covet.
An old woman in a shirt embroidered with pansies explained why she had so many protractors for sale — she had had a long career in mechanical drafting. "No one uses these anymore," she said, wistfully.
I bought a lithograph of an antique typewriter from a man who was a sportswriter. We chatted about writing, and his collection of first responder patches. "Here, take any one you want," he offered as a gesture of camaraderie.
I elbowed my way between two women at a table glittering with bold costume jewelry, rhinestone-crusted vanity items and a long ebony cigarette holder. "These were my mother's and my aunt's," the seller boasted.
"Whoever they are, I want to party with them!" I joked in return.
"Mother!" Anna whisper-shouted behind me.
"What?"
"You don't have to talk to everyone!" Anna said, "It's embarrassing!"
"Embarrassment is a wasted emotion. Shame is worth feeling, but if you haven't done anything wrong, there's no good reason to be embarrassed," I lectured. Anna rolled her eyes.
Later that night the city cooled, and we walked to dinner. Anna had braided her red locks into three long plaits and wore a cropped shirt, cowgirl printed skirt and metallic pink stiletto boots. By the time we reached the Italian restaurant, six New Yorkers had commented on her style.
I realized that humans are complex. We all want to connect, but we do it in different ways. That night, I shamelessly chatted with anyone I found interesting, while my daughter strutted with her head held high, like a peacock in pink metallic boots.
Read more at themeatandpotatoesoflife.com, and in Lisa's book, The Meat and Potatoes of Life: My True Lit Com. Email: meatandpotatoesoflife@gmail.com
---
---
---
---