A Lenten ode to coffee
By
Special to Stars and Stripes
March 11, 2022
---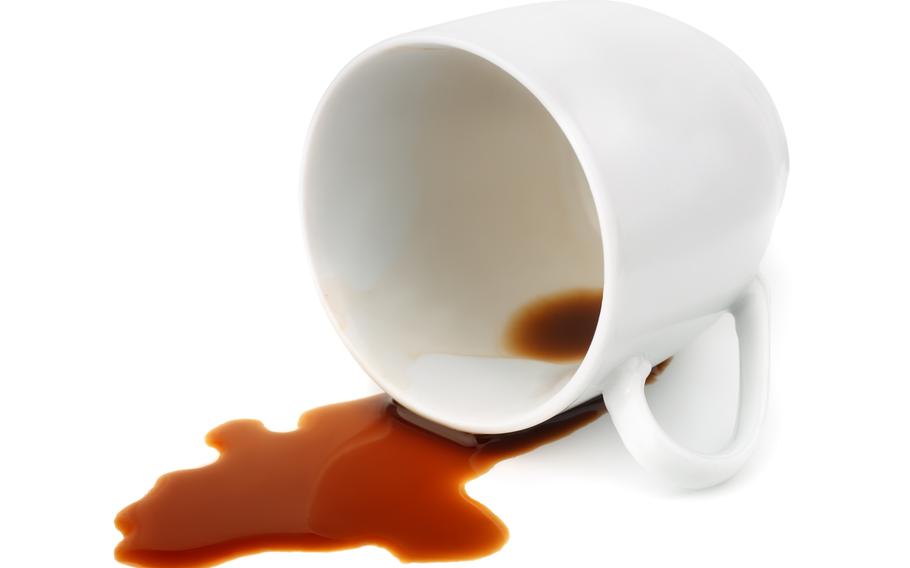 Sometimes, I worry that I might be addicted to caffeine. When this happens, I quit cold turkey for a while, usually during Lent. Since my primary source of caffeine is coffee, I'm forced to give it up during these decaffeinated hiatuses, which isn't easy considering that coffee is not only my morning beverage of choice, it is my lifestyle, my culture, my manifesto, my identity.
I am a coffee drinker, through and through.
It all began during 10th grade when I couldn't manage to stay awake during geometry class. Every morning at 8 a.m., my big, sandy, iron-curled head of hair would bob and my purple frosted eyelids would droop while my peers giggled and Mr. Sistek scowled. In an effort to end this daily public humiliation, I tried pinching my leg, chewing gum, shaking my head and doodling in the margins of my textbook, but nothing kept my adolescent brain from slipping into slumber.
At home, I observed that my mother relied on a scoop of Folgers Instant in a cup of hot water to start her day with a boost of energy, so I gave that a try. Once prepared and cooled, I chugged the mug's contents while pinching my nostrils shut to avoid the acrid flavor. To me, drinking coffee was revolting; however, I couldn't deny the pep it put in my step. Not to mention, the jittery tremors in my extremities. I wondered, perhaps I should use the recommended one scoop of instant coffee instead of four?
Notwithstanding the slight deterioration in my handwriting skills, my geometry grades improved remarkably.
I eventually discovered that coffee is actually tolerable if prepared according to the directions. And that by testing certain additives — creamers, sweeteners, flavorings — one may actually enjoy the experience.
After marriage, a drip coffee maker became a fixture in our family household no matter where the Navy stationed us. Our coffee tastes varied over the years from large cans of inexpensive ground coffee with powdered non-dairy creamer, to specialty beans ground at home and lightened with warm, frothy oat milk. Of course, I love a sturdy mug of diner coffee served on a paper placemat with mini pods of half and half, but I also delight in a prissy cappuccino piled high with creamy foam and accompanied by a stir stick heavy with crystalized sugar.
At first, I drank coffee exclusively in the mornings. But with each passing year of life, I found reasons to sip more and more throughout the day, often microwaving coffee that had long gone cold just to savor one more cup. Somewhere along the way, I bought an insulated to-go tumbler to take hot brew with me to the commissary, to the gym, to cross-country meets, on dog walks, to Target, wherever.
Regardless of how, when or where, coffee has become a constant in my life — an ever-present friend I can always depend upon.
In the morning, coffee rousts me gently, begging me to inhale its aromatic vapor. From the first sip, I feel it permeate my insides, course through my veins and awaken my senses. It simultaneously soothes and invigorates, emboldening me to seize the day. In the midst of my daily routine, hot coffee offers me a break from chaos, boredom, tedium. It's a tiny treat tempting me like a rich and creamy bonbon wrapped in colored foil, lifting my mood and carrying me on. Then, in the afternoon, coffee comes to my rescue, beckoning me out of my inevitable late-day slump with its swirling jolt of steamy goodness.
During Lent, while I'm drying out from my pandemic caffeine bender, I'll be drinking herbal teas, which, to a hardened coffee drinker such as myself, is akin to ingesting my own soapy bathwater. Despite the steady hand, reliable bladder and unstained teeth that hibiscus, green, ginger, chamomile and echinacea teas offer, they are, nonetheless, a pitiful substitute for coffee — my beloved morning elixir, my heavenly nectar of the gods, my lusty liquid constitution.
Read more at themeatandpotatoesoflife.com, and in Lisa's book, The Meat and Potatoes of Life: My True Lit Com. Email: meatandpotatoesoflife@gmail.com.
---
---
---
---