Too much is more than enough during winter getaway
By
Special to Stars and Stripes
March 4, 2022
---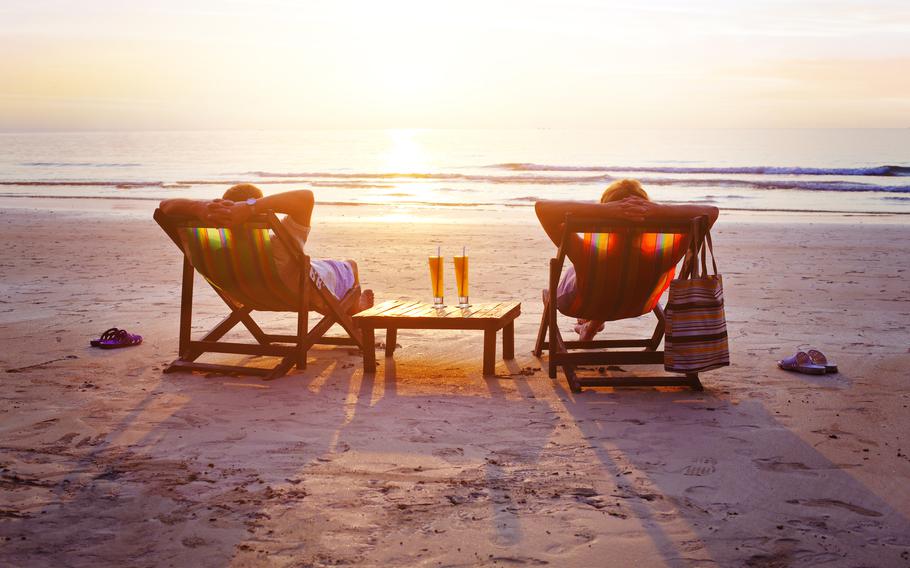 After two years of pandemic monotony, I threw a royal hissy fit.
The novelty of "staying home" had worn off long ago. I told my husband, Francis, I desperately needed to get away or I'd lose my mind. He could see from the spittle on my chin and the crazed look in my twitching right eye that I was serious.
A month later, Francis surprised me with tickets for a week at an "all-inclusive luxury resort" in Aruba.
Despite having traveled extensively during two overseas tours, we didn't have much experience with Caribbean islands, much less tropical resorts. Our previous trips were on a strict military family budget, which usually involved driving our minivan, renting inexpensive accommodations, packing our own food and rejecting pricey excursions and paid tour guides.
But as I perused the website of our Aruban all-inclusive luxury resort, we could've gone bankrupt for all I cared. If I didn't have to cook, clean or find another damned show to binge-watch on Netflix, this trip would be priceless.
Our plane left Boston late because of the extensive de-icing required for takeoff, but six hours later, we stood under the blazing equatorial sun while aqua-blue waters lapped the resort's white sand beach and 85-degree breezes blew through palms and cacti.
We squeezed our pale, flaky, fleshy winter bodies into bathing suits (flagrant pandemic overeating) and hit one of the resort's many outdoor bars for our first round of all-included cocktails. "This is exactly what I needed," I told Francis while sipping a frozen mango margarita under a palapa on the beach.
Interestingly, all of the resort's cocktails, wine, beer, soda, apple juice and milk were served in identical, opaque plastic tumblers like the ones stacked by the buffet at Golden Corral. Drinking chardonnay out of institutional vessels wasn't exactly glamorous, but we assumed that, with so many guests walking barefoot around pools and beaches, this was a necessary safety precaution.
Our "ocean view" fourth-floor room looked over one of the resort's many pools and out to the sea. "Wow, how about that view?" Francis said, sitting on our balcony, sipping bourbon from his Golden Corral tumbler while waiting for me to dress for dinner.
I stepped out onto the balcony just as someone below bellowed, "JACKPAHT!" We'd soon learn that the group in the pool had been on our flight from Boston, and were in Aruba for a wedding. Their extended family, which included aunts, uncles, grandparents and lots of kids, had rented the pool-side rooms below us. By the end of the week, we could identify them by their heavy Boston accents and poolside outbursts.
"C'mahn, Uncle Jimmy, let's play Jackpaht!"
"Hey Bahb! I'm stahhving!"
"MAHHKO! POLO! MAHHKO POLO!"
"MA! Jayden's diy-pah fell off in the pool!"
Our meal options included five themed restaurants (Mexican, Asian, Italian, Fine Dining and a Tropical Grill featuring heated tables where guests grilled raw meats with a medic standing by to dress burn wounds), two buffets (nothing says "luxury" like scraping at the sides of a metal vat of macaroni and cheese), and various snacks offered at the outdoor bars (to lessen the risk of diabetic coma from the syrupy coconut rum, amaretto, grenadine, peach schnapps and margarita mix). Determined to get everything our all-inclusive package offered, we gorged ourselves at them all.
We signed up for a snorkeling "booze cruise" where we saw more drinks than fish, and a violent off-road Jeep tour during which I nearly burst my spleen in the Arikok National Park.
"A cocktail, honey?" Francis offered on our last day under the palapa.
"Just a Diet Coke, please." Sunburned, sore and battling diarrhea, I'd had my fill of unlimited cocktails, food, sunshine, adventure, pool patrons and warm tropical breezes. At least that's what I told myself.
Real life isn't an all-inclusive tropical resort, so I thought of our charming New England house, roll-hiding wool sweaters, home-cooked meals, cozy TV nights, our kids, the dog. Turns out, the water is bluer, the breezes are warmer, the drinks are cheaper … and the grass is always greener on the other side.
Read more at themeatandpotatoesoflife.com, and in Lisa's book, The Meat and Potatoes of Life: My True Lit Com. Email: meatandpotatoesoflife@gmail.com  
---
---
---
---