Working on finding time to work out
By
Special to Stars and Stripes
February 24, 2022
---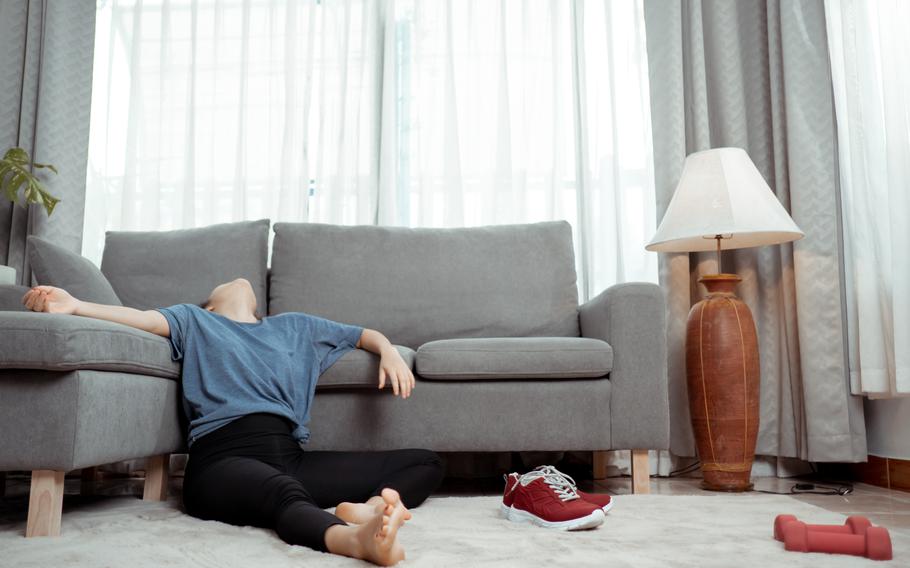 "Did these shrink?" I mutter to myself, while stuffing the relevant bits and pieces into my spandex pants. I had resolved to drop a few excess pounds after the holidays, and putting on workout clothes was half the battle.
"Now I have to exercise today," I proclaim before trudging to the kitchen for coffee.
After feeding the dog, I sit down at our kitchen island to sip my coffee and thumb through Instagram on my phone, fully intending to drive to the base gym and lift weights. An hour later, I've made it into our driveway, but I can't help but notice how messy the interior of my car was. With a loud "tsk," I decide that it is imperative for me to vacuum the car before going to the gym.
There's something about handheld vacuums, leaf blowers and power washers. Once I get one going, I can't seem to put the thing down. It's exhilarating to cleanse one's life of debris and clutter, and I never seem to want that feeling to end.
Two hours later, I have not only vacuumed the car, but I've also sucked the cobwebs out of the shed, the sand off the porch, the dog hair off the living room floor, the peanuts from under the couch cushions and the crumbs out of the utensil drawers.
I breathe a huge sigh of cleansed relief, and then notice the time. "Criminy!" I exclaim, "I still need to exercise!" I decide to save the weight lifting for tomorrow, and just get a power walk in. That is, right after I hit the bathroom.
My middle-aged bladder no longer cooperates. I used to be able to "hold it" forever like some kind of sub-Saharan camel. But once I hit my 40s, my bladder got fed up and took my urethra hostage. Essentially, when the urge strikes, I'd better hit the porcelain throne within a minute or two, or my bladder will open the release valve on my own little Hoover Dam.
While doing my business, I notice an interesting article on space exploration in the latest National Geographic …
I emerge from the bathroom with an empty bladder and a brain full of newfound information on space exploration, scatology, airborne microbes and Ecuadorian parakeets. "Fascinating …" I mutter while tying up the string on my workout pants.
The clock dictates that it's on the early side of lunchtime. I can't go on a power walk with an empty stomach, of course. Ever a multitasker, I eat a turkey sandwich and half a bag of kettle-cooked potato chips while checking emails on our computer.
Computers can be evil. Just like I can't buy just one thing at Target, I find it nearly impossible to "just check email" on our computer. Somehow, tabs get opened, links get clicked, and next thing you know, I've told someone what I ate for lunch on Facebook, bid on a set of vintage Pyrex nesting bowls on Ebay and watched three YouTube videos of babies laughing at stuff.
A couple hours later, I'm ready for that walk, but decide I'd better fluff and fold the laundry real quick so the shirts won't wrinkle. Since folding laundry is about as entertaining as watching paint dry, I turn the TV on for a little background noise.
I must say, those shows about hoarders are riveting. It's like a train wreck – it's awful and tragic, but you can't stop watching.
An hour later, I try to go on my walk, but I have to defrost the pork chops, I have to load the dishwasher, I have to scratch the dog's belly, I have to watch that hilarious rerun of "The Office."
At 11 p.m., my husband wakes me on the couch to follow him to our bed. My workout clothes are quite cozy, so in a "Flashdance"-inspired move, I remove my sports bra and climb into bed. "My workout clothes will already be on when I wake up in the morning," I think to myself before dropping off to sleep, "so I'll have to exercise tomorrow, for sure."
Read more at themeatandpotatoesoflife.com, and in Lisa's book, The Meat and Potatoes of Life: My True Lit Com. Email: meatandpotatoesoflife@gmail.com.
---
---
---
---