Snow season never fails to warm the heart
By
Special to Stars and Stripes
February 18, 2022
---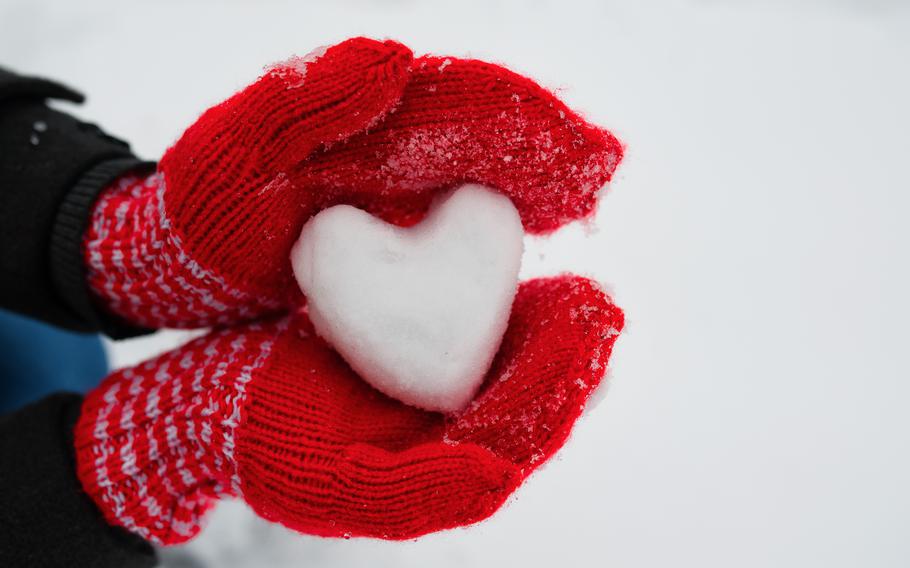 Military families must constantly acclimate to new surroundings, routines and climates. I grew up with snowy white winters, so when the Navy sent us to Florida, it felt weird that the only flakes I saw in winter were floating in my cereal bowl. I'd sit on my sunny screened porch, surrounded by green grass, ocean breezes and palm trees, and I'd dream of snow.
I know, I know, that's nuts. Crazy. Certifiable. But something was imprinted in my psyche many years ago, something that makes me associate winter with snow, and snow with pleasure. As a child growing up in Pennsylvania, snow — especially in copious amounts — meant FUN. Snowballs, sled riding, skating, hot chocolate, and one of the most joyous occasions in a child's life — snow days.
I can recall falling off my flying red plastic sled in a puff of white on the hill behind our house, and staying still a minute or two, to make sure I was still in one piece and to listen to the silence — how the snow absorbs noise and brings a soft quietness to the air. Packed and padded in protective layers, I felt swaddled like a baby, watching my breath ascend over me into the air. It was pure joy.
Ironically, a serious sledding accident in the winter of 1977 only strengthened my positive association with snow. I was in the fifth grade, and it was the last night of our winter break from school, and also my father's poker night. While the men played cards in our basement rec room, my brother and I listened to radio reports of a blizzard, and hoped for school closures.
Fueled by bravado (and a few beers), my father and his buddies decided it would be a good idea to take our 12-man wooden toboggan out for a run down the hill behind our house. My brother and I couldn't believe our luck and eagerly followed.
With my legs crisscrossed under the toboggan's wooden curl, I sat in front of the four men and my brother. Visibility was nil due to the blizzard and dark night. With the weight of the men, we took off like a bullet. I pulled the ties of my parka hood tight to keep the snow from hitting my face.
About halfway down the hill — WHAM! The rest came in flashes: my father's friend looking down wearing one of my hats, someone saying "I think it's broken," riding in the back of a pickup truck, being carried on the toboggan into the hospital, three layers of pants being cut off, wanting my mom and dad.
I had broken my femur. Apparently, our toboggan had drifted off course, running into a flagpole in our neighbor's yard. I spent the next two and a half months in a hospital bed with a weight hanging off the end of my foot just like in the cartoons.
To add insult to injury, during my lengthy hospital stay, the historic 1977 blizzard blew into town. Schools were canceled for more than two weeks, and I was stuck in a hospital bed watching "The Don Ho Show" and eating Jell-O.
One might think that the experience would have caused me to associate snow with trauma; however, the pain in my leg paled in comparison to the envy I had for my peers who spent two glorious weeks out of school, sucking on icicles, throwing snowballs and drinking hot chocolate.
I must admit, there is a downside to winter. Bundled up like the Michelin Man, I trudge out to my car, hazy with salt residue and laden with blackened hunks of snow behind each wheel. I spray de-icing compound into the locks, but the doors still freeze solid, requiring me to climb in from the rear hatch. I watch my skin shrivel and flake off. I curse the pile of crusty boots inside our front door.
Despite it all, I still marvel at freshly-fallen snow. Big fluffy, white hunks plopping from tree branches. Delicate crystalline flakes drifting slowly from the sky. Wrapping the world in a soft, silent blanket. Cold to the touch. Warm to my heart.
Read more at themeatandpotatoesoflife.com, and in Lisa's book, The Meat and Potatoes of Life: My True Lit Com. Email: meatandpotatoesoflife@gmail.com.
---
---
---
---