A kernel of doubt about spouse's abilities in kitchen
By
Special to Stars and Stripes
February 4, 2022
---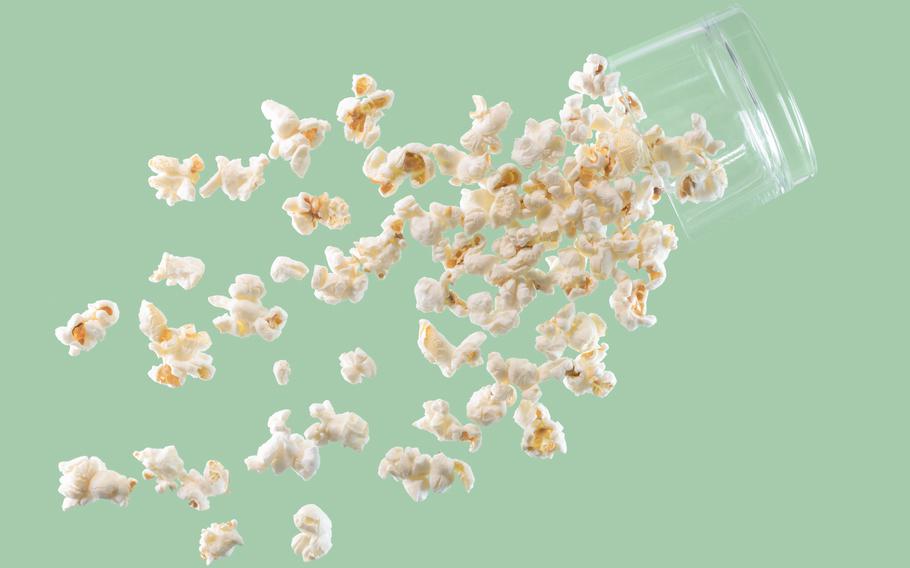 "Honey, could you make me popcorn this time?" I asked without looking up from my crochet project one night last week. Working on a deadline, I had a dozen rows to stitch before our television show was over.
Ever since my husband, Francis, and I started a new diet, we'd been fighting the nighttime munchies. To us, turning on the television was like ringing Pavlov's dog bell — our mouths began to water after sitting on the couch to watch a show. Air-popped popcorn had become our low-calorie snack of choice. Without oil and salt, it tasted like packing peanuts, but we were desperate.
For 28 years of marriage, I had managed all the corn-popping in our household. From the early days when we popped corn in Aunt Millie's hand-me-down pot, to our experiments with microwavable and air-popped varieties, to our discovery of a 1970s electric wok that popped a perfect batch every time — I was the sole popcorn chef in the family.
However, I had recently been asked by our fashion designer daughter to crochet accessories for her upcoming runway show. Needing to finish a handbag before bedtime, I hoped Francis would step up and handle my snacking needs for once. "C'mon Honey, please?" I pleaded.
"I don't know where the popper is," he claimed, but I knew Francis often feigned ignorance to get out of doing things.
"You've seen me do it a thousand times, for criminy's sake! You know it's in the pantry!" I rolled my eyes from behind my reading glasses.
"Weeeell," Francis' eyes darted back and forth from me to the kitchen, "Okaaaaay," he said in a way that dripped, "If this goes all wrong, it'll be your fault."
Slump-shouldered and grumbling, he stomped off to our kitchen. I heard rattling, clunking, muttering. "Where in the pantry?!"
"Look with your eyes, not with your mouth!" I bellowed, obviously irritated. Hearing more clunking and griping, I yelled, "Bottom shelf!" worried that Francis might upend my painstakingly-organized food storage system.
Finally, I detected the characteristic whir of our popper, essentially a culinary hair dryer that pops with hot air, blowing puffed kernels through a plastic chute-like cover and into a bowl, where they are consumed by desperate dieters willing to eat packing peanuts. Like Pavlov's pooch, my mouth watered.
"Oh, Geez!" Francis blurted a moment later.
"What's wrong?"
"I'm making a mess!" he wailed, with a tone that clearly said, "See, I told you so!"
Abandoning my crochet project, I leapt from the couch, nearly tripping when my foot became tangled in a skein of yarn. I darted through the living room and dining room, rounding the corner into the kitchen. There, on our countertop was the air popper, whirring away without its plastic cover, hundreds of popped kernels shooting out of the top like bomb shrapnel, missing the bowl and raining down on our countertop and floor.
Francis just stood there, flinching at corn shrapnel, with no idea that he'd left the plastic popper cover in the pantry.
I, too, stood dumbfounded. I couldn't believe that my husband actually had no idea how to pop popcorn. "Hadn't he watched me do it all these years?" I wondered, remembering that Francis had witnessed me doing all kinds of things as a military spouse. In fact, I had become so capable, handy and independent through many moves and deployments, Francis had become accustomed to relying heavily on me at home. Maybe too heavily? Should I have shown more vulnerability? Should I have occasionally played the damsel in distress?
In a flash of clarity, I realized that Francis was right: He couldn't pop popcorn, and it was all my fault. Our yellow lab Moby looked up at me and licked his chops over his unexpected good fortune.
Later, in our respective spots on the couch, Francis and I munched the second batch I'd popped for us after cleaning up the mess. Sensing that something significant had dawned on me as a result of the incident, Francis offered, "I'll pop it the right way for you next time."
I smiled, relieved that Francis understood — I had always needed him, too.
Read more at themeatandpotatoesoflife.com, and in Lisa's book, The Meat and Potatoes of Life: My True Lit Com. Email: meatandpotatoesoflife@gmail.com.
---
---
---
---