Marathon Olympics viewing session yields golden observations
by
Lisa Smith Molinari
Special to Stars and Stripes
August 6, 2021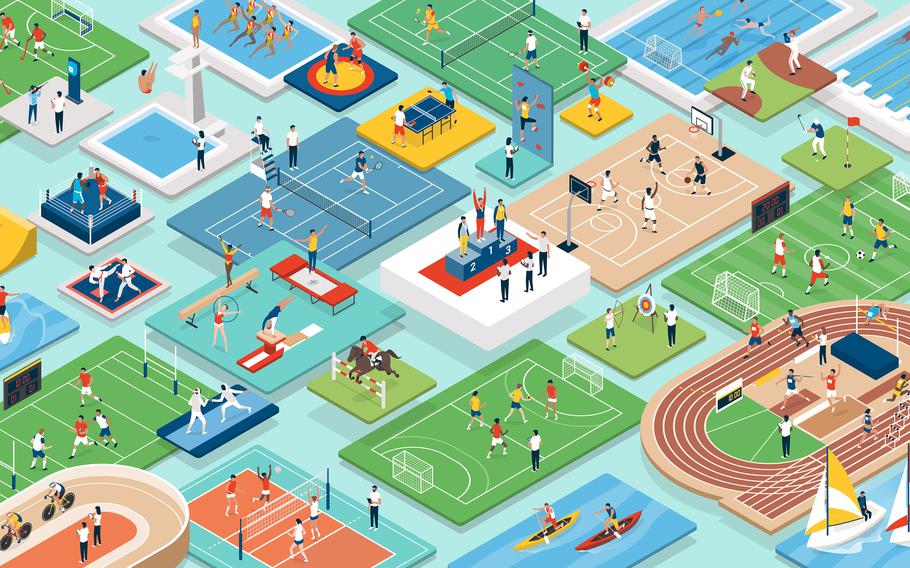 Recently, I plopped onto my well-worn spot on the sofa with a can of Pringles to binge-watch a backlog of recordings of the 2020 Tokyo Summer Olympic Games. The prospect of old standbys like swimming, gymnastics and track and field had me mildly motivated to tune in. But frankly, I was really itching to check out sports making their Olympic debut: skateboarding, surfing, rock climbing and karate.
While fast-forwarding to find the new events, I got distracted. I learned that equestrian "dressage" is the proper term for that horse jumpy-skippy-dancing thing set to fancy music. But why doesn't the horse win the medals since it's the one with all the moves?
On first glance, sabre fencing appeared to be quite violent, with lots of shouting, lunging, flapping crotch straps and space-age helmets blinking colored lights for no apparent reason. One might expect brutality from an ancient combat sport with medieval roots; however, when I learned that the object of a fencing "attack" is to merely "touch" rather than stab one's opponent with the foil, I felt robbed.
Badminton, on the other hand, didn't disappoint. I sat, riveted, as men in a dog-eat-dog singles match tried to annihilate each other by "flicking" fly swatters — er, I mean three-ounce racquets — against shuttlecocks made of goose-feathers and cork. Talk about brutal! And with no protective gear? Not only was I entertained, I plan to employ the "hairpin net shot" at my next church picnic.
I was pleasantly surprised to learn that Olympic trampoline is not the summer equivalent of curling, which everyone knows is something beer-swilling guys named Bubba and Uncle Dwayne do on weekends. To the contrary, trampoline competitors are trained gymnasts who actually wear shirts. The equipment is located in indoor gyms — not beside the neighbor's above-ground pool. Furthermore, the event requires gymnasts to perform moves such as the "poliarush," the "quadriff," the "randolph" and the "barani." And no one ever does a cannonball off the porch roof. Who knew?
As a child of the '80s, I thought I'd be familiar with the new Olympic sport of karate, having seen "Kung Fu" and "The Karate Kid" multiple times. But I was disappointed to learn that no one actually says "Wax on, wax off" and the coaches aren't big, sleeveless meanies like those at Cobra Kai. Like Grasshopper, I'm learning.
As for Olympic rock climbing, I'm convinced that the athletes are cheating. For criminy's sake, they hang like bats from the underside of rocks during "bouldering" and scramble up sheer walls faster than the babysitter's boyfriend when the car pulls up in "speed climbing." Don't be fooled. They're either using hidden magnets, or they have very, very long toenails.
When commentators announced that Olympic surfing was being moved up to take advantage of tropical storm waves, I knew I was in for a treat. The surfers, who incidentally wore more clothing than the beach volleyball players, jumped right into the gargantuan, foaming surf as if someone had just called "last swim" at the community pool. It looked like insanity to me, but according to the commentators, surfboards were "chattering," and competitors were "vertical snapping," "kicking the tailpad," "downward slashing," "beating the lip" and "scrapping hard through white water." Gnarly, dude.
During the skateboarding competition, I should have hired a translator to help me decipher terminology, and tattoos. In the "street" event, a 13-year-old girl with braces executed a "clean roundhouse cutback followed by a serious layback hack," while a 35-year-old man with green hair did a "kick flip backside lipside down the handrail and a feeble grind down the twelve." I don't know about you, but all this talk of lips, cuts and handrails makes me wanting to stock up on Band-Aids and hand sanitizer.
Lazing around watching hours of the Olympic Games can sometimes feel like an exercise in futility. But on Sunday, when the last medal is awarded and the torch is snuffed out, I will surely have gained a plethora of new knowledge about sports ... along with 10 extra pounds.
Read more at themeatandpotatoesoflife.com, and in Lisa's book, The Meat and Potatoes of Life: My True Lit Com. Email: meatandpotatoesoflife@gmail.com