Vacationing with Geek Squad teaches unexpected lesson
by
Lisa Smith Molinari
Special to Stars and Stripes
July 15, 2021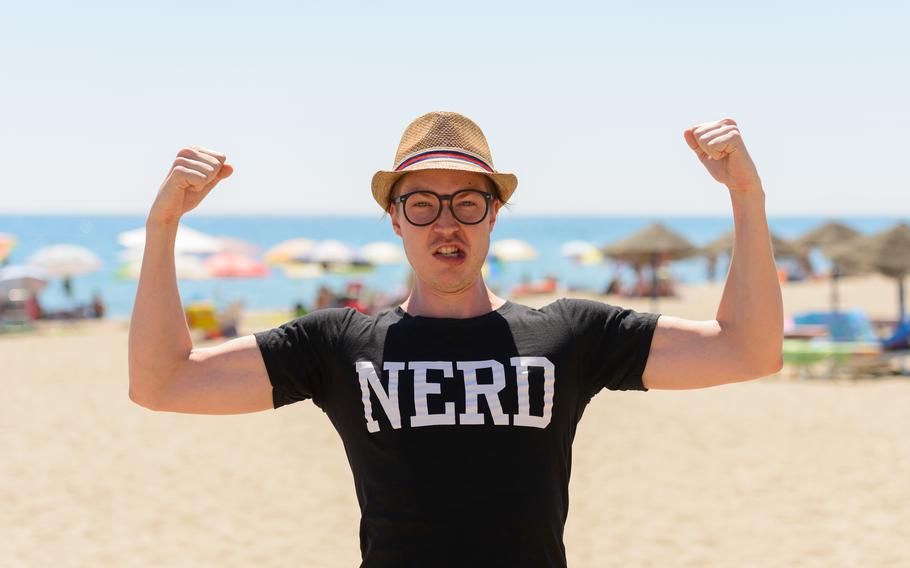 This summer, our family's annual beach vacation was the same as always, except that it wasn't.
Aside from one summer when my husband and I couldn't afford plane tickets to fly home from our duty station in England, I've been vacationing at the same North Carolina beach since I was a baby. Our extended family bought a small property there in 1979, so I've been staying at the same beach cottage since seventh grade. The cottage's third floor bunk room, where I giggled late at night until my parents yelled, is the same room where our own three kids grew up getting yelled at.
Not much has changed. Every summer, we bonk our elbows on the uncomfortable wooden furniture, shuck corn on the screened porch, and nudge toads out of the sand shower.
Just like I did when I was old enough, our two daughters have invited friends on our summer vacations, compounding late night giggle-fests, grocery bills, and sand being tracked through the house. When they got older it was fun watching the gaggle of girls vie for the attention of boys on the beach. Their tactics ranged from coy to outright obnoxious. At night, they'd doll up and ride bikes, sing loudly from our deck, or go to the local dance club, coming home with dirty feet and stories to tell.
Our son, Hayden, never invited friends to our beach cottage until recently. As an "on the spectrum" Navy brat who moved 10 times and attended three high schools, Hayden often struggled socially. He has found his way in his new career as a software engineer, where he has formed real friendships.
"Can we take the third floor?" Hayden asked recently, after inviting two of his computer scientist friends to come on our summer vacation. We thought it a bit odd that twenty-something fellows would want to bunk together, but we knew Hayden was excited to finally have the kind of experiences that he'd seen his sisters have.
They arrived on Saturday night, spilling out of Hayden's Nissan with their backpacks, bantering about video games. "So what did you do during the 12-hour drive from Rhode Island?" I asked once they were settled in the cottage. "Listen to music? Play games? Sleep?"
"We talked," Hayden said.
"For 12 hours?" I asked, expecting clarification.
"Yep, the whole time," Hayden responded, deadpan.
It didn't take long for us to learn that talking, or rather, arguing was their favorite pastime. From sunup to sundown, they debated. Everything from computer coding to breakfast cereals. Although we often didn't understand the issues being addressed in their fast-paced repartee, we found it highly entertaining.
Unlike our daughters, Hayden and his friends weren't interested in attracting attention or pushing limits. In fact, they had trouble maintaining eye contact for more than five seconds, and avoided outdoor activities that might cause sunburn or insect bites. One afternoon, as two large groups of young women in bikinis passed by our cottage, Hayden and his friends sat on the couch, transfixed by YouTube videos featuring hands soldering wires onto motherboards. At night, instead of hitting the clubs, they'd play video games at the fishing pier or go to Walmart to buy surge protectors and adapters, hitting the Sonic drive-through for slushes on the way home (too many mosquitoes at the boardwalk ice cream stand). On a perfect beach day, Hayden and his friends went to the Wright Brothers Museum, learning about aerodynamics and the history of flight. Another day, they bought a kite and, after arguing how to launch it, finally got it airborne only to reel it in for fear that wind gusts might cause it to impale someone. Safety first.
In the end, our son and his friends "had a blast" on vacation, despite mini-golf sunburns. Certainly, their brand of enjoyment was unique and somewhat difficult to comprehend, but valid nonetheless.
My husband and I learned that parenting individual children the same way, in the same environment (i.e., our summer beach cottage), will nevertheless produce unique individuals with distinct motivations, personalities and paths to success.
In other words, fun is in the mind of the vacationer.
Read more at themeatandpotatoesoflife.com, and in Lisa's book, The Meat and Potatoes of Life: My True Lit Com. Email: meatandpotatoesoflife@gmail.com