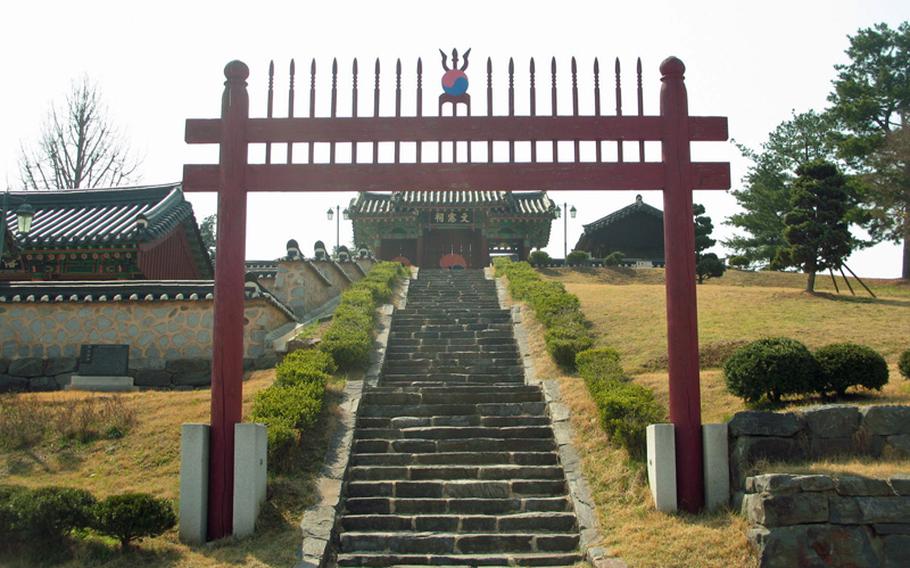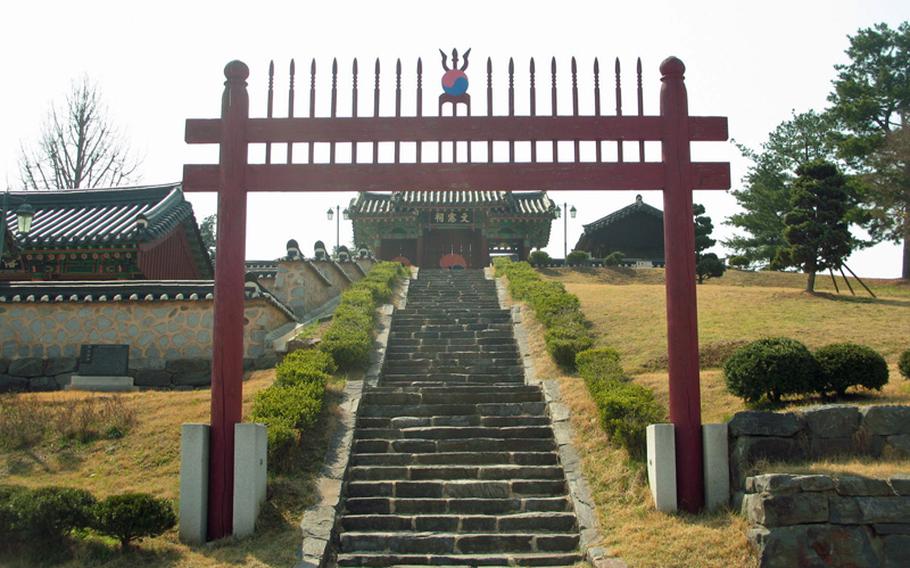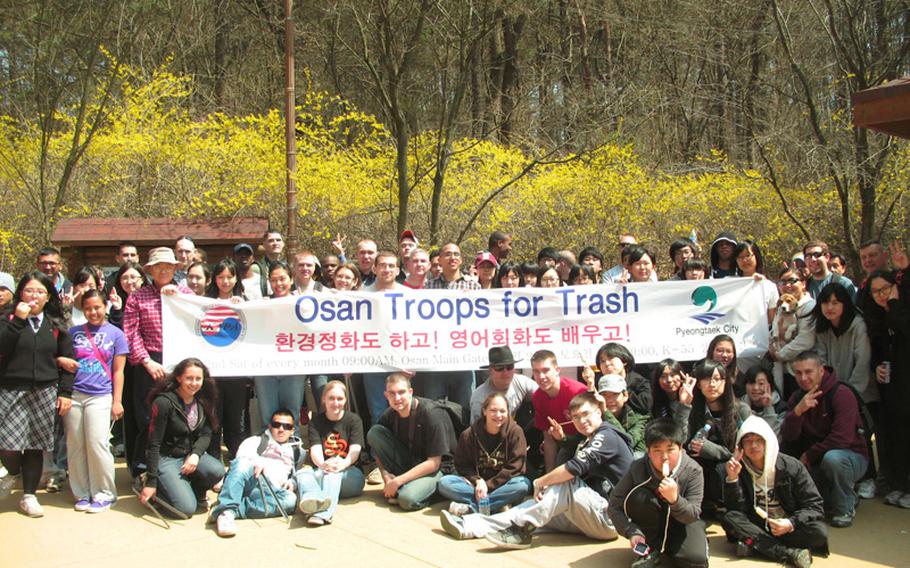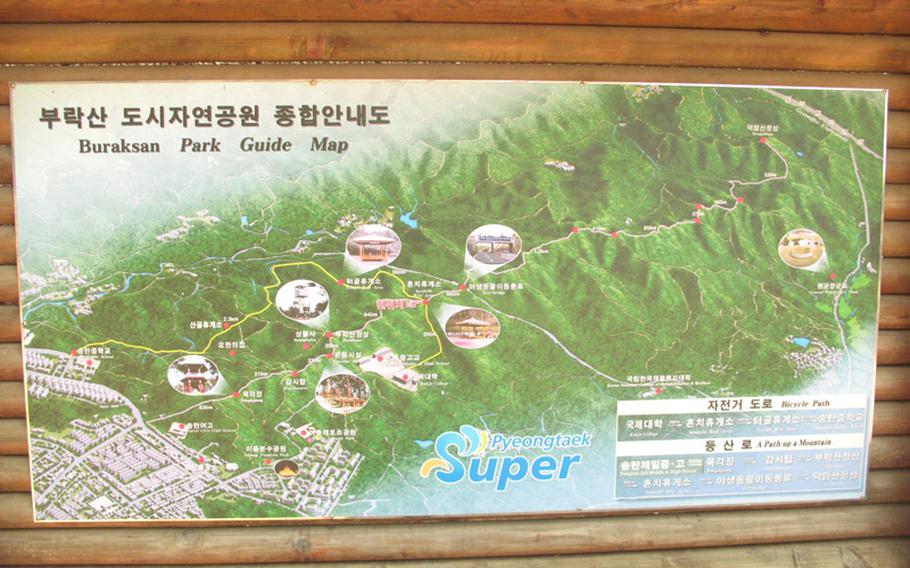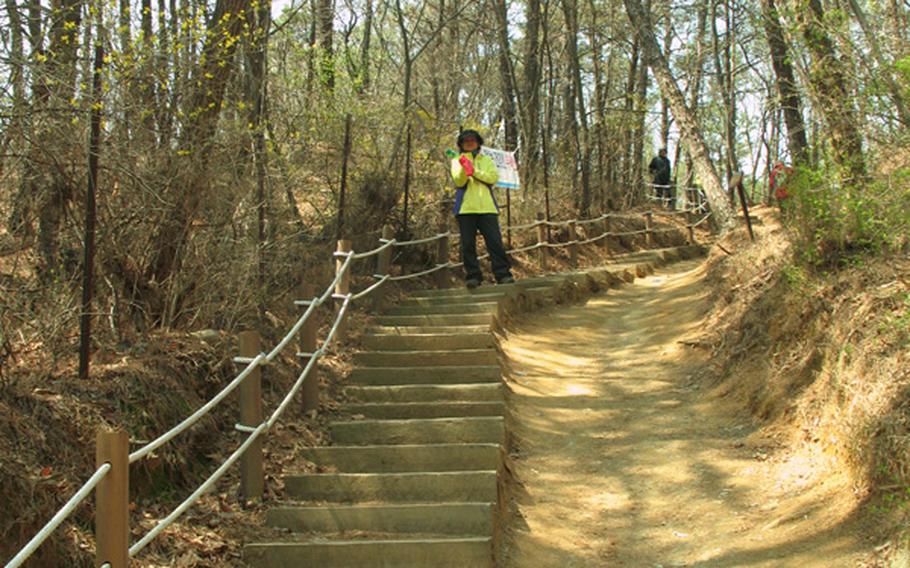 Rich in folklore and ancient Korean history, Buraksan Hiking Preserve in Songtan — about two miles southeast from Osan Air Base's Main Gate — has year-round natural delights. It's an overall easy hike, especially the well-trodden first half (officially two stars out of five in difficulty). You can cycle the trails with a mountain bike, too.
Buraksan, or mountain, is noted on the Dae-dong yaw, the first comprehensive map of Korea, according to many scholars. The trail's ridgelines were considered magical manifestations of spiritual forces where people would pray, commonly to have a male heir. Ceremonies were held with candles, fruits, rice cakes and wine. Even today there's a shaman hall that practices these rites below Deogam Mountain at the unofficial end of the trail.
A sign inside the preserve lists 221 plants, trees and flowers that grow in the trail system. Among the most prevalent are varieties of rice, roses, beans, grasses and tulips that make up more than 40 percent of the region's flora and fauna.
In the spring, prepare to see royal azaleas in gorgeous hues of red, pinkish-purple and white as well as brilliant yellow forsythias. The odor of purple lilac bushes permeates the air in springtime as well.
The trail undulates over its steep ridgeline. You'll see pines, firs, occasional birches, and many chestnut trees — watch out for the sharp-spiked pods littering the ground. Keep an eye out too for speeding cyclists often racing the trail.
Black-tailed squirrels scurry across the path, and occasionally rabbits and chipmunks. Hear the konk of a wild pheasant and at nightfall, the croaking of bullfrogs in nearby rice paddies. The only dangerous wildlife are the poisonous light-brown mamushi vipers and tiger snakes, but in all my years hiking here with my dog, Sandy, I've not seen any, although I've known others who have.
After 1 ½ miles, you'll reach the Heunchi Rest Area, where water, refreshments and restrooms are available. Not tired yet? Hike not quite another half-mile to Eco-bridge over Route 317. This juncture unofficially ends the most commonly hiked section of the trail.
Still don't want to turn back? Continue east for two miles to Deogam Mountain. You'll come to a "T." You can turn left and north for slightly more than a mile to the village of Un-san, where you can see the printing woodblocks at Sambongjip Memorial Hall, which is free, or turn right for about a mile south to Do-il-ro highway.
If you don't want to go alone, you can join a Troops for Trash pick-up hike, led once a month by Jim Dunnet, a retired Air Force sergeant, and Yi In Won, founder of the local Korean-American Partnership Association.
KNOW & GOBuraksan Hiking Preserve is open year-round. October weekends are busiest. It's free. Dogs must be leashed.From Pyeongtaek City's Songtan Branch Office, walk about 1,500 feet north up Route 1; the main trail entrance is on your right just before Songtan Middle School. You'll see "Buraksan Guide Map" in English white lettering on the signboard. Or take a taxi from Osan's Main Gate for a little more than basic fare.Troops for Trash takes place the second Saturday of each month and meets at 9:30 a.m. at Osan's Main Gate.
---
---
---
---