Find high-class shelter inside Nagoya Castle, a historic gem
By
Stars and Stripes
August 18, 2022
---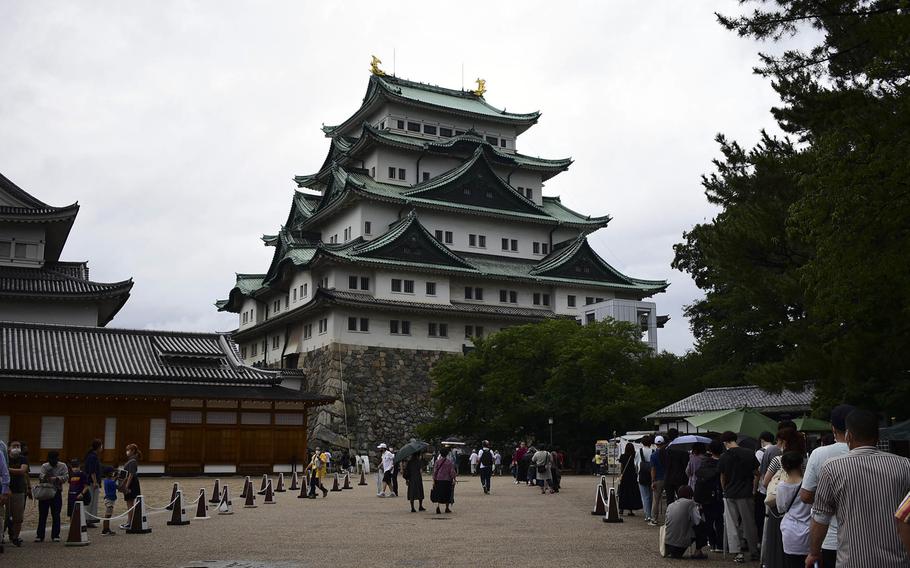 On a cloudy day of sporadic downpours, we found shelter inside one of Japan's foremost national treasures, Nagoya Castle, in Nagoya, Japan.
Established by Tokugawa Ieyasu, founder of the 2 ½-century-long Tokugawa shogunate, and completed in 1615, the structure lies in the center of the city.
A wide pathway with roped lanes outside the entrance bespeaks a popular tourist destination, but the castle was nearly empty as my family headed to the information window to purchase tickets.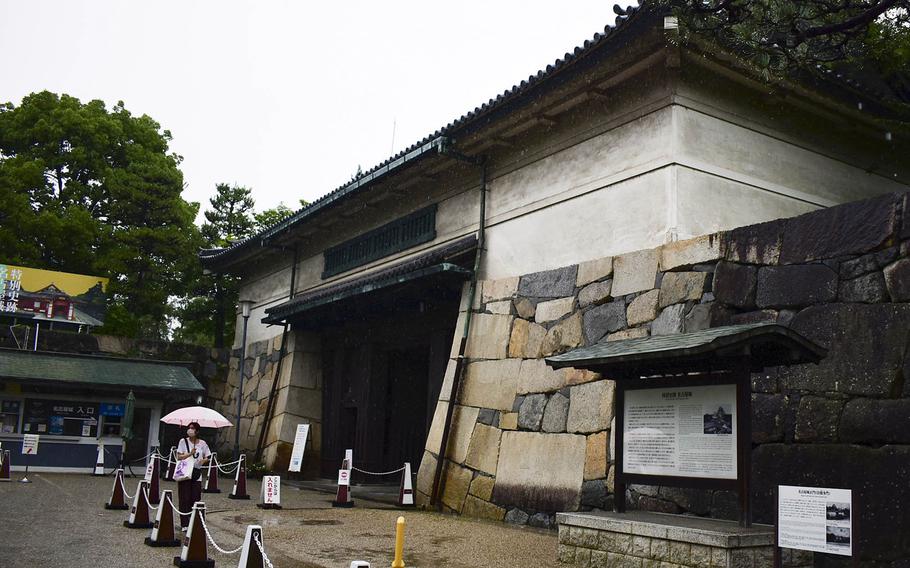 Visitors enter at the Nishinomaru Enokida Gate, which is the seimon, or main gate to the castle.
Japanese is mainly spoken here, but we had no trouble getting around the castle grounds without a guide. Informational maps in English and other languages are available at the gate. Masks are also required inside.
As we made our way in, a snack shop was located on our right where there were also places to sit and eat. We trudged on through mushy gravel, when we were caught in a sudden deluge. Umbrellas held some of it off.
An inside view of the main keep of the castle was not an option. The aged keep is closed for reconstruction until 2028.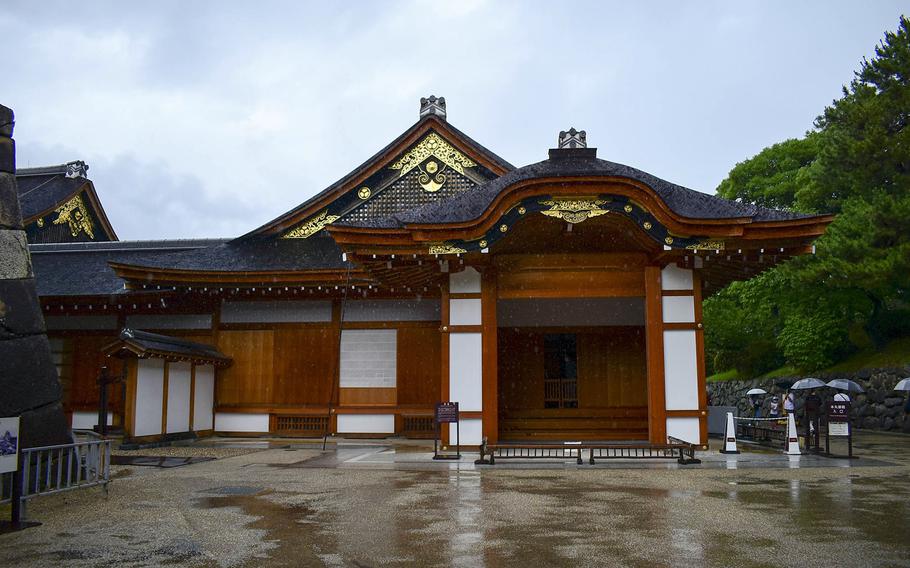 We instead headed to the Omote Ni-no-mon, or second front gate, at the center of the castle. There we found Honmaru Palace, which was destroyed by fire during World War II, but reconstructed in 2018 and open for a walk-through.
To get inside, you first view a video on proper conduct there. Leaving our umbrellas locked outside, we removed our shoes in the entrance hall and donned house slippers. An attendant directed us to key lockers, where we stowed our shoes and other belongings.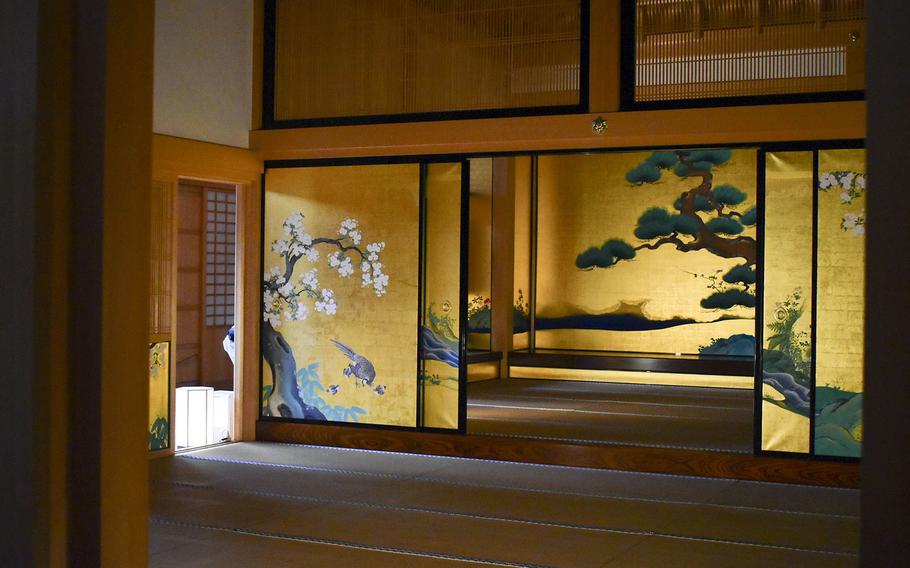 The palace, with its ornate Edo-era art and elaborate designs, was spacious. From tatami flooring to the exquisite foundations of cypress found throughout its cozy, cordoned-off rooms, it was a photographer's haven.
Each room had the crest of the lord or samurai who once lived there. The Honmaru Palace was the residence of the Owari Tokugawa clan and used for official business for high-ranking lords.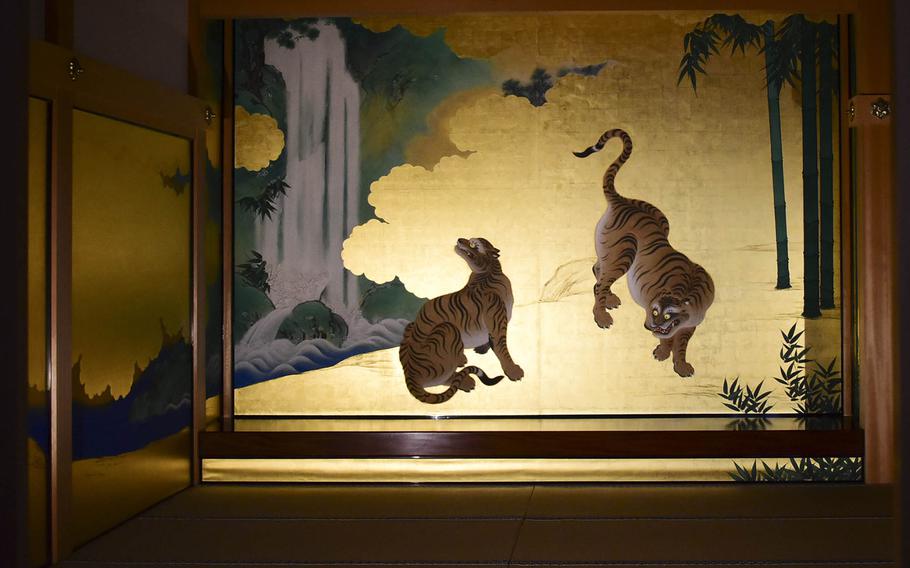 Screen-painted tigers, dragons, cranes and other art graced the golden wooden walls with vibrant colors. The palace has 13 buildings, with more than 30 rooms, including Yudono Shoin, the bathing room of the shogun, Tokugawa Iemitsu. The ceiling architecture was also inspiring to gaze upon.
Back outside the palace was an opportunity to get a professional photo with the main keep in the backdrop, but a long line kept us at bay. Shinobi, or ninja, and samurai actors in garb also roamed the grounds and were open to posing for photographs.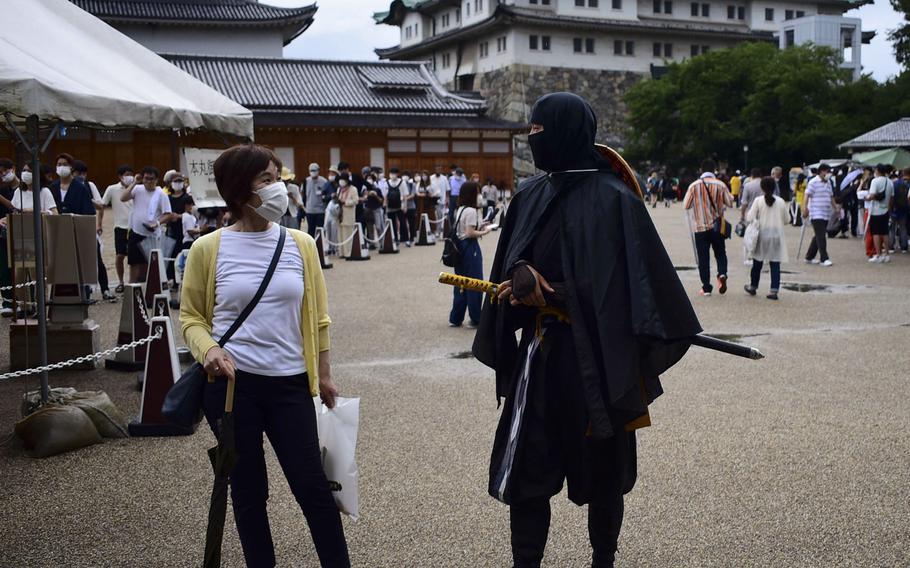 More exploration included walking along the Nanban, or "European" Wall; it extended a good distance from east to west and was near the Ninomaru Garden that we also explored.
Upon leaving the peaceful but soaked castle grounds, we checked out one of the souvenir and snack shops there. Everything from cookies and cakes with the castle embossed on them to wooden swords and finely decorated cups were for sale as take-home memories.
There is a lot of history to take in at the castle, and because it is listed as Japan's national treasure, it is meticulously maintained as such.
On the QT
Location: 1-1 Honmaru, Naka Ward, Nagoya, Aichi 460-0031
Directions: A 10-minute taxi ride from Nagoya Station.
Hours: 9 a.m. to 4:30 p.m. daily. Closed Dec. 29 through Jan. 1.
Costs: 500 yen, or about $3.70; free for junior high students and younger.
Food: There are small stores on the castle grounds offering snacks, ice cream and other goods.
Information: www.nagoyajo.city.nagoya.jp/en/. There are free English-speaking tours offered by Aichi Goodwill Guides Network. Email guide-desk@aggn.jp or call 0561-75-6977 for more information.
---
---
---
---