Lego, JR East are stamping up Tokyo to celebrate anniversaries in Japan
By
Stars and Stripes
August 11, 2022
---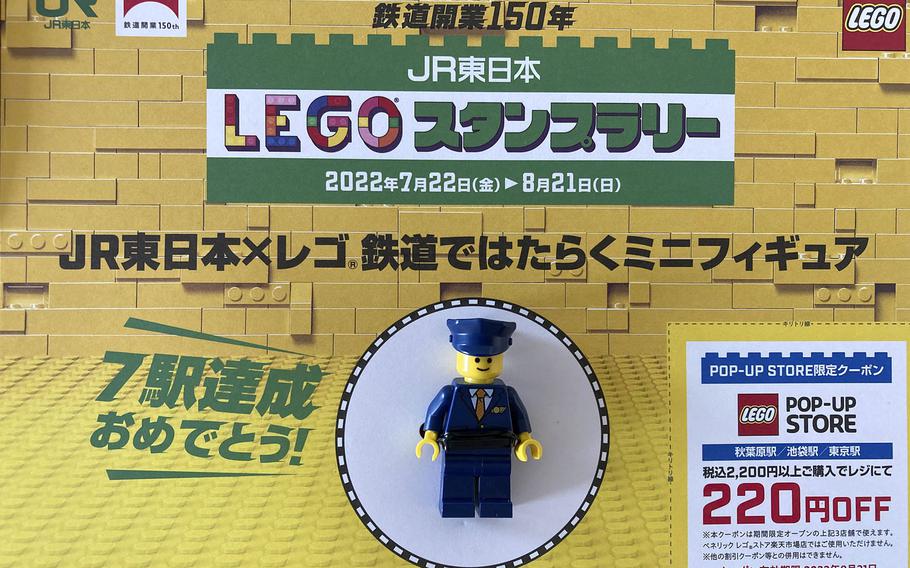 Lego lovers still have time to complete a stamp-collecting challenge at Tokyo-area train stations, collect a small prize and get comfortable riding the rail system.
Until Aug. 21, Lego and Japan Railways East are collaborating to mark the 90th anniversary of the Lego Group and 150th anniversary of the first rail line in Japan, which connected Shimbashi in Tokyo to Yokohama.
Participants move from station to station collecting ink stamps on a large game card. Seven stamps qualify the holder for a prize. Thirty stamps bring a larger prize. Brochures with a stamp section are available at 30 stations in the Tokyo metropolitan area. Participating stations are listed in the brochure.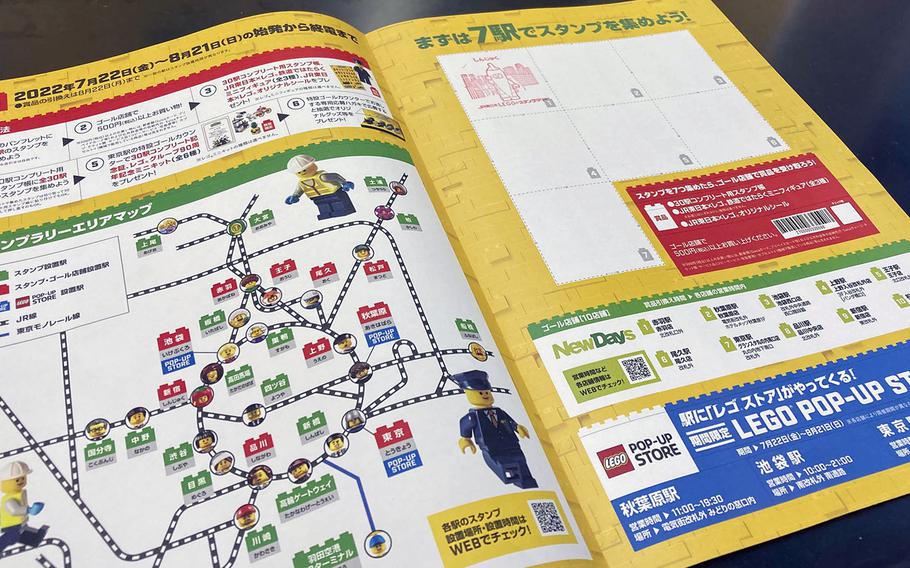 A one-day Tokenai pass to ride the rails costs 760 yen for adults and 380 yen for children, respectively, or $5.63 and $2.73, and can save riders the toll on their e-cards.
Shinjuku Station, reputedly the world's busiest rail terminal, is where I began my hunt for seven stamps on a hot August weekday. At any moment the maze-like station teems with thousands of commuters.
The stamp section is distinguishable by Lego wallpaper with "Shinjuku" printed on it. I found it by asking at the information desk. The ink stamps bear the station name in hiragana, a Japanese phonetic lettering system, and a special Lego minifigure. Shinjuku's figure resembles a red chili pepper.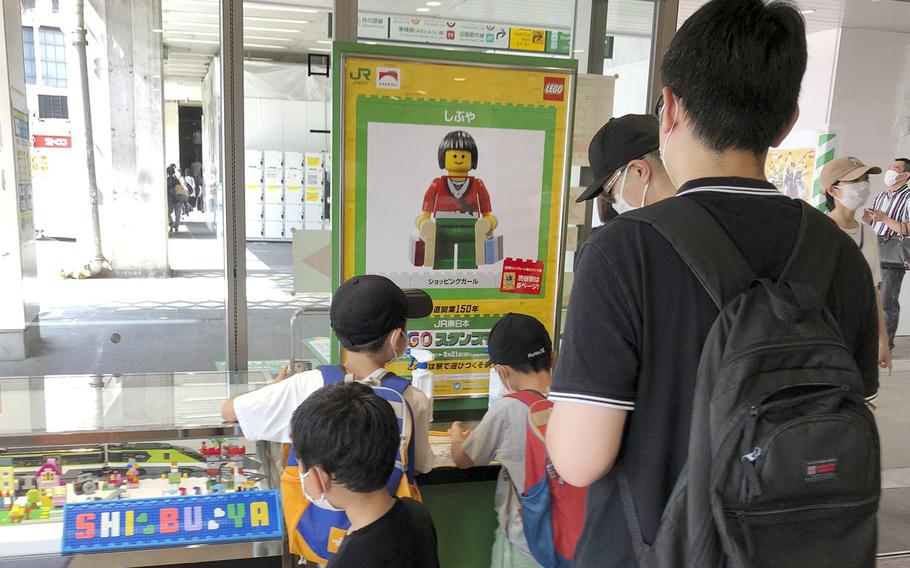 The following Sunday I resumed the trail through another six stations I needed to complete the card. It took some effort because the stamp areas were not always immediately visible at the stations, but that made the hunt more challenging.
Waiting on trains, reaching the next stations and navigating the crowds and summer heat to finally discover a stamp location took some commitment. Usually, I needed an assist from the information desk, security guards or by catching sight of the Lego signs set up to direct players to the stamp tables.
I was not alone in my quest.
"It's very enjoyable," said an older Tokyo resident, Hiromitsu Hamamoto, at Nakano Station. "It was definitely an adventure for me."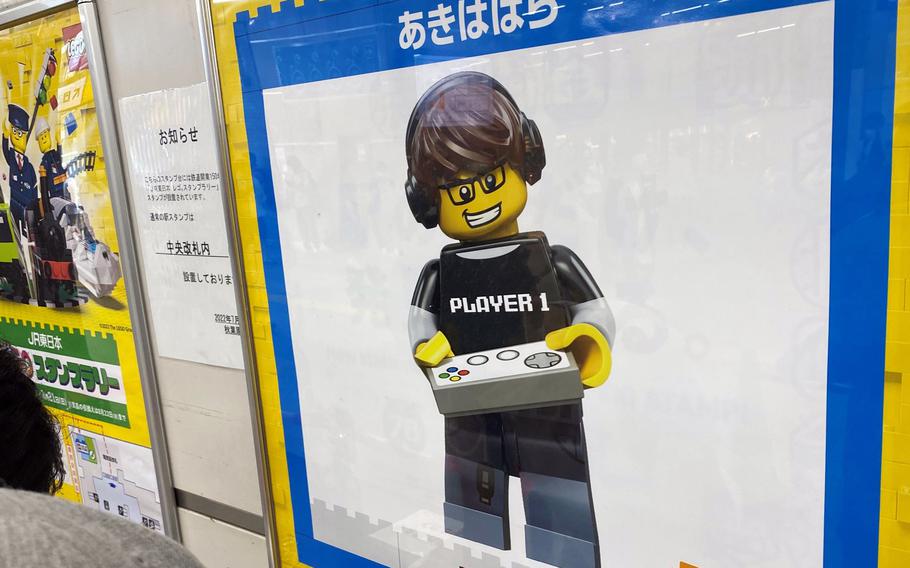 My stamp-collecting journey took me from one side of Tokyo to the other, over miles of track and through the myriad tunnels that define Tokyo's stations. With my fifth stamp, I was energized to keep moving; I was almost there. Onto the next station and the next, Meguro, my goal and the seventh station.
Victorious, I returned to Shinjuku, one of 10 designated goal stations where collectors can claim their prize.
On the final leg, I queried a Shinjuku Station employee for the location of a New Days convenience store where stamp collectors can claim their prize, a Lego minifigure. Several are available, but I chose one of a station employee.
To claim the prize, I presented the completed card and paid a hefty ransom in the form of a 500 yen or more purchase of anything inside New Days.
I knew it probably would be a bit of a challenge on my time to get to the 30-station mark, so seven is where I ended. But I did witness several others working on that milestone to beat the Aug. 21 deadline.
king.juan@stripes.com Twitter: @juanking_17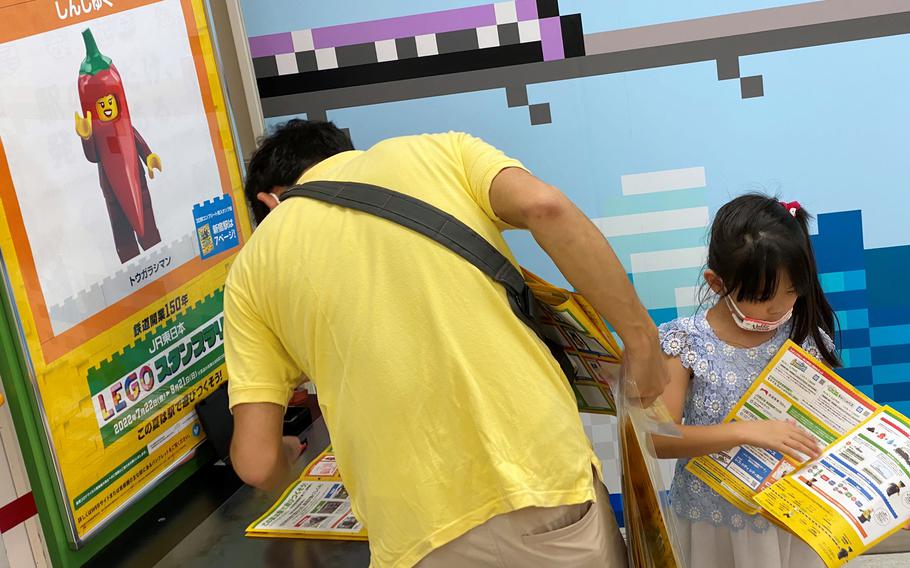 ---
---
---
---