Nikko hostel offers summer getaway in riverside railroad car
By
Stars and Stripes
June 23, 2022
---
The temperatures are rising in the Tokyo area so if you're looking to escape, try cooling off at Nikko in the mountains north of the metropolis.
But get beyond the shrines and temples and enjoy the region's natural beauty along the relaxing Kuro River.
I'm a glamper, not a camper, so I recommend the Earth Hostel, specifically the old railroad cars converted to cozy private rooms. Our group picked the hostel for a weekend celebration of a friend's birthday. Reluctant at first to stay somewhere akin to roughing it, I was happy to find each railroad car is outfitted with the right plumbing to take the edge off the outdoors.
The railroad car rooms — there are two available — lack air conditioning but do have fans to circulate the cool evening air. I noticed each room was also equipped with heaters for use in spring or fall.
To get clean you'll find two shower areas in the former onsen of the main guesthouse. Inside, there's a river view, and high ceilings with acoustics that are shower tune friendly.
Speaking of the main guesthouse, it has a spacious, upstairs lounge and three rooms that can accommodate up to four, six or eight guests.
The owner and groundskeeper, Scout, is very hospitable and speaks fluent English. He introduced us to some of the flora and fauna (such as a praying mantis that was creeping around) and knew the best nearby hiking trails. If you rather not hike the trails, bikes are available to rent for 500 yen, less than $4.
We had the whole place to ourselves, thanks to Japan's pandemic ban on tourists. After spending most of the day lounging on floaties in the crystal-clear river, we took a break from our secluded surroundings to drive the 25 minutes for lunch near Nikko Station.
That said, my friends and I came to celebrate. The patio next to the guesthouse is outfitted with picnic tables, a dance floor, free WiFi and large Bluetooth speakers.   
We fired up the provided barbecue grill, took turns playing DJ and danced the night away under a string of pretty patio lights and a disco ball. We brought our own charcoal, but the website says the hostel can provide you some for 1,000 yen, or $7.39, per 6.6-pound box.
Obviously, this place is great for groups, but it also works for couples and solo travelers. The hostel offers discounts for infants and children younger than 6, according to its website, but families with young children should proceed with caution.
There are a lot of steps to navigate to the river area and inside the guesthouse to showers, shared bedrooms and the lounge, not to mention the presence of a large body of rushing water just yards away.
Dogs are allowed if you're staying in a private railcar room but please call or text ahead to ask.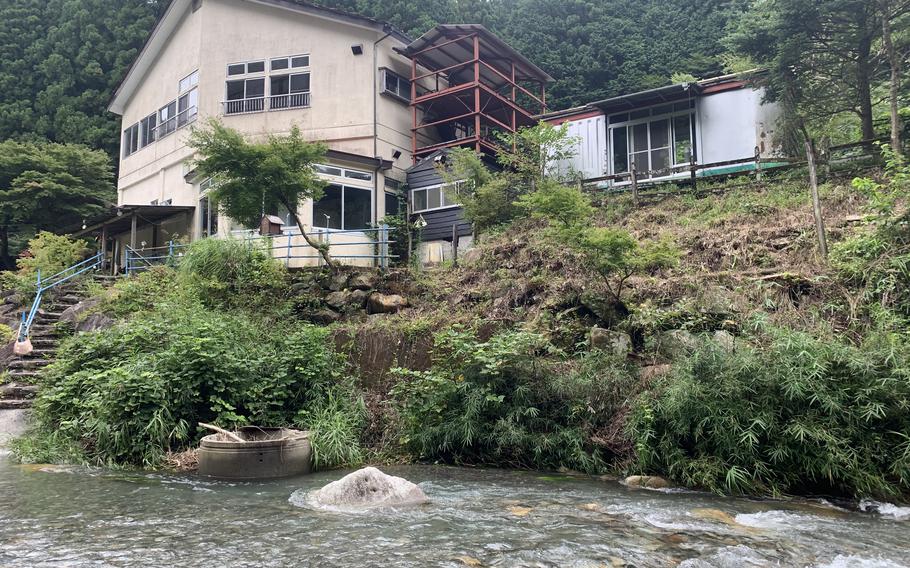 ON THE QT
Location: 2254-7 Minamiokorogawa, Nikko, Tochigi 321-1353
Directions: About two hours by car from Yokota Air Base, three to four hours by train. Shuttle available to pick you up from select train stations. Free parking on-site.
Cost: Private railroad car: 1 person: 9,000 yen ($66), 2 persons: 10,000 yen ($73), 3 persons: 10,500 yen ($77), 4 persons: 14,000 yen ($120); 3,500 yen ($26) for single bed in shared room; open mid-March to mid-November
Food: Breakfast, lunch and dinner can be served if you call ahead and are staying multiple nights. Vegan, vegetarian and gluten-free meals available with advance notice. A limited menu can be found at https://earthcafe.jp/menu/
Information: Phone: 080-1215-4018; online: https://earthhostel.com
---
---
---
---