The trail of Hachiko: Loyal dog's legacy lives on in Tokyo
By
Stars and Stripes
April 14, 2022
---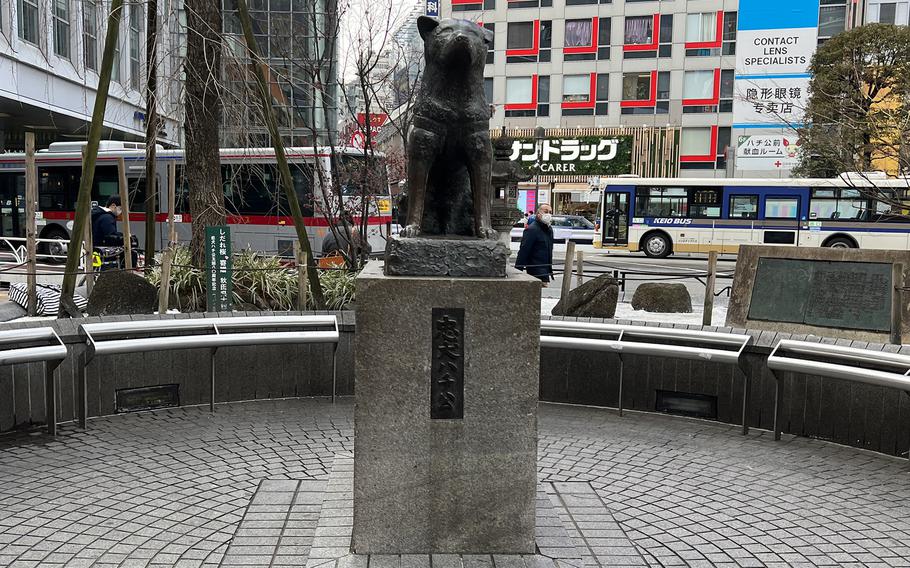 A statue of a dog with one ear up outside Shibuya Station, close to the madness of the Shibuya Scramble intersection, is one of the most popular meeting places in Tokyo.
The statue on the station's west side is easy to find. The Hachiko exit is named for it. Just follow the signs.
Hachiko's story of loyalty went worldwide more than 90 years ago. Also known as Hachi, his story was made into two films: in Japanese, "Hachi-ko," in 1987, and an American version, "Hachi: A Dog's Tale," starring Richard Gere, in 2009.
But the well-known statue is just one stop on a path that takes Hachiko's admirers past other sites associated with the story, including his final resting place and a perhaps unsettling re-creation of the animal itself.
Hachiko was an Akita born in 1923 whose master, professor Hidesaburo Ueno, taught at what is now known as the University of Tokyo. Every morning, Hachiko walked with Ueno to Shibuya Station where the two would part ways for the day as Ueno boarded the train to head to work.
Each evening, Hachiko returned to the station to greet Ueno and together they walked home. On May 1, 1925, Ueno boarded the train but did not return; he suffered a stroke that day and died.
Afterward, Hachiko was sent to live with a relative. That didn't stop the dog from visiting the station every morning and every evening, searching for his owner.
Setsuko Yamashita, 92, of Tokyo, said she first met the now-famous Hachiko when she was 5 or 6 years old.
"Every time when my parents took me to Shibuya, I was excited to pet his back," she told Stars and Stripes during an interview Feb. 11. "He was a big and quiet dog. I think Hachiko surely went to the station to get his owner at first, then he made this a habit, eventually."
Hachiko waited about 16 feet from the station gate, looking straight ahead, wearing his collar on his neck, Yamashita said.
"The real Hachiko was bigger than the statue you now see at Shibuya Station," she said.
Some people treated Hachiko poorly, thinking he was a stray, according to the Hachiko Legacy page online. He was teased and taunted and some even poured water on him, hoping he would leave.
The Asahi newspaper published a story on Oct. 4, 1932, with the headline: "Tale of a Poor Old Dog: Patiently Waiting for Seven Years for the Dead Owner." With that, Hachiko became a celebrity.
Until then, Yamashita didn't know the dog she used to pet was Hachiko, she said.
In 1934, a bronze statue was erected in front of the ticket gate of Shibuya Station, and Hachiko even attended the event. He continued to wait at the station, and locals recall seeing him looking at the statue.
During World War II, the statue was melted down to support the war efforts. The version seen today went up in 1948.
Near the statue, behind an information building, is a mural, a massive piece of art dedicated to Hachiko.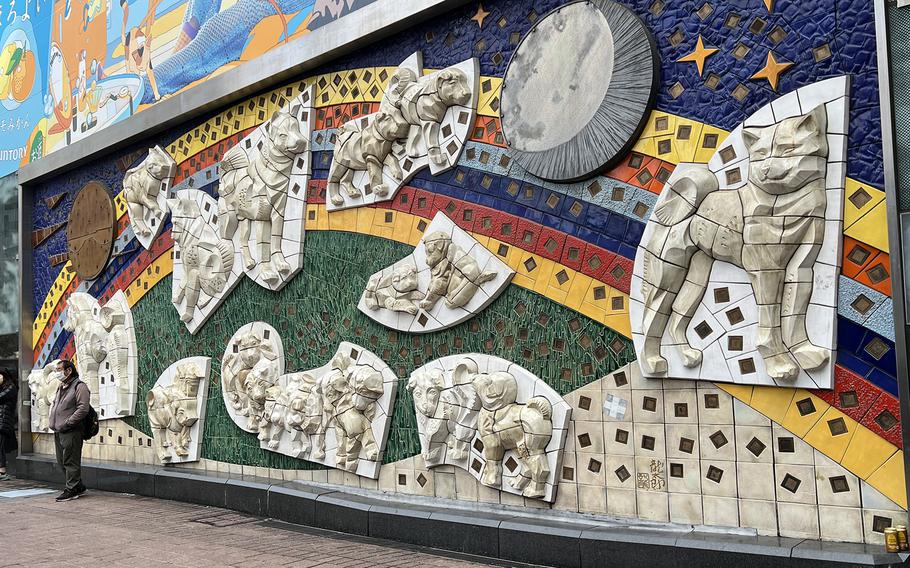 Another statue, this one of Ueno and Hachiko together, was dedicated at the University of Tokyo on March 8, 2015, marking the 80th anniversary of Hachiko's death at age 11 from cancer and a parasitic infection.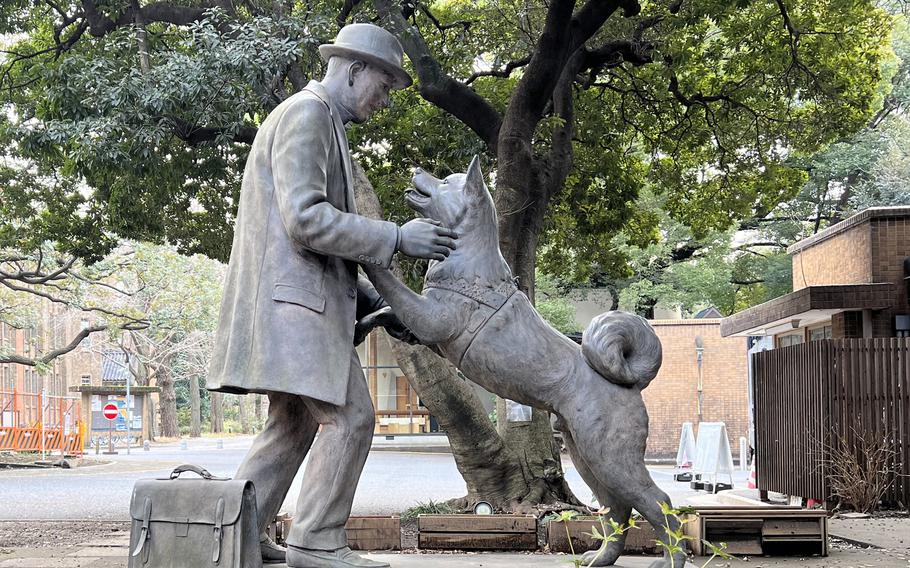 The statue, much bigger and more detailed than the one in Shibuya, depicts Hachiko jumping up playfully at his owner. It is easy to find on the left side while entering the main gate onto the campus.
The university dissected Hachiko after he died in 1935, according to the Asahi newspaper. The beloved dog's heart and other preserved organs are on display at an on-campus museum that's closed to the public because of the coronavirus.
For another macabre experience, visit "the real Hachiko" at the National Museum of Nature of Science.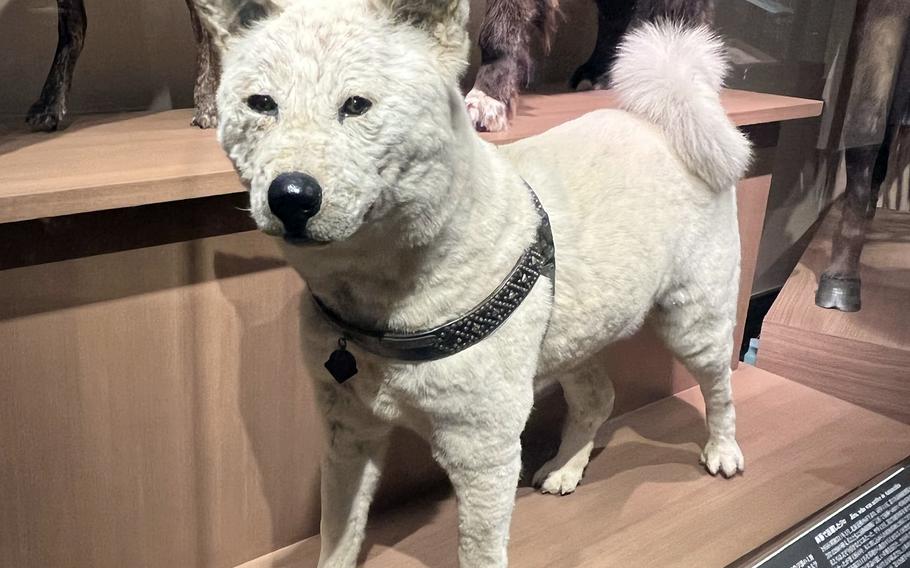 The taxidermy version of Hachiko is on display in the north wing, second floor, of the museum in the Japanese People and Nature. He stands alongside two other Akitas.
It is neat to see a part of him, his fur, but don't expect this version to look exactly like the real Hachiko. Photos depict him much bigger than the dog displayed, and taxidermy does not always render a specific animal or pet as they appeared in real life.
On a lighter note, the museum's gift shop offers a variety of items, including gift cards, cups, bags, T-shirts, and even a cute stuffed animal version of Hachiko.
Lastly, pay respects to Hachiko and Ueno by visiting their resting place at Aoyama Cemetery. This large cemetery is also famous for its beautiful cherry blossoms in the spring.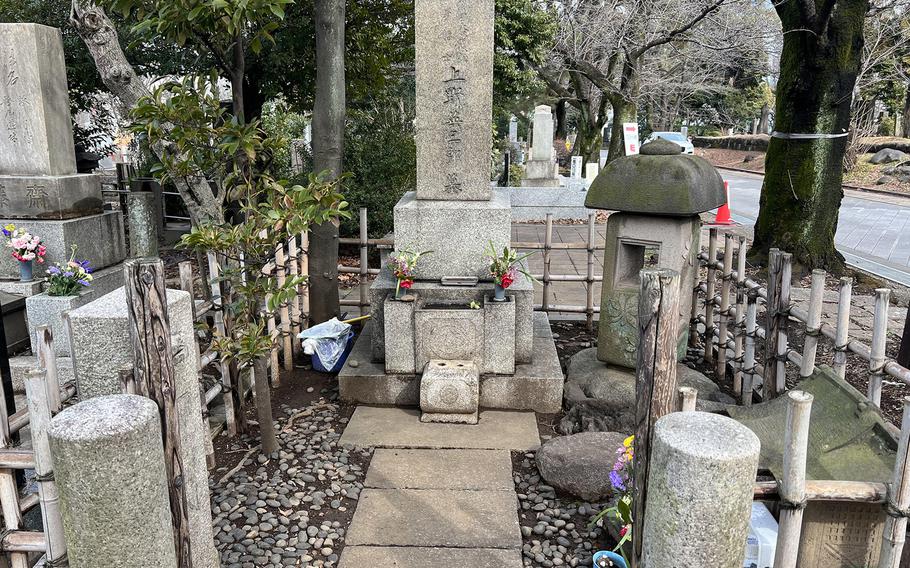 The grave itself is not hard to find. Hachiko's ashes are reportedly buried beside Ueno, and there's a tiny shrine there in his honor. Visitors have been known to leave dog toys and food for Hachiko's spirit.
On the QT
HACHIKO MEMORIAL STATUE
Address: 2 Chome-1 Dogenzaka, Shibuya City, Tokyo 150-0043
Directions: Just outside Shibuya Station's Hachiko exit.
HIDESABURO UENO AND HACHIKO STATUE
Address: 1 Chome-1 Yayoi, Bunkyo City, Tokyo 113-0032
Directions: A short walk from Todaimae Station.
NATIONAL MUSEUM OF NATURE AND SCIENCE
Address: 7-20 Uenokoen, Taito City, Tokyo 110-8718
Directions: A short walk from Ueno Station
Price: Adults are 620 yen and high school students and younger are free.
Hours: 9 a.m. to 5 p.m. Tuesday to Friday. Closed Mondays.
GRAVE OF UENO AND HACHIKO
Address: 2 Chome-33 Minamiaoyama, Minato City, Tokyo 107-0062
Directions: A short walk from the Aoyama-Itchome Station.
---
---
---
---