Tokyo is a treasure trove of secondhand gems
By
For Stars and Stripes
March 24, 2022
---
Surveys say shopping for secondhand merchandise is on the rise; it's trendy, affordable and many consider it the right thing to do.
The secondhand apparel market was worth about $28 billion in 2019 and is expected to reach up to $64 billion by 2024, according to the 2020 Resale Report by ThredUp and GlobalData.
Luckily for bargain hunters, secondhand shops in Tokyo provide a plethora of outlets where pop culture and fashion collide.
Clothing, from casual to 'kawaii'
The most popular secondhand chains are Hard Off, 2nd Street and Treasure Factory. These stores sell clothing from both Japanese and global brands.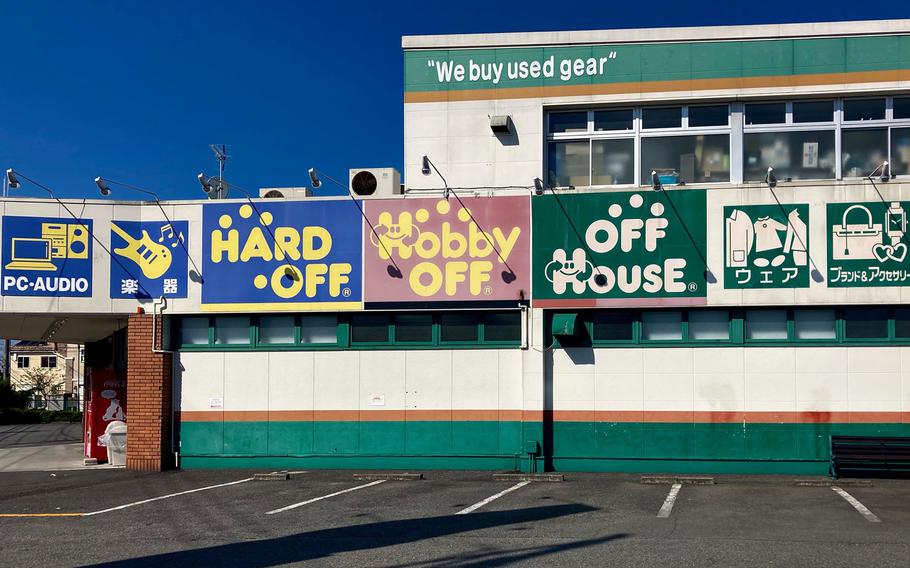 There is often a "designer" section that on average charges around 5,000 yen, or about $42, per item, while all other items tend to cost under $10.
These shops typically carry one-third men's clothing and two-thirds women's attire. The sizes range from extra small to medium. Finding shoes bigger than a women's size 9 or men's size 11 can be challenging.
If you like to shop for a specific Japanese brand, these stores can be helpful with their large selections of designer brands.
However, if fashion subculture brands such as lolita, Fairy Kei or kawaii are what you're after, these stores may not be the right fit.
Try instead Closet Child, a downtown Tokyo chain that features brands that are rare in America, like Baby the Stars Shine Bright and Angelic Pretty, at a discount. But be aware that these brands are even less size inclusive secondhand.
All these stores accept both yen and major credit cards.
Toys and trinkets
In Tokyo, unique furniture pieces are often easier to find than affordable secondhand clothing. In Fussa, the western Tokyo municipality where Yokota Air Base is located, you'll commonly come across wooden and wicker pieces.
Woven chairs, room dividers, small tables, shelves or baskets are familiar finds at most thrift stores, as well as intricately carved masks, wooden bookshelves and dressers.
Japanese antiques like large mirrors and tea sets are thrifting staples. Statues of tanuki, a raccoon dog native to Japan that in local lore brings good luck to homes, are also common finds.
In the chain shops Book Off and Hobby Off, look for anime figurines and manga book series.
The children's sections of places like Hobby Off and Hard Off often carry empty wooden dollhouses for less than 2,000 yen, along with stuffed animals, toy cars and Disney items, most popularly merchandise from "Nightmare Before Christmas," "Toy Story" or "Monsters, Inc.," as well as merchandise from popular Japanese franchises such as Studio Ghibli.
Think global, shop local
For some shoppers, thrifting is a moral choice as well as an economical one.
Research from Remake, a fair wage advocacy group, estimates that 80% of garment workers worldwide are women ages 18 to 24, along with minors who often earn less than $3 per day. According to a study in 2018 from the United Nations Economic Commission, 85% of all textiles go to the dump each year.
Yokota Air Base residents can thrift right at home, as well as donate goods they no longer need.
Located on the installation's west side, the Yokota Thrift Shop is also a boon for recent arrivals to the base. Clothes and furniture cost $3 to $5 dollars on average, with accessories and other small items for about $1.
The Yokota thrift store includes more plus-size options than similar stores in Japan and the clothes sold there are predominantly American brands.
However, the Yokota Thrift Shop occasionally has kimonos or Japanese clothing styles or brands in stock.
The thrift store accepts yen and dollars or checks and is generally open three days a week. Donors may bring items during business hours to the shed behind the store, right in front of the outdoor community pool.
The shop always needs volunteers to sort through donations and keep the store running. Its Facebook page shares information on business hours, volunteering opportunities and updates on special sales each month.
---
---
---
---