Super Potato in Tokyo is like a video-game time machine to the '80s and '90s
by
Kelly Agee
Stars and Stripes
December 16, 2021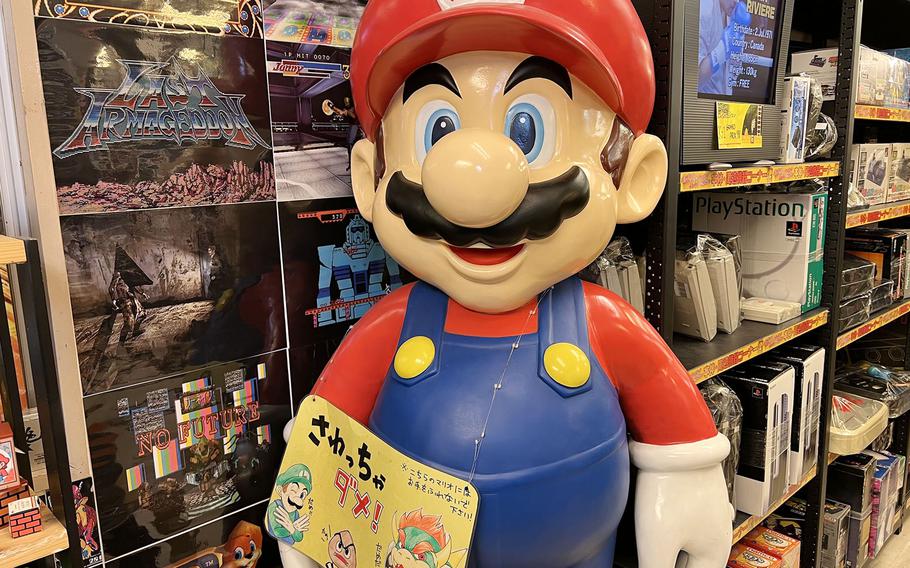 In busy Akihabara, the Tokyo district famous for its arcades, maid cafes and infinite shops peddling anime and manga merchandise, you'll find a special kind of shop.
Instead of offering the cutting-edge, high-tech items that Japan is famous for, this store beats to the tune of a different drummer. An 8-bit drum, to be precise.
Super Potato, a 1980s wonderland, transports customers to the retro world of classic gaming. And the Akihabara location is the flagship of a 10-store chain.
It isn't hard to find. Sightseers need only keep their ears open and follow the 8-bit video-game tunes, which can be heard from the street.
These catchy sounds will guide them inside a five-story building whose exterior bears larger-than-life-sized images of the classic video-game icons Mario and Pac-Man, who is chasing two of his ghost archenemies, Blinky and Inky.
Customers entering the building are led into a tiny hallway where a sign on the ceiling displays the store mascot, a potato, and a red arrow that points to a blue elevator door. The elevator/time machine transports guests to the store's first level, on the third floor.
Super Potato is the No. 1 store for retro games in Japan, according to its website. The shelves and bins groan with thousands upon thousands of games for a multitude of systems.
Gamers in search of age-old systems are in luck because Super Potato is also a source for consoles, including the Famicom – Japan's version of the classic Nintendo Entertainment System – and the Nintendo 64. You'll also find unique obscure systems such as the Wondermega, a combination of a Mega Drive and Mega CD that can be used as a karaoke machine.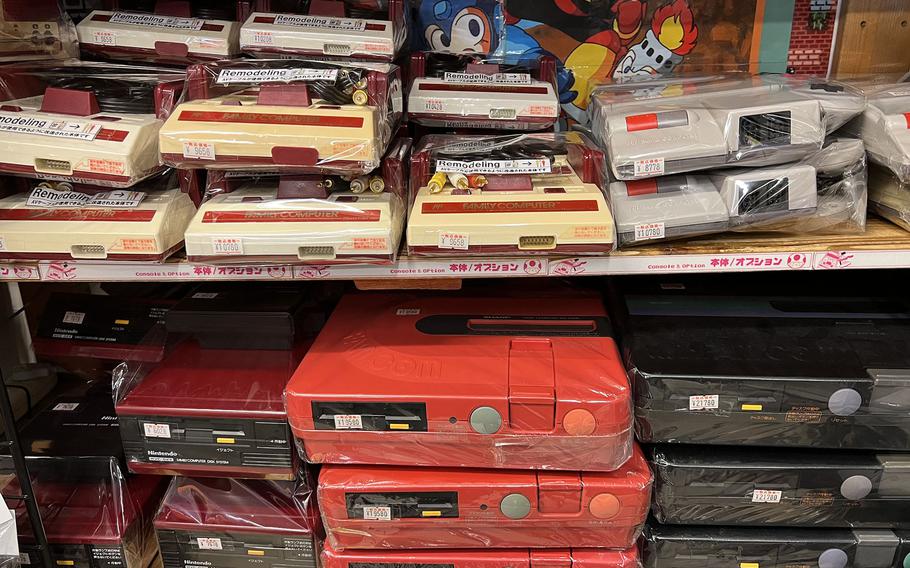 Finding a game isn't too difficult. Although the titles are in Japanese, most have familiar, famous faces of well-known gaming characters on their covers. Games sold include DOOM, Alien vs. Predator, Paperboy, Kirby's Dream Land and Pitfall, just to name a few.
For a steal of a deal, bargain bins contain Famicom games that cost around 100 yen or Sega Saturn games ranging from 100 to 600 yen.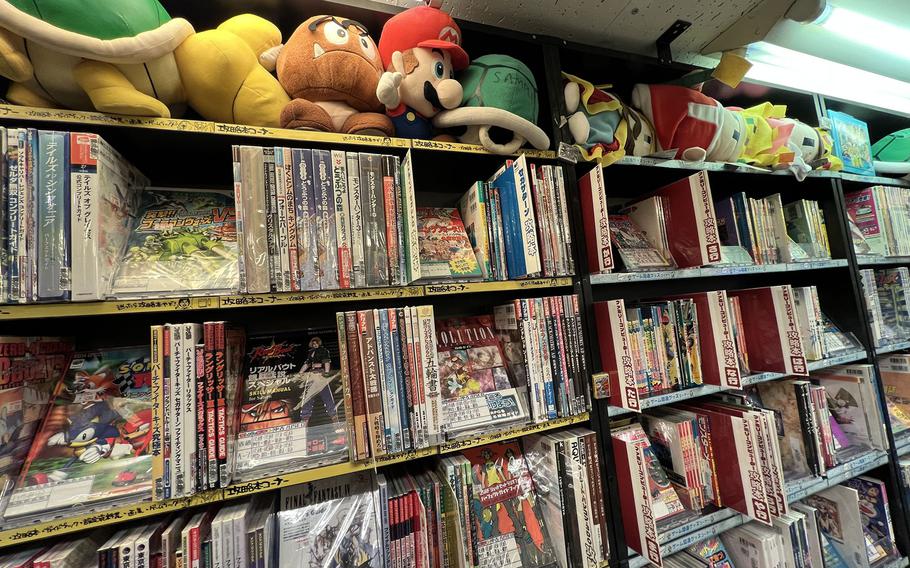 Also, Pokemon enthusiasts will find plenty of their favorite pocket monsters to add to their collections, including stuffed animals, pins, cups, socks, keychains, bags and much more.
Continuing to the fourth floor, shoppers are greeted by a statue of fan-favorite Mario. This floor offers a mixture of retro and more recent games and gaming systems from the 1990s and early 2000s, including PlayStations 1 and 2, Nintendo Wii and Gameboy color.
Shoppers into reading will find a shelf at the back of this floor with a variety of manga. Other neat items for sale are PlayStation hoodies and jackets. You can also find Super Mario neckties, socks and suspenders.
Finally, a retro arcade area on the fifth floor is equipped with Super Mario Bros., Pong, Marvel vs. Capcom 2, and my favorite, Splatterhouse. This is a cult-classic horror game highly inspired by the "Friday the 13th" and "Evil Dead" films.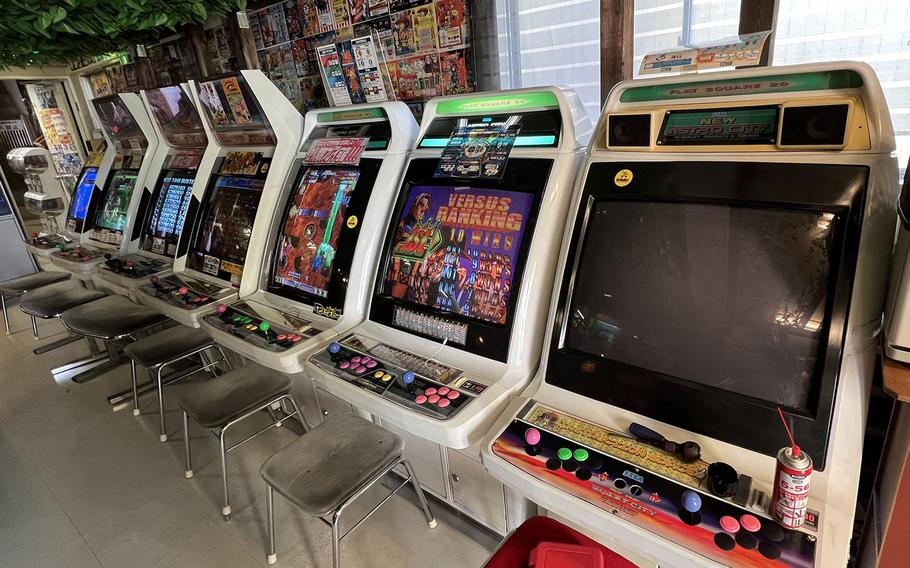 There are also vending machines and a place to purchase snacks, including retro candies such as candy cigarettes and glass bottle sodas, to enjoy as you play your favorite games.
Super Potato is a must-stop shop for avid gamers, said first-time visitor Jesus Bibar. He made the trip after watching a YouTube video of the store.
"I saw how big the store was and how many different items they sell," Bibar said. "I love collecting classic video games, so I decided to come to visit this store to add to my collection."
On the QT
Location: 1-11-2 Sotokanda, Kitabayashi Building, Chiyoda-ku , Tokyo 101-0021
Directions: About a five-minute stroll from Akihabara Station.
Hours: 11 a.m. to 8 p.m. weekdays; 10 a.m. to 8 p.m. Saturdays, Sundays and holidays.
Information: Online: superpotato.com
---
---
---
---