Van Gogh paintings take on added life in immersive digitalized show
by
Wyatt Olson
Stars and Stripes
August 12, 2021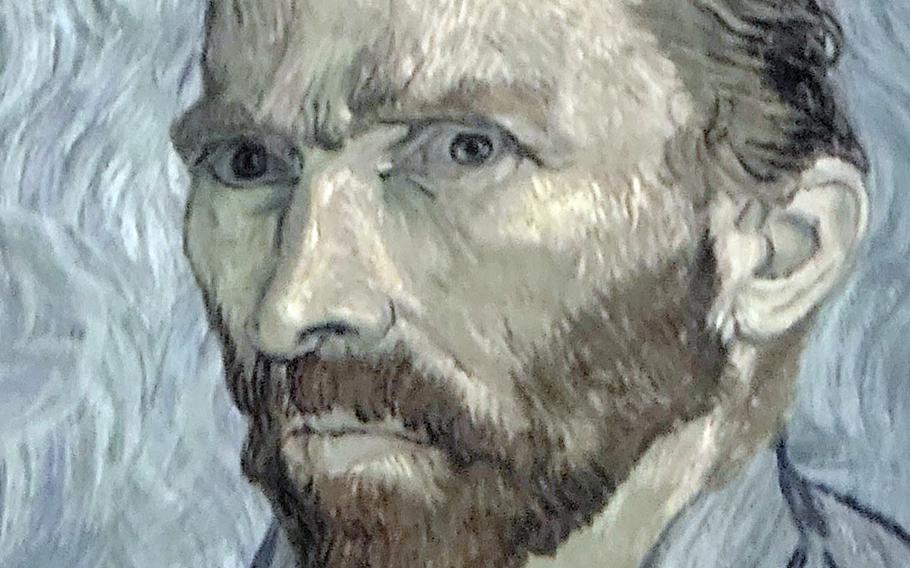 If the typical fine arts museum is too staid for you – too static – then Beyond Van Gogh: The Immersive Experience could be what your demanding senses are looking for.
Showing seven days a week through September at the Convention Center in Honolulu, the exhibit drops you into a mixing bowl of shifting and sometimes shimmering Vincent Van Gogh paintings, with musical accompaniment that morphs through its own suite of genres.
The show blends more than 300 paintings and drawings by Van Gogh with passages written by the 19th-century post-Expressionist, predominantly to his brother Theo, an art dealer who encouraged his talented brother as he witnessed him succumb to mental illness.
The images are projected on the walls and floor of the main viewing room, roughly the size of a couple of basketball courts.
At times the paintings are stationary, with the artist's famous "The Starry Night" and "Sunflowers," for example, looming and luminescent.
But many have been digitally converted into swirling or flowing images that literally move in a way that Van Gogh's brushwork only suggested.
At one point, those celebrated stars – inspired by Van Gogh's view from the Saint-Paul-de-Mausole asylum in France – begin to twirl and dance on the vast exhibit wall before gently fading away.
The visuals and sound are set on a loop, repeating roughly every hour, and visitors can wander as they wish. There is no seating.
The surround-sound music moves from classical, to jazz, to blues. A single violin plays a mournful rendition of Don McLean's 1972 hit song "Vincent" as dozens of his flower paintings glow and then fade around onlookers.
Some "chapters" of the show are thematic, such as the plethora of Van Gogh's self-portraits. It was a subject matter he chose partly because he was too poor to pay models to pose, but it was also a way of developing his skill to paint "a deeper likeness" than a photographer could capture, as he told his sister in a letter.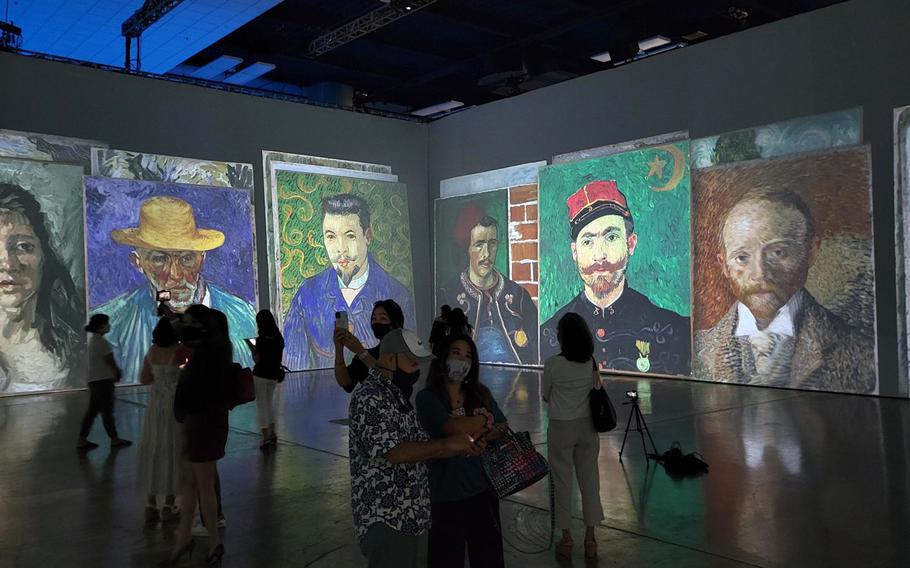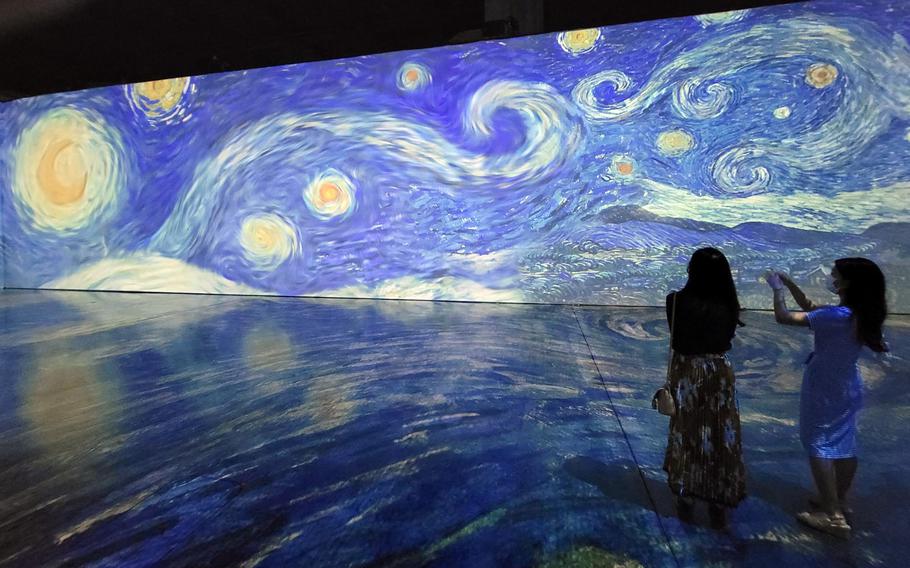 "People say – and I'm quite willing to believe it – that it's difficult to know oneself," Van Gogh wrote. "But it's not easy to paint oneself either."
His poverty led him to paint his simple, inelegant surroundings, and the exhibit ebbs and flows with the cobblestone streets, storefronts and stark home interiors beside him.
The show was created by a team from Normal Studio in Montreal, led by Mathieu St.-Arnaud.
Attendees are first ushered into an anteroom explaining key stages of development in Van Gogh's life and art, with many quotes from his letters to Theo.
The show's producers concede in one placard that an "exhibition on a renowned painter without the painting themselves" is an "impossible task," but one that offered opportunity.
"This experience seeks, like the master himself, to start with something we know and extrapolate from it," the placard reads. "The unlikely pairing of the digital and the classical allows one to dive into this world of paint, to experience it from the inside, to vibrate with it."
For all the brilliance and beauty of Van Gogh's art, his life was a series of catastrophes that culminated with taking his own life in 1890 at age 37.
He did not live long enough to see his work embraced, always living just on the edge of destitution.
He was born in 1853, in Groot-Zundert, Netherlands, the eldest of six surviving children.
He dabbled as a preacher as a very young man in Belgium and moved to Brussels in 1880 with the idea of becoming an artist, for which he had no training.
His brother Theo, an art dealer in Paris, gave him financial support.
Van Gogh joined his brother there in 1886 and immersed himself in impressionist art.
In what is euphemistically known as "The Incident," Van Gogh cut off his left ear in December 1988 during a heated argument with the artist Paul Gauguin, who had been staying with him in a country home in southern France.
He spent a year in the asylum, and in early 1890 he moved to the outskirts of Paris under the care of a doctor.
On July 27, 1890, he shot himself in the chest with a pistol. He died two days later.
He had made scarce money from his art while alive, but some are now among the most recognizable art images of all time.
Beyond Van Gogh is a chance to see them in a whole new light.
Directions: The Hawaii Convention Center is located in Honolulu at 1801 Kalakaua Avenue, Honolulu. It is walking distance from Waikiki Beach. By car from the beach, head west on Ala Wai Boulevard, turn left onto Niu Street (which turns in Ala Moana Boulevard), then right onto Atkinson Drive, right onto Kapiolani Avenue, and a final right onto Kalakaua Avenue. The entrance to the center's parking garage is on the right.
Times: Beyond Van Gogh: The Immersive Experience runs through Sept. 26. It's open from 10 a.m. to 10 p.m. Sunday through Thursday, and from 10 a.m. to 11 p.m. Friday and Saturday.
Costs: Admission Monday-Thursday: Adults, $34.99; Children ages 5-15, $18.99; Military/student/senior 65 and older, $30.99. Admission Friday-Saturday and holidays: Adults, $44.99; Children ages 5-15, $22.99; Military/student/senior 65 and older, $40.99. Children under 5 are free.
Information: The exhibit is in the center's Kamehameha Hall II. Strollers and babies are permitted. Photography is allowed; videotaping is not. Tickets are purchased for a specific entry time and must be used then.