Japan
'Are you sure this is safe?': Ascending Tokyo Skytree, Japan's tallest structure
by
Dave Ornauer
Stars and Stripes
July 22, 2021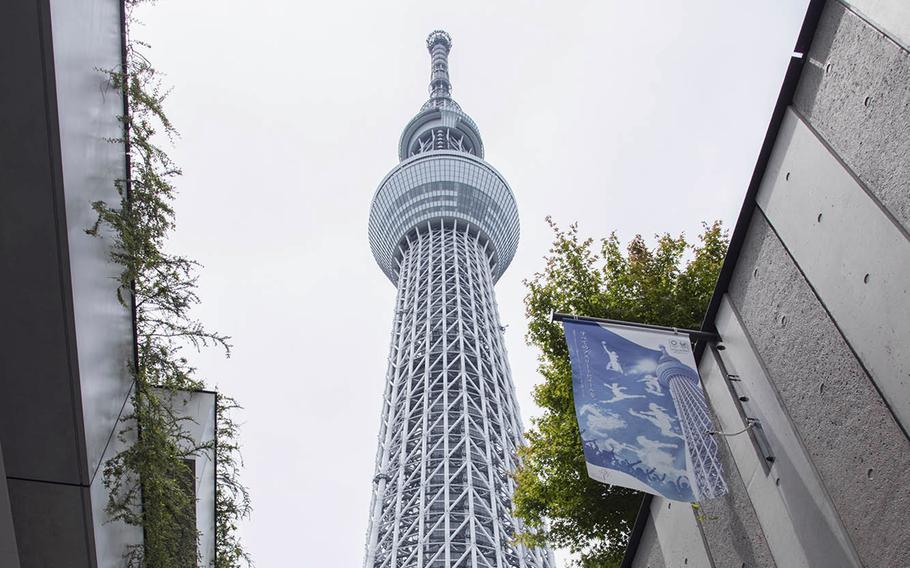 The most interesting of many intriguing spots in Skytree Park in northeast Tokyo is the last one that people can visit on high: Floor 340 (so numbered for its metric height) and its glass-bottomed floor.
The two panels of steel-reinforced glass, each measuring 6½ feet by 10 feet, can be a joy for height enthusiasts … and a bane for acrophobiacs.
"Are you sure this is safe?" a Japanese woman said during a recent visit, eyes wide, hand covering mouth, as she tapped a toe against the glass and gazed anxiously at the Skytree guide.
"Oh, don't worry, it's very safe," the guide said, jumping up and down a few times on one of the panels.
Reassured, the woman agreed to be photographed by the Skytree Tembo Deck staff, her feet on the glass panels, the ground 1,115 feet below, in plain view through the glass, as she smiled and flashed twin peace signs for the camera.
From there, the staff took her and several others down to ground level, via high-speed elevators that whisk passengers hundreds of feet up and down in a matter of seconds, 365 days a year since Skytree opened to the public on May 22, 2012.
Those elevators propelled an average of about 400,000 visitors per month to the tower's observation decks until April 2020, when the coronavirus pandemic put a serious dent in those numbers, according to The Mainichi newspaper.
Skytree stretches 2,080 feet from the ground to the transmission tower in its topmost turret. It displaced Tokyo Tower, opened in 1958, as the tallest structure in Japan at 1,092 feet.
When it opened, Skytree became the second-highest structure in the world behind Burj Khalifa (2,716 feet) in Dubai and just ahead of Shanghai Tower (2,073 feet) in China.
For visitors coming from U.S. bases in the Kanto Plain, public trains and subways are the wisest choice to get to Skytree; drivers will find a lack of parking there.
Oshiage Station, accessible via the Hanzomon and Asakusa subway lines, is the preferred final destination.
After a short walk from Oshiage Station, you'll find the big Tokyo Skytree Town sign on the wall above, where the journey begins on several escalators. It can be a maze but follow the signs to the ticket counters on the fourth level.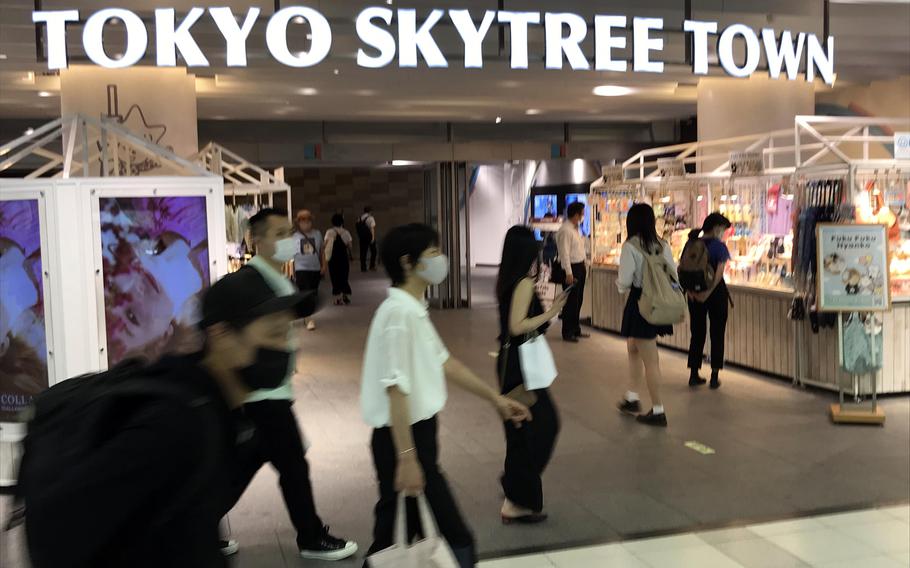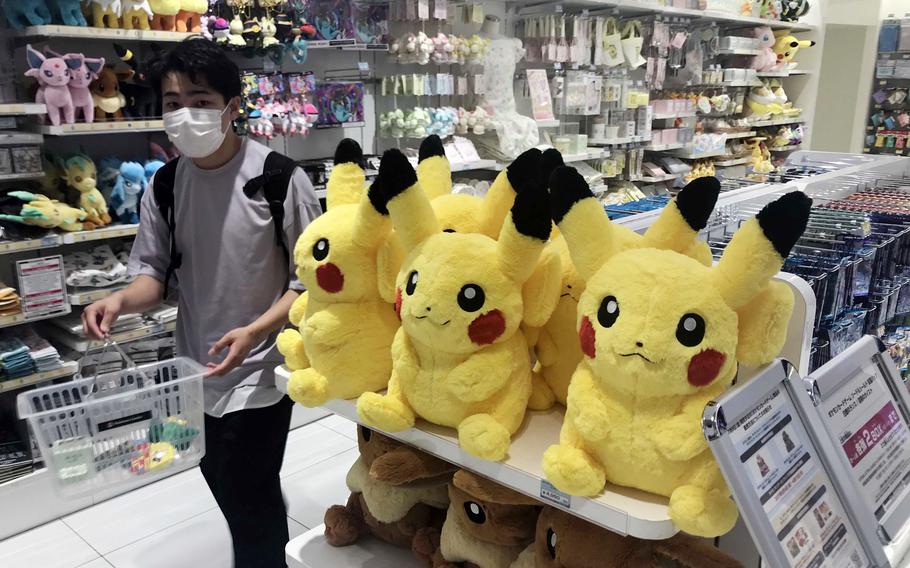 Purchase a ticket on that fourth deck for the elevator ride, on which you'll feel a slight G-force pull. Your ears may pop, much like they do during an aircraft takeoff and landing.
Your first stop is Tembo Deck, with its three floors, 350, 345 and 340. Glass panels on all sides provide a panoramic view of the city. On a clear day, one can see Mount Fuji far to the southwest, aided by a high-resolution telescope.
Want a view from even higher? Purchase a ticket for all floors at the start, or buy one for the top decks while on Floor 350.
Back to the elevator you go for a quick ride up to Tembo Galleria, Floor 450, and views of Tokyo and even farther.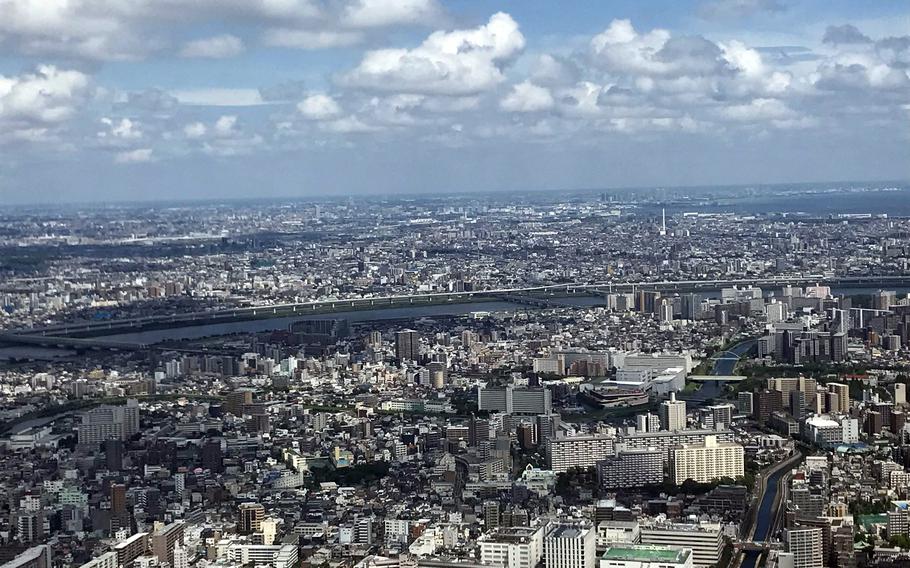 You might pick out Yokosuka Naval Base, Yokota Air Base, Naval Air Facility Atsugi and Camp Zama, each visible from the tower on a clear day, and again aided by a high-res telescope.
Had enough of the heights yet? The first stop on the way back down is Floor 340 – and the celebrated/dreaded glass floor bottom. And finally, via that same elevator that makes those ears fill up again, a return ride en route to the ground and basement levels.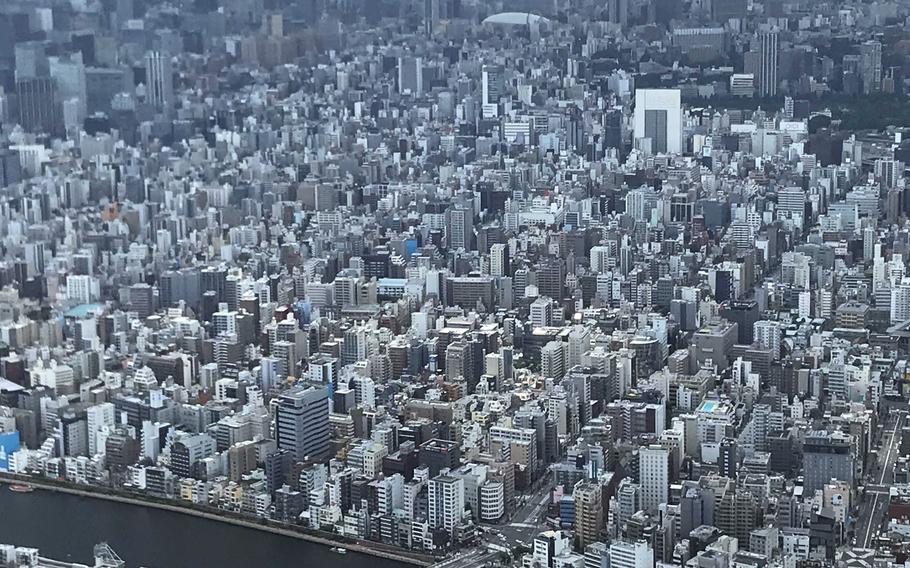 And how many levels there are! Plus, a whole gaggle more in Skytree Park's 31-story East Tower next door. There are shops galore, where one can find the latest fashions, a Tokyo Olympics apparel store, a Pokemon center and a whole shop dedicated to Hello Kitty.
Restaurants? What's your pleasure? Anything from a grab-and-go at McDonald's, Starbucks or Tully's for a few hundred yen, to the most top-shelf elegant of international delicacies, Italian, French, Chinese.
Had your fill of heights but still not enough sightseeing? There is just as much to be seen underwater in the Sumida Aquarium, a few hundred yards west past the entrance to Skytree.
The aquarium's two floors are home to some 260 species and 7,000 different types of sea life, ranging from jellyfish to penguins, seals to coral reefs, all in a black-light setting.
Admission to the tower and aquarium set me back 5,400 yen, or $49, a meal at a high-class Italian bistro 8,400 yen, commemorative images 3,000 yen (print and download), and the subway from the New Sanno Hotel and back just under 600 yen.
To take in all of it, one might need a full day, and prepare for the ol' feet to be sore at day's end. Whether one likes heights or doesn't, that view through the glass-bottom floor could be unforgettable.
Stars and Stripes reporter Hana Kusumoto contributed to this report.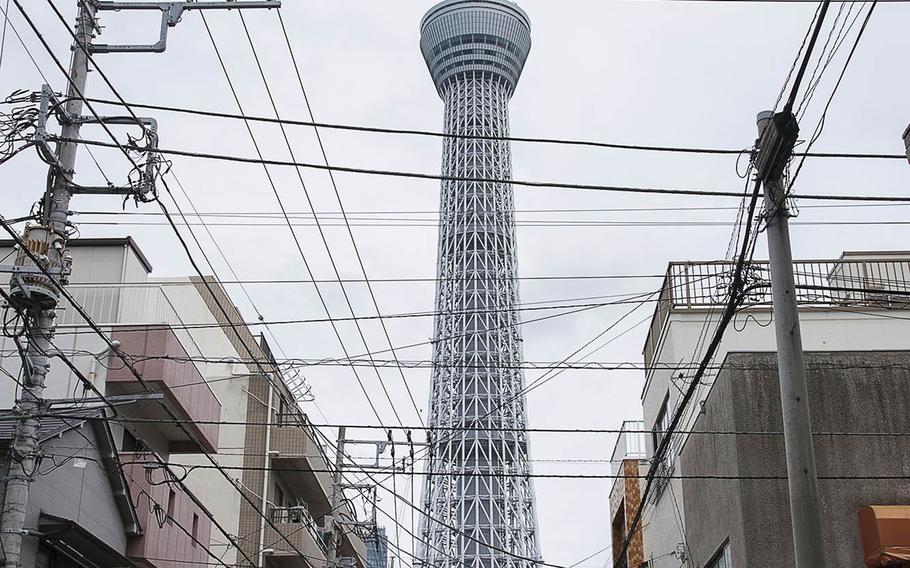 Directions: A short walk from Oshiage Station on the Hanzomon and Asakusa subway lines.
Times: Skytree is open 10 a.m. to 8 p.m. daily, last entry 7 p.m.
Costs: A Skytree combo ticket to both observation decks is 3,100 yen for adults, 2,350 yen for ages 12 to 17, 1,450 yen for ages 6 to 11. Prices are higher on weekends.
Sumida Aquarium: 2,300 yen for adults, 1,700 yen for high school students, 1,100 yen for middle-school and elementary students, 700 yen for children 3 and older.
Food: The complex has myriad dining options available.
Information: www.tokyo-skytree.jp/en/; www.sumida-aquarium.com/en/index.html