Immerse yourself in ramen at a Japanese museum of the noodle
By
Stars and Stripes
August 5, 2022
---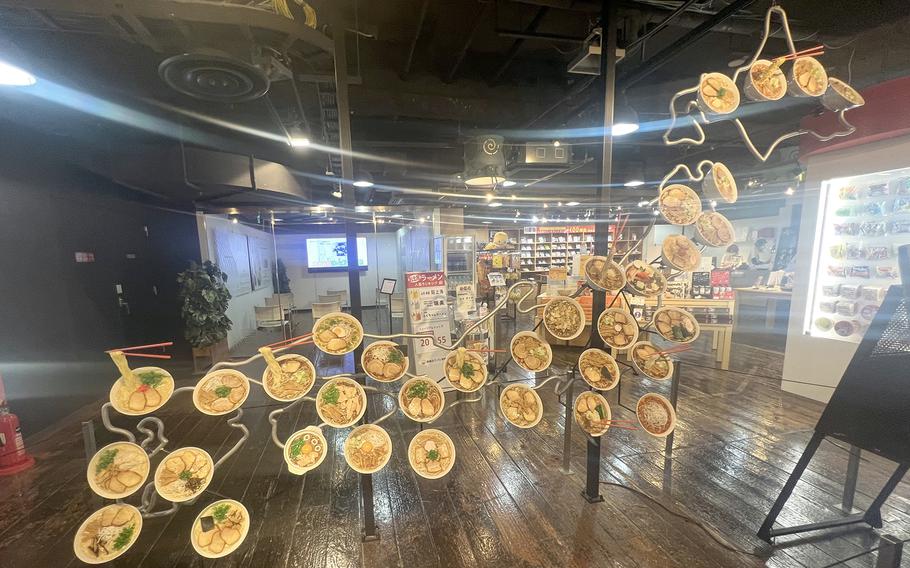 A mechanical bowl of noodles bobs up and down on a sidewalk in Yokohama, Japan, greeting guests as they approach an expansive museum dedicated to the history of ramen.
The Shin-Yokohama Ramen Museum is more than just a museum. It is a food-themed, three-floor indoor experience where guests can shop for vintage treats or make their own noodles.
After the museum fires up your appetite, the 10 ramen shops in the building's basement will fulfill your noodle desire.
On the first floor, guests learn the history of ramen from the Muromachi period to the present day through documents, books and static displays of ramen dishes and bowls. An English guidebook is available, and exhibits are placarded in English.
Guests learn how ramen came to be. As various cuisines entered Japan after the country's ports opened in 1859, ramen was created from Chinese noodles and Japanese ingredients.
On an interactive screen in the middle of the museum, guests may click on a ramen symbol on a map of Japan that displays the ramen that originates from that region. Japan boasts at least 30 regional varieties of ramen, all with different tastes and flavors.
The ramen book wall displays 1,000 books about ramen, all in Japanese; another wall holds 380 different ramen bowls.
For 4,000 yen, or about $30, guests can participate in The Ramen Making Experience and learn how to make their own ramen the traditional Japanese way.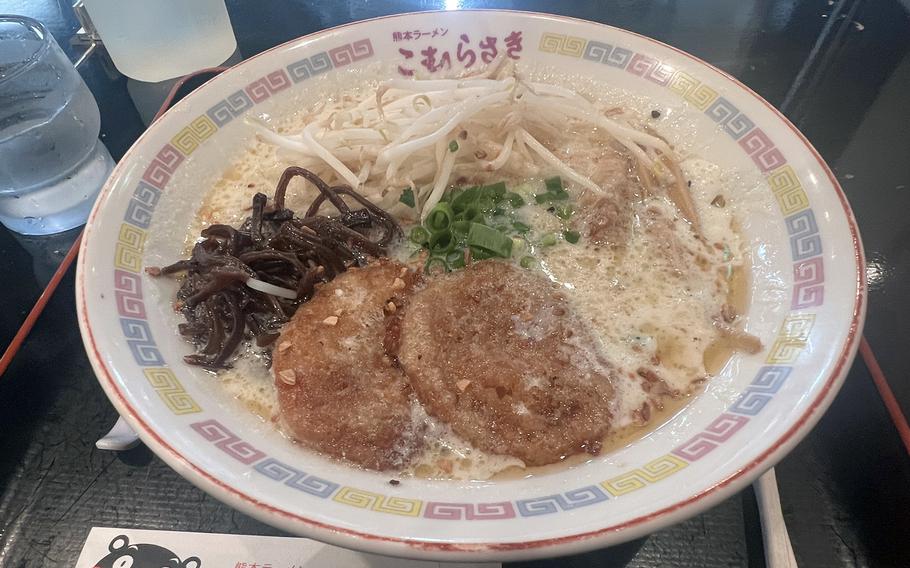 Reservations are required and may be made on the museum's website. Up to 10 people at a time can attend the course. Also, if you have any food allergies or if you are a vegetarian, note it on the reservation. They were able to make a vegetarian ramen for me.
I had a one-on-one lesson. The instructor spoke pretty good English and was welcoming and hilarious.
The class has several phone stands so you can video record your experience.
Using spelt wheat, visitors make noodles using the traditional technique, in which they use bamboo poles to beat the ramen dough, a process called "blue bamboo beating."
The course isn't very difficult, even for the culinary averse, and requires just 60 minutes to complete. Your noodles are then prepared in a bowl of ramen for your consumption.
A gift shop sells a wide variety of instant ramen and ramen-themed shirts, pins, keychains, books and even a candle shaped like a cup of instant ramen.
As guests descend to the two basement floors, they are transported to an area that resembles the narrow alleyways of 1950s Showa-era Tokyo.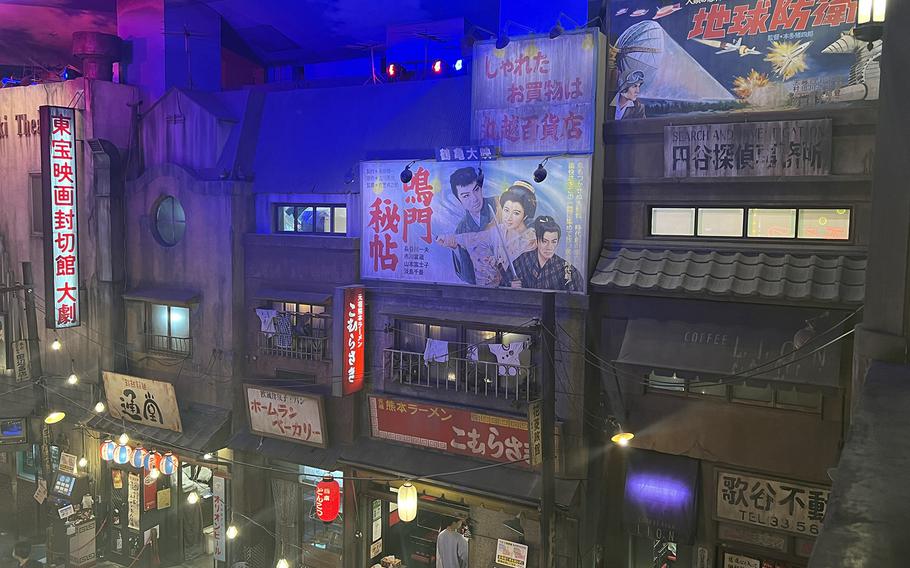 Vintage movie posters and neon lights cover the walls. The "alleyways" are packed with ramen restaurants. Guests purchase their ramen outside at the ticket vending machines, which have six languages available, including English. There is an option to buy a small portion, so guests may sample something from each of the restaurants.
I went to Komuraski, a ramen shop originally from Kumamoto. Founded in 1954, it is the only ramen shop that has been open since the opening of the museum.
I had the vegetarian ramen for 760 yen. The broth is made of a soymilk soup, with kombu, an edible kelp, sesame flavor and coconut oil. The dish is topped with fried eggplant, green onion, bean sprouts, wood ear mushrooms and bamboo shoots. It was delicious, I was also happy to find good vegetarian ramen in Tokyo. Most of the basement restaurants, in fact, offer a vegetarian option.
On the B1 floor is an old-fashioned sweets and toys shop called Dagashi-ya, which were popular during the Showa era. This retro snack shop is filled with old-school candies covered in brightly colored packaging. It also sells snacks of the past like dice caramel and bon bon ice cream.
Another retro shop on this floor is the Kateko Café and Snack Restaurant. It offers old-fashioned, handmade pudding, cream soda, parfaits, bavarois and floats.
I had a Japanese favorite, a melon soda float. I made it special by topping it with classic soft serve ice cream, which is lighter than regular ice cream.
The ramen museum prepares you for the complete experience, from history to dessert. It's worth the trip.
Shin-Yokohama Ramen Museum
Location: 2-14-21 Shinyokohama, Kohoku-ku, Yokohama-City, 222-0033, Japan
Directions: An 11-minute walking distance from Shin-Yokohama Station
Hours: Open 11 a.m. to 9 p.m., Monday to Friday, and 10:30 a.m. to 9 p.m., Saturday and Sunday. Ramen shops take orders until 30 minutes before closing.
Prices: Museum entry is 380 yen for adults and 100 yen for students. Free for seniors 60 and older. Annual passes cost 800 yen.
Information: Online: raumen.co.jp
---
---
---
---