Summer is a vegan season at Starbucks in Japan
By
For Stars and Stripes
July 14, 2022
---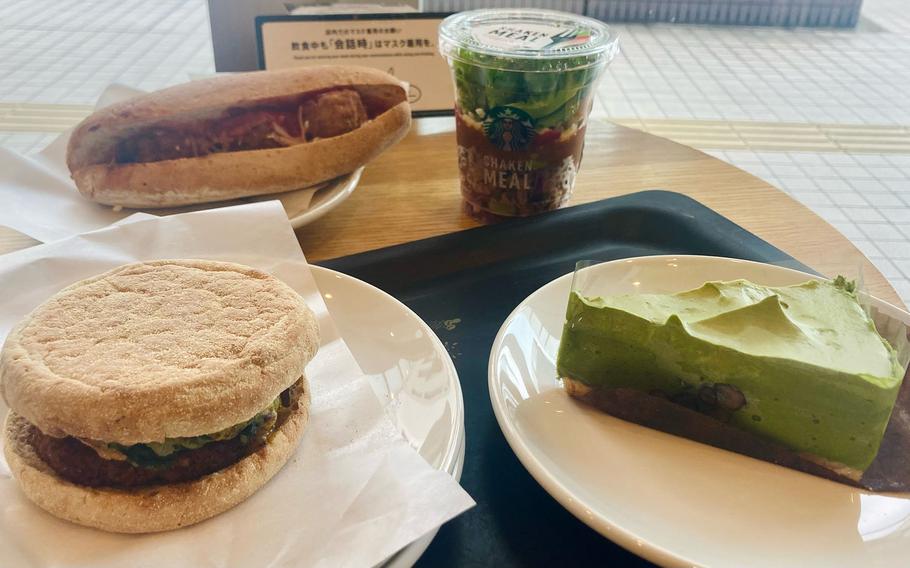 Meat-free and dairy-free consumers rejoice! As of June 1, almost all Japanese Starbucks locations now carry five new vegan items — three main dishes and two sweet treats.
The new menu emphasizes plant-based food, and includes an English muffin sandwich with spinach, corn and a soy patty; a tomato and soy meatball brick-oven filone sandwich; a "shaken meal" soy Bolognese; an almond milk matcha mousse; and a sugar doughnut.
The spinach, corn and soy patty English muffin is a savory option for breakfast. Sandwiched between two traditional English muffins, it has a heavily spiced soy-based patty with a grainy texture. The patties are topped with spinach corn cream, a mixture of crushed corn, spinach and creamy maple mustard.
The other vegan breakfast item is the sweet sugar doughnut, a vegan version of an already popular Starbucks item, made with the traditional yeast, then fried and glazed.
For lunch or a snack, the tomato-and-soyball brick-oven filone sandwich is a baguette-style bun filled with soy meatballs, which mimic traditional meatballs in texture and flavor. The inside is covered in a tomato sauce and topped with shredded vegan cheese. Customers who want their tomato sauce a bit meatier may order "shaken meal" soy Bolognese. Purple cabbage and beans are layered in a cup with tomato dressing, soy Bolognese sauce, red peppers, vegan cheese, semi-dried tomatoes, cucumbers, cauliflower and leafy greens.
The company suggests shaking the cup to mix all the ingredients and sauces. The dish is savory and filling, and to an American palate, tastes like eating a cold, Asian-inspired burrito bowl.
For dessert, patrons may enjoy an almond milk matcha mousse. The cake has a bittersweet matcha mousse with red beans (kanoko dainagon) layered on a sweet, crushed graham cracker crust with matcha and almond milk whipped cream on the top. According to the Starbucks website, the matcha used to make this treat is cultivated using compost made from recycled coffee grounds from Starbucks stores.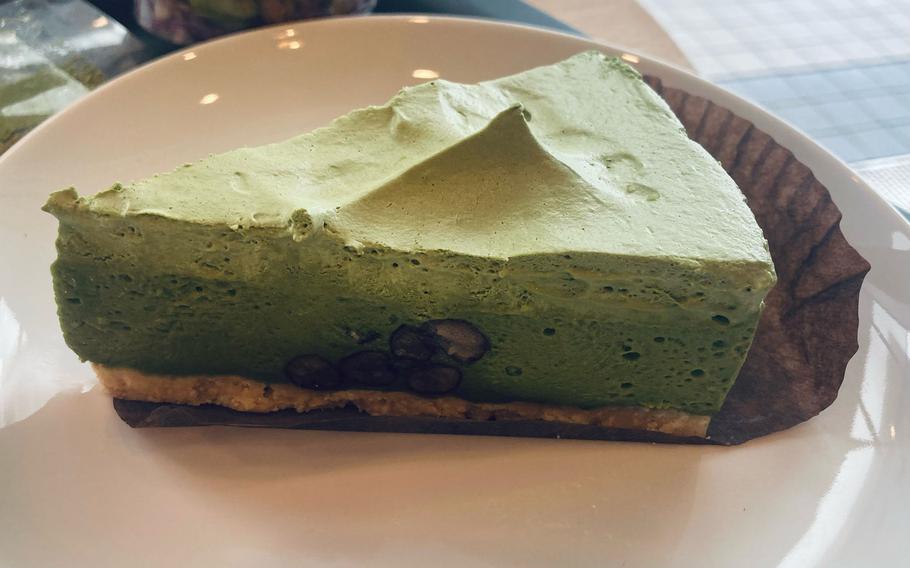 Starbucks Japan has been trying to become more environmentally conscious by recycling coffee beans as compost and reducing the use of single-use plastics. While the new menu items are vegan, the Starbucks website says they are manufactured in a place that makes non-vegan food; therefore, cross-contamination may occur. There is wheat and soy in all their new vegan products. Additional allergy concerns are the almonds in their almond milk matcha mousse, sesame in the filone sandwich and apple in their spinach, corn and soy patty English muffin and shaken meal soy Bolognese.
Customers can still get their favorite Starbucks drinks with almond or soy milk in lieu of dairy milk. 
---
---
---
---