Okinawa's Adachiya offers collaborative dining experience
By
Stars and Stripes
July 7, 2022
---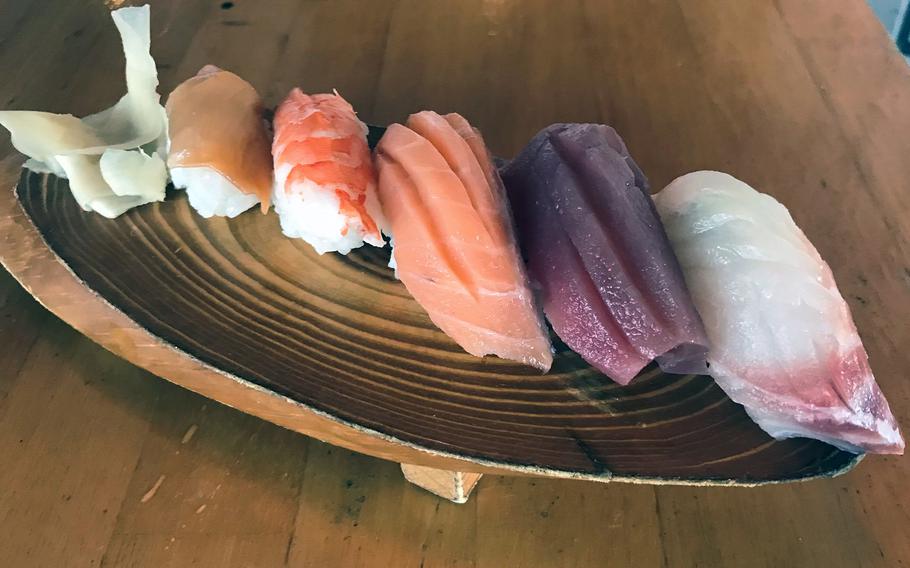 A popular saying holds that too many cooks may be a bad thing, but nowhere is that farther from the truth than at Adachiya in Okinawa city.
Adachiya is a small izakaya, or Japanese-style pub, near the back gate to Kadena Air Base. It offers a wide variety of small, affordably priced dishes made by a team of chefs that specialize in Japanese culinary disciplines, from sushi to yakitori.
Facing one another from their various stations, the chefs look like competing DJs, collaborating to offer a truly enjoyable and unique dining experience.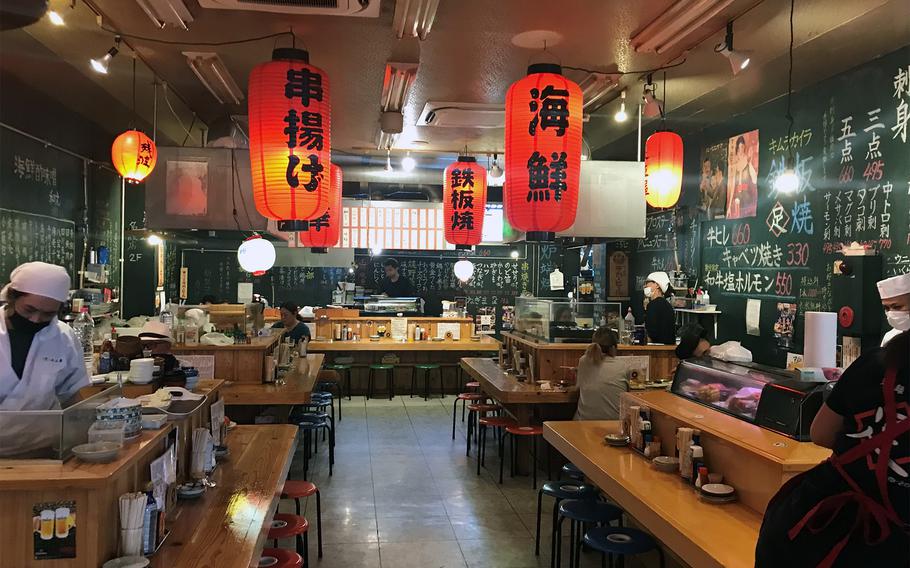 Adventurous Americans that stray from Kadena's popular Gate 2 Street past the shopping arcade to Park Avenue Dori, a once vibrant commercial hub now nearly empty thanks to COVID-19, will recognize Adachiya's glowing pub lanterns.
The pub is a beacon among the shuttered storefronts and concrete stained with tropical mold. It's at capacity nearly every night; even its cozy outdoor tables fully occupied.
On a weekday night in June, my family and I tried the "sen-bero" special for outdoor customers only, one per customer. For around $8, an incredible deal, the meal includes three drinks and one dish, either motsu-nikomi, pork tripe hot pot, or kushiage, the chef's choice of four fried skewers.
I ordered a lemon highball to stave off the steamy Okinawa heat and the pork tripe hot pot. Pig stomach is not something typically found in an American diet, but I've learned to be adventurous living in Japan. My wife ordered a soft drink and the skewers.
The stew came steaming, topped with shaved scallions. The meat was clean and delicious, tender and not chewy as tripe can sometimes be. The broth was earthy and flavorful.
I feel crazy saying this, but you must try the pig stomach. Portions of the pork tripe hot pot come in small and large sizes for 275 and 385 yen, or $2 and $2.85, respectively.
The fried skewers – 110 to 220 yen – came piping hot from fresh, clean oil. The quail eggs were soft and delicate; they exploded with flavor. The pork belly was cooked perfectly and seasoned to perfection.
Adachiya also offers a variety of grilled skewers, cheese and bacon, chicken, pork and various vegetables, ranging from 55 yen to 385 yen.
We next tried a chef's choice of five different pieces of sushi for 440 yen. The sushi chef gave us the greatest hits, including tuna and salmon. It was fresh, light and fatty.
Five fried shrimp with mayo for 550 yen was also a crowd pleaser. The dish came with a couple of large potato wedges and some chopped and dressed cabbage.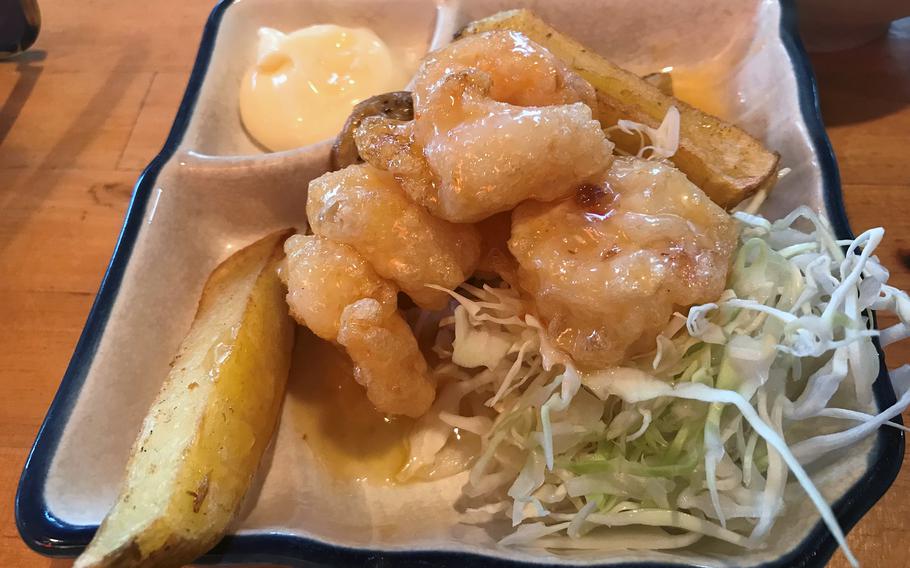 But the star of the show was their buri-kama, or yellowtail collar, which cost a shocking 385 yen (one per customer). Any fisherman knows this is one of the most desirable cuts.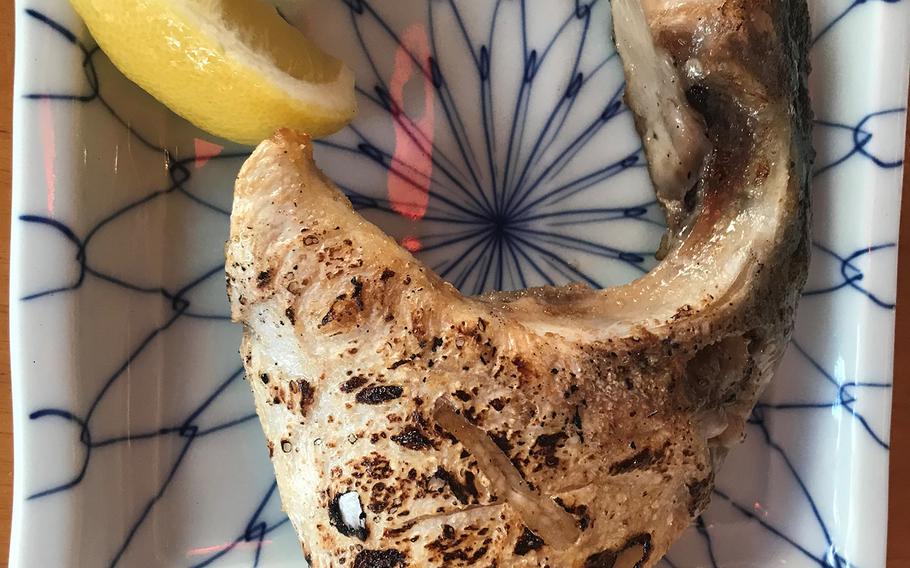 The meat was sublime, with a pinch of salt and pepper, and literally fell off the bone. It was soft and dripping with the fish's natural oils and melted in your mouth.
The izakaya offers an expansive menu of more than 100 items – from fried tofu in bonito stock to jerk chicken and Chinese dumplings – so no two dining experiences will ever be alike. The dishes were small, but they were enough to share with a group.
Starting at under $1, the size and affordability of each item made me feel like a Rockefeller; we could sample anything we wanted, and money was no object. Seeing my wife and kids smile as they sampled each dish and dug back in for seconds made for a memorable Okinawa night.
ADACHIYA
Location: 1 Chome-20-9 Central, Okinawa city, 904-0004, or GPS 26.33912588405855, 127.80069863862842
Directions: From Gate 2, Kadena Air Base, turn left at Koza Music Town onto Route 330. After a half-mile, bear left on Park Avenue Dori. Look for Adachiya on the left. Parking is available past the restaurant on the right. Follow the signs.
Hours: Open daily, 5 p.m. to 1 a.m. Last order at 12 a.m.
Prices: Prices start under $1 and rise to approximately $4.83 for their most expensive dish.
Dress: Casual
Information: Adachiya is a bar that serves food and not a restaurant. However, children seated outside early in the evening will not be turned away. For more information, please call 098-937-1654.
---
---
---
---