Insta-friendly Tokyo café a perfect place for afternoon tea
By
Stars and Stripes
June 30, 2022
---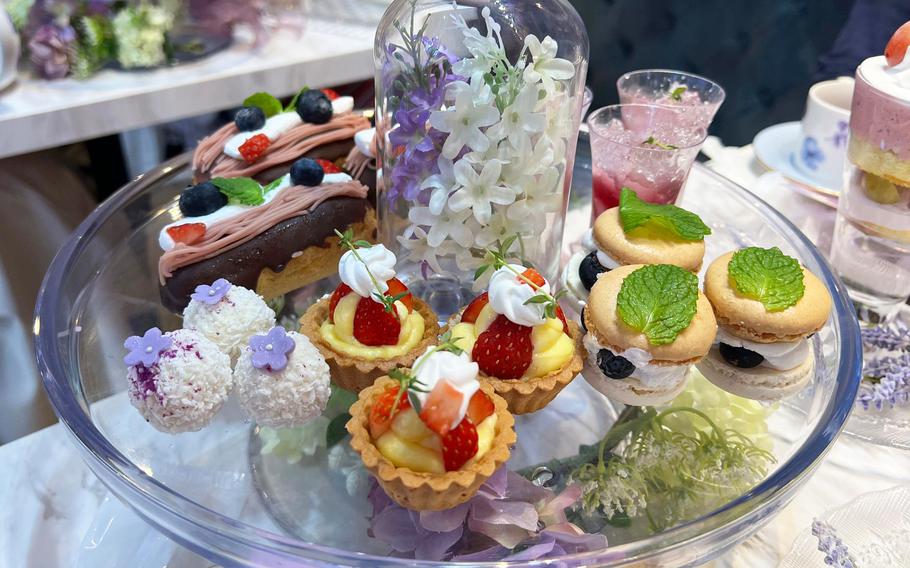 The Haute Couture Café in Aobadai is a picture-perfect place where customers post Instagram-perfect photos on social media.
My friend invited me to a birthday lunch at the café along the Meguro River in the Meguro ward of Tokyo. The interior theme changes according to the seasons. We arrived during purple wisteria.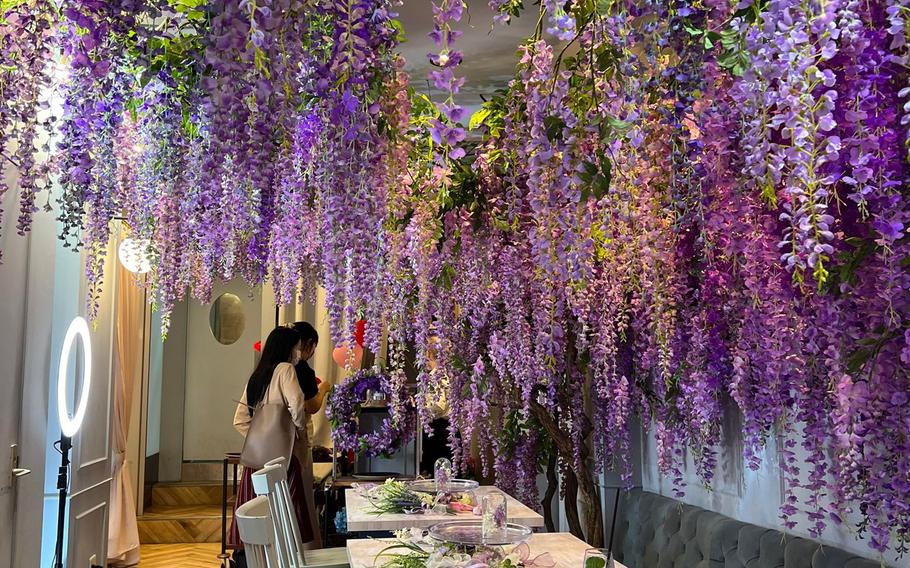 A photographer will take your picture for free during your meal while you pose with artificial flowers. Ring lights inside provide perfect lighting.
The restaurant fills up quickly, so customers must book weeks and sometimes months in advance for a spot at the fairylike café. Reservations are available by calling or through the café website. The menu is available in English.
Not only is the place a marvel to look at, but the food is quite delicious.
You may enjoy two hours with a set, all-you-can-eat menu that will be ready for you at the table, with more on the way.
Our group had the Purple Afternoon Tea Course. The set includes a list of delectables a page long: a parfait filled with grapes and cassis, a cassis mont blanc éclair, a blueberry macaron, a fresh strawberry tart filled with custard cream, a chocolate mousse, a chocolate bonbon, roast beef and cheddar cheese paninis, a shrimp and broccoli tartare, sweet potato potage and grilled chicken.
Drinks include an assortment of teas including Earl Grey, Darjeeling, peach, vanilla and hot or iced coffee. The total cost of the course is 4,300 yen or $32.12. 
The café also offers a Purple Afternoon Tea Course with a special dinner for 5,700 yen, or $42.57, that includes the above items plus a seasonal fruit salad, soup, cabbage rolls and a basil cream gnocchi with tomato sauce.
I wouldn't regularly come here but it is a perfect place for a special occasion such as a birthday or anniversary. 
HAUTE COUTURE CAFÉ
Location: 1-16-9 Aobadai Meguro-ku Sakura Garden East 2nd Floor
Directions: Eight-minute walk from Naka-meguro Station
Hours: Open daily, 11 a.m. to 13:30 p.m. for lunch, and 4 p.m. to 6:30 p.m. for dinner
Prices: Courses cost from 4,300 to 5,700 yen
Dress: Casual
Information: Online: hautecouturecafe.com
---
---
---
---