Floral café in Tokyo suburb delights with fresh fare and flowers
By
For Stars and Stripes
June 16, 2022
---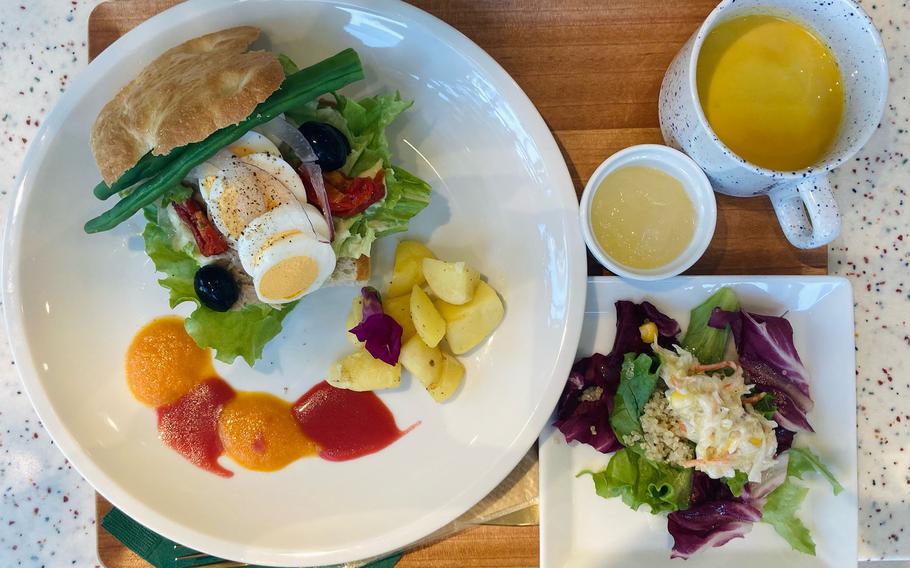 Nestled by Tachikawa Station inside the Green Spring eating complex is a flowery, mystic garden oasis offering food for meat-eaters, vegetarians and vegans alike.
Flowers Bake & Ice Cream is a café about a 20-minute train ride from Fussa Station, a half-mile from Yokota Air Base in western Tokyo. The café specializes in healthy, "healing" ingredients, and its menu consists mainly of sandwiches, salads, doughnuts and fun, unique drinks.
The dining environment is full of whimsy, with flowers everywhere you look. Indoor seating accommodates around 20 people with room for 10 more outdoors.
Sold separately at the store are fresh and dried flowers, teas and Green Spoon-brand soups that are sold in pint-sized cups perfect for taking home to heat up. The cafe also sells vegan meat alternatives from the brand Next Meats.
The menu is partially in English, with the dish titles in English and the descriptions in Japanese. All food items have pictures on the menu, and items that use plant-based meat are labeled as vegan or Next Meat.
The portions are nearly perfect in size, neither the typically large American food sizes nor the petite Japanese portions.
In the sandwich set, the sandwich was a typically large American portion, but the side dishes tended toward a Japanese size. The side dishes were a half-mug of gazpacho (cold soup), a small salad and for dessert came two tablespoons of jelly in a ramekin. The dessert option changes frequently, but in late May it wasn't clear whether the lemon jelly contained gelatin, which is neither vegan nor vegetarian friendly.
The only vegan doughnut, which costs about $2, was unfrosted, about the size of one or two donut holes, and tasted exactly like banana bread.
Aside from being perfectly portioned, the menu is also creative. The vegetarian sandwiches at Flower Bake & Ice Cream include salad niçoise, peanuts and banana, and brie cheese and apple. The salads and the acai bowl appear to be vegetarian, but I wasn't clear that the egg mimosa salad contains meat.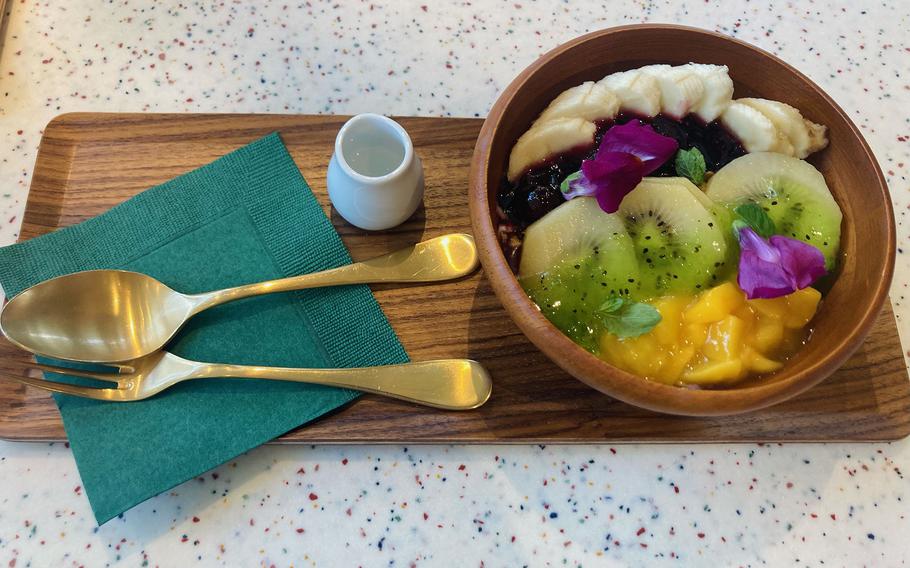 The vegan items the café offers are the spicy Korean roll, vegan banana doughnut, carrot and apple ice cream and vanilla or chocolate almond milk shakes.
Flower Bake & Ice Cream sells a few items that use meat, such as the shrimp and ratatouille sandwich. Many dishes contain eggs, and the menu isn't clear on whether the sandwiches in the afternoon tea set contain meat.
The café sells beer and "bottle cocktail" and will soon offer two more alcoholic cocktails called Berry Berry Sparkling and 7up Flowers Lemonade. They currently sell two floats (coffee and cream soda) and offer many different teas, lemonades, juices and coffees.
The café offers two unique opportunities to customers that most cafés do not have: workshops that focus on flower arrangements, and their afternoon tea set.
The afternoon tea that costs 2,900 yen, or $22, includes seven sweets, various savory snacks, two small sandwiches, two teapots with six options of teas to choose from and some flowers to take home.
No workshops are currently available, but the website states they will be "coming soon." Prices vary based on the workshop and are not currently listed on the website.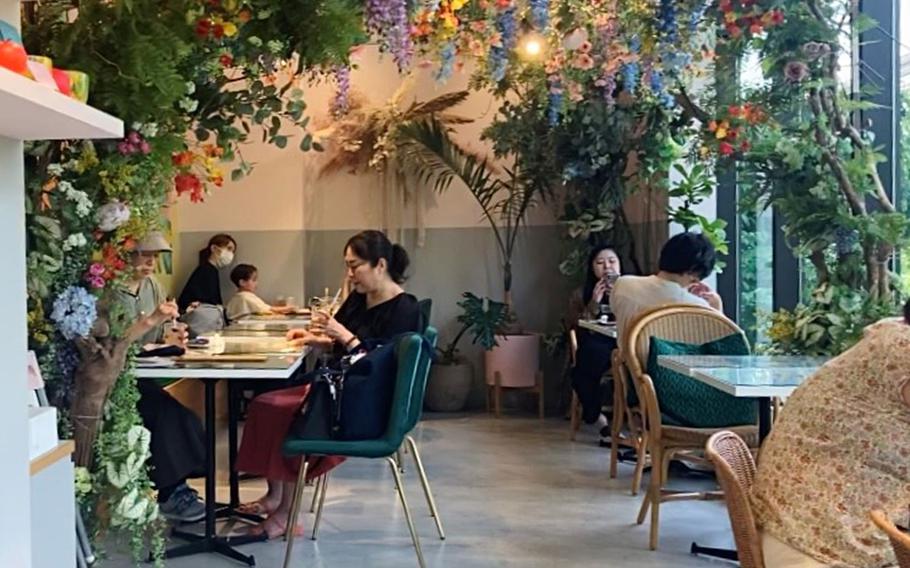 Flowers Bake & Ice cream
Location: 201 E-1 Green Springs, Midoricho 3-1, Tachikawa, Tokyo 190-0014
Directions: A five-minute walk from the north exit of Tachikawa station.
Hours: Open 10 a.m. to 7 p.m. daily
Prices: A drink costs about is about $5, an average meal is about $10 and desserts are about $4.  Credit cards are accepted.
Dress: Casual
---
---
---
---