Rediscovering the charms, uses of Japanese mint
By
The Japan News-Yomiuri
April 21, 2022
---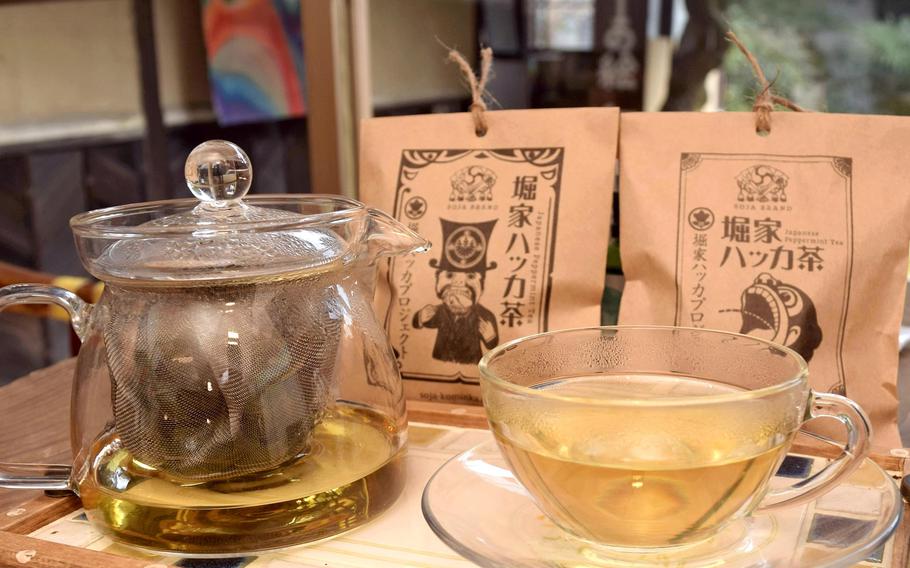 Wa-hakka Japanese mint is gaining popularity as a food ingredient and as a fragrant spray for face masks and clothes.
In Soja, Okayama Prefecture, the invigorating scent of tea made from Japanese mint wafts through the air of a local store. The Soja area is thought to have played a leading role in the cultivation of Japanese mint, which began in earnest during the Edo period (1603-1867).
"The scent makes you feel refreshed," said Yukiko Kanamaru, a representative of the Horike Hakka Project. "I can also recommend spraying it onto your face mask."
Kanamaru started the project in 2016 to promote Soja as the fountainhead of Japanese mint cultivation. After obtaining Japanese mint seedlings from local residents and an agricultural high school, she grew them in the garden of an old house. The plant is used to make mint tea and is used in dishes at local cafes.
"I want people to know about the connection between Soja and Japanese mint and feel energized by its fragrance," Kanamaru said.
Japanese mint contains more menthol than peppermint or spearmint and has a fresher aroma. In ancient times, it was used to treat stomach ailments. Today, it is often found in bath salts, confectionery - such as candy and gum - and other products.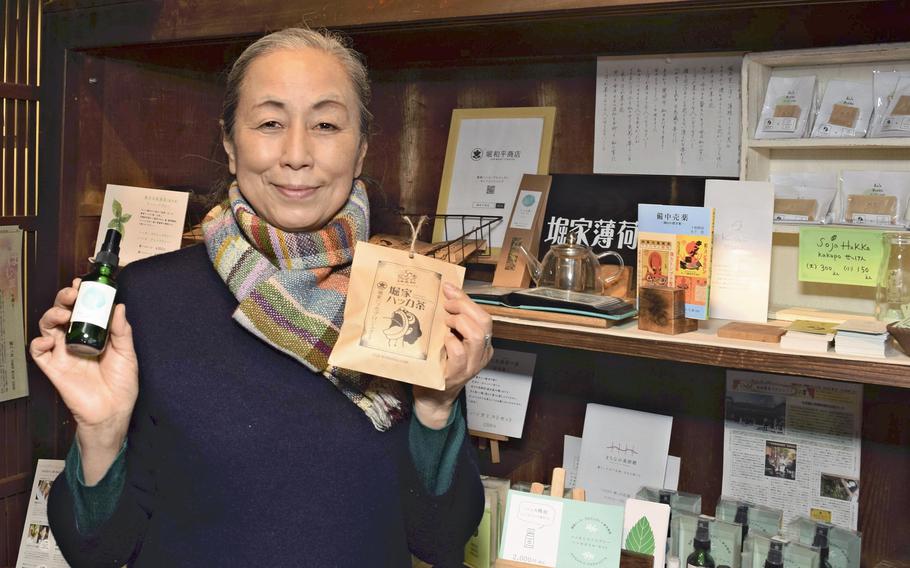 Mint, which is a type of herb, is believed to have been brought to Japan from China. Its cultivation spread to such prefectures as Okayama, Hiroshima, Niigata and Hokkaido. In 1938, 70% of the world's mint oil was produced in Kitami, Hokkaido. However, domestic production went into decline with the emergence of less-expensive foreign products and synthetic goods following the end of World War II.
In recent years, the cultivation of Japanese mint has been touted as a way to revitalize communities in former mint-production regions.
"The scent of mint is familiar in Japan as a poultice material," said Takanobu Toki, who researches Soja's local history. "It's becoming more popular now, likely because it's easy to grow and has gained acceptance as an aromatic plant among young people."
In the Takadama area of Tendo, Yamagata Prefecture, mint has been cultivated in community halls and planted along sidewalks since 2017. Every year, as a part of the school curriculum, local elementary school students learn about the region's mint-related history and make school lunch recipes that include the plant.
Takinoue in Hokkaido produces 95% of the nation's Japanese mint for commercial use. Here, a group of local producers formed the Wa-Hakka Labo (Japanese mint lab), which promotes "the best mint in Japan" through such activities as Japanese mint production, mint oil manufacturing and developing products such as mist spray.
Kitami Hakka Tsusho, a manufacturer of mint products in Kitami - once a major mint-production base - collaborates with the Kitami Institute of Technology to expand the cultivation of Japanese mint and the production of mint oil. Last summer, the company sold chocolate mint mochi at convenience stores.
There have also been efforts to protect scenic landscapes by planting Japanese mint on abandoned farmland. Moss Yamagata, a manufacturer and retailer of greening materials in Yamagata, grows the herb on five abandoned plots in the city that total about 2,000 square meters.
Masayuki Yamamoto, president of Moss Yamagata, said: "Cultivating Japanese mint can lead to the utilization of farmland and the conservation of satochi-satoyama [areas such as fields, rice paddies and forests near populated areas, which are prized for their environmental and ecological value]."
---
---
---
---