Route 16 diner specializes in all-American meals at Yokota Air Base, Japan
By
Stars and Stripes
January 27, 2022
---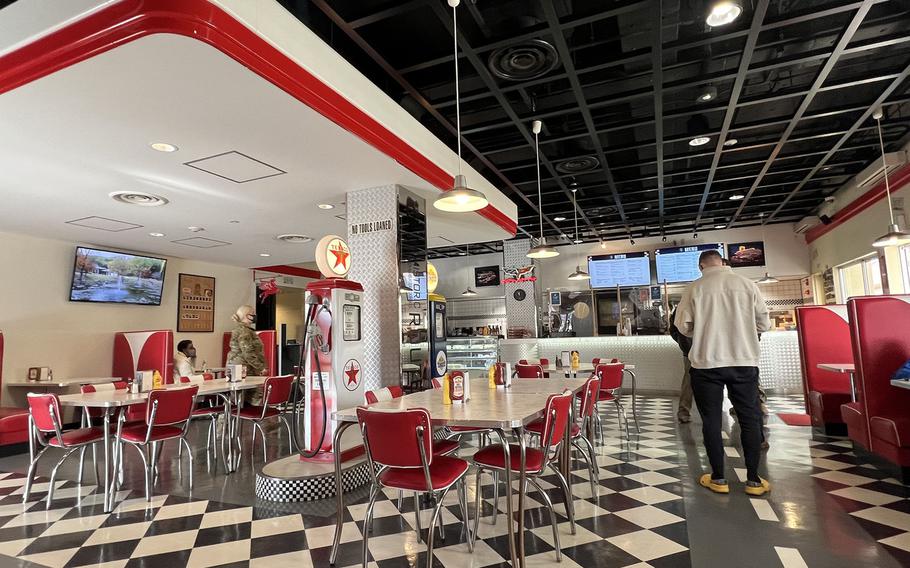 Do you love an All-American hamburger and a milkshake? Are you interested in 1950s diners and food?
If the answer is yes, the Route 16 diner at Yokota Air Base in western Tokyo is the place for you.
Tucked away beside the Officer's Club, Route 16 is a 1950s-style eatery serving American classics like burgers, Philly cheesesteaks and pulled pork sandwiches, and malts and shakes.
Staff Sgt. Samuel Burns of American Forces Network Tokyo, a native of Cedar Rapids, Iowa, has been dining at Route 16 since 2017, he said at the diner recently. His affinity for 1950s diners drew him to the restaurant.
"Growing up, I have always been a fan of the '50s-style diners," he said. "I love the '50s theme, so the diner style is one of my favorites. As much as the food, the atmosphere is another reason I like to come here."
The eatery has a classic 1950s car coming out of an outside wall and the Route 16 name on a classic route-symbol road sign. The décor is period classic with square, black-and-white tiles beneath shiny red-and-white booths and tables. Faux retro '50s-style gas pumps complement the theme.
Route 16 serves breakfast from 7 a.m. to noon Saturdays and Sundays. The menu includes pancakes with syrup, butter and whipped cream for $4.50. Add two eggs and home fries to make it a combo for $7.50. Also, the diner serves chicken and waffles for $9, or a Southern favorite, biscuits and homemade gravy, for $6.50.
The lunch menu is humongous, with a variety of meals for hungry customers to choose from.
It includes an assortment of burgers with a side of either regular fries, chili cheese fries, curly fries, onion rings, mac and cheese, steamed vegetables or a side salad for $10.
Ten dollars will also buy an order of chicken wings. A Philly cheesesteak is $8.50, and a pulled pork sandwich is $7.50. A milk shake is $4, and an extra $1 makes it a malted.
A menu for kids 12 and younger has a choice of chicken nuggets, mini corndogs, hot dog, grilled cheese or a burger for $5.
This vegetarian ordered a three-cheese melt, a blend of American, Swiss and pepper jack cheese on toast; a side of onion rings and a chocolate malted milkshake for $10.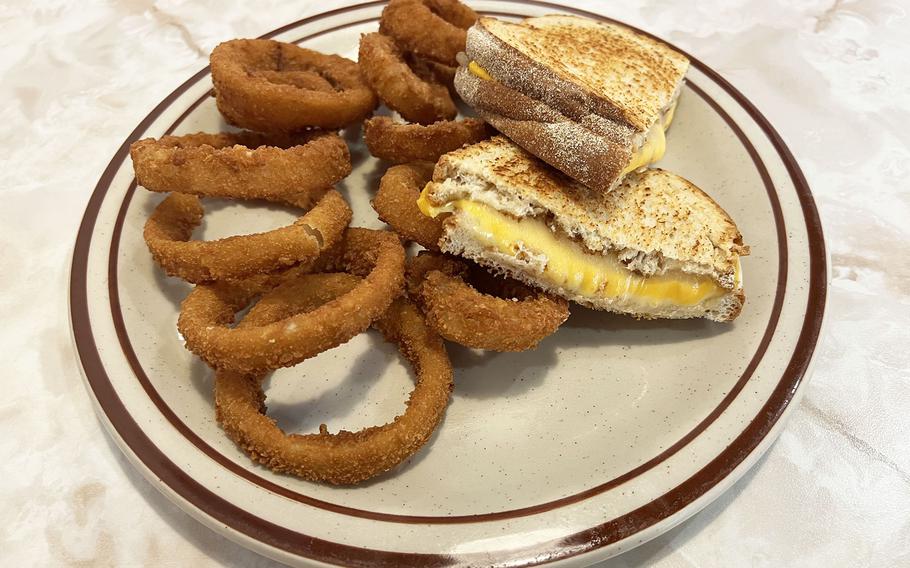 The sandwich was tasty; the perfectly melted cheese blended nicely between the slightly crunchy bread. The onion rings had the perfect American-style fried breading.
But the most enjoyable part of the meal was the delicious chocolate malted milkshake. The malt added a nutty toasted rich flavor, topped with whipped cream.
Burns ordered the pulled pork sandwich.
"It has always been a favorite of mine as a kid," he said. "I can't think of anywhere else – anywhere nearby, at least – where I can get a pulled pork sandwich. So, that is something I really appreciate getting here."
Route 16 encourages social distancing and payment by debit or credit card. Masks are required on Yokota except while eating.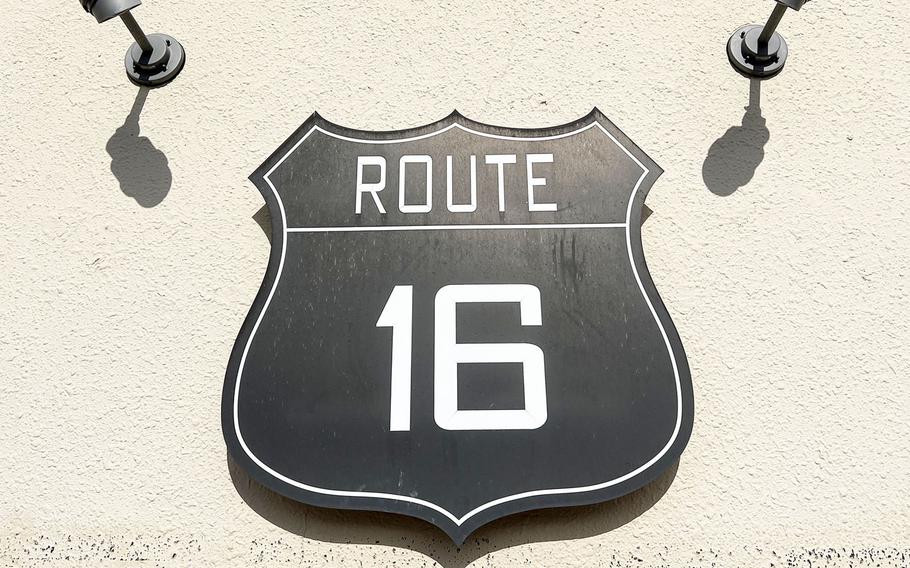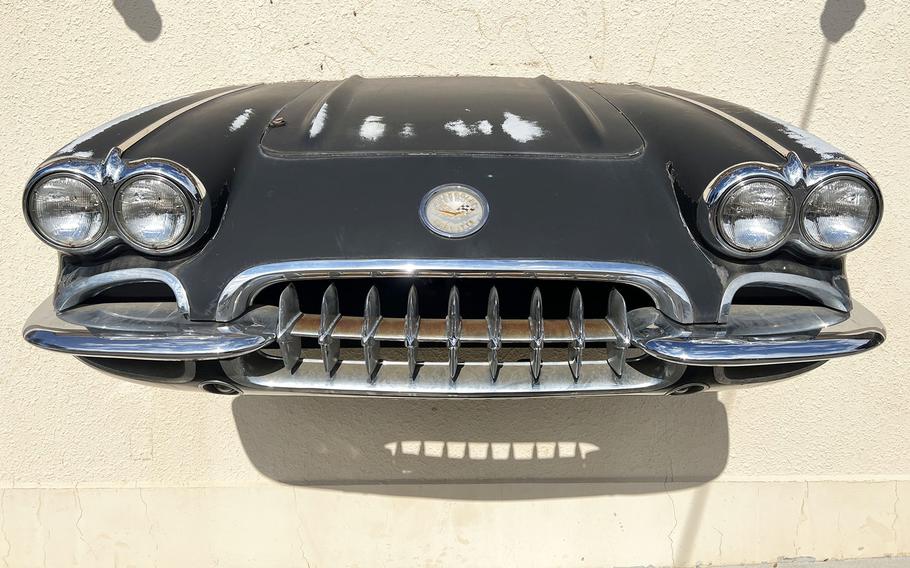 ROUTE 16
Location: Building 35 on Yokota Air Base, Japan
Directions: Walking distance from the Kanto Lodge
Hours: 11 a.m. to 8 p.m. Monday to Thursday; 11 a.m. to 10 p.m. Fridays; 7 a.m. to 10 p.m. Saturday; 7 a.m. to 7 p.m. Sundays; closed on holidays.
Prices: $12 buys basic lunch; selections on the kids menu are $5
Information: Online: yokotafss.com/route16
---
---
---
---