Enjoy enormous all-you-can-eat naan for lunch in central Tokyo
by
Kelly Agee
Stars and Stripes
December 23, 2021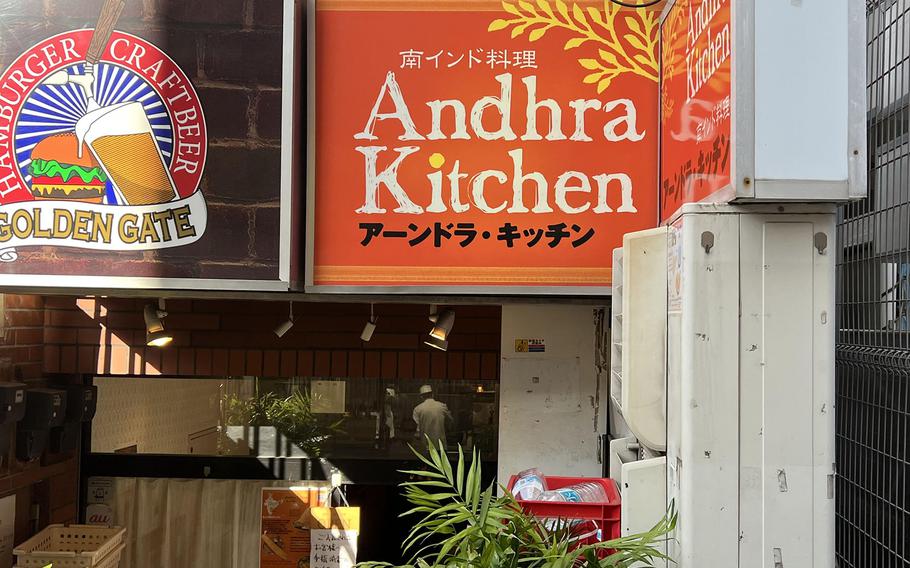 While exploring central Tokyo on a recent afternoon, I got fairly hungry for Indian food.
An internet search found the nearest lunch option at Andhra Kitchen, a quick, three-minute walk from Okachimachi Station, not far from bustling Ueno.
The lunch menu at Andhra is relatively small, with just four sets for customers to choose from. It was easy to order because they do have an English menu.
I am a vegetarian, so I opted for set A, which included vegetarian curries, naan, rice, salad and a lassi all for 880 yen, or about $7.76. The food came out fast, so if you need a quick bite to eat while out and about in the area, this is the place for you.
I enjoyed the giant-sized, all-you-can-eat naan. It was quite soft and boasted a nice, buttery flavor. You can also have as much rice as you want, according to the menu.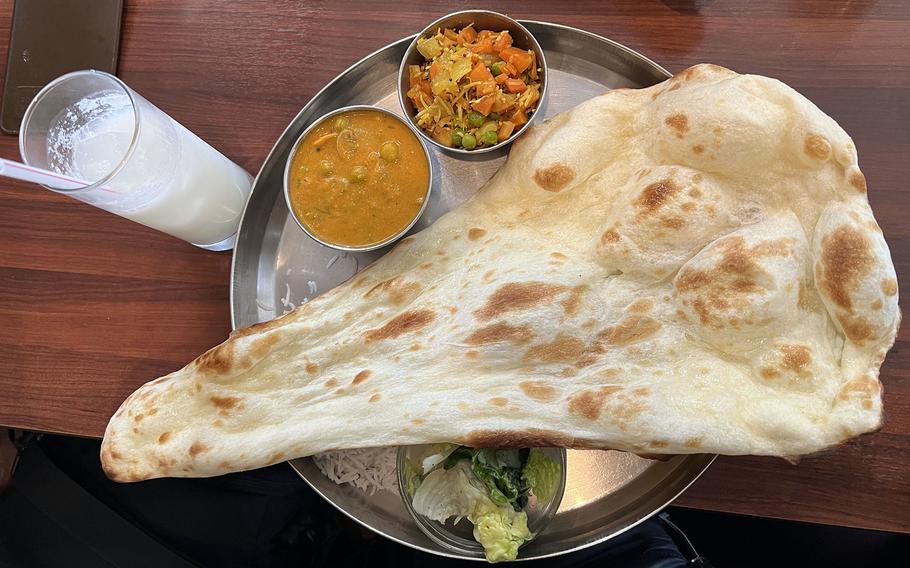 I was surprised by the quality of the curry; being a Texan, I really enjoy spicy food, and to me, it had the right amount of spice and flavor.
I didn't enjoy the white basmati rice, though. I prefer yellow jasmine rice with my Indian food. The salad was small and basic, containing lettuce, carrots and tomatoes.
My companion, an omnivore, ordered the chicken mutton curry with his set. He didn't enjoy the curry, saying it overpowered the flavor of the chicken.
I recommend this place if you want cheap, fast Indian food. But, if you are an Indian enthusiast and are in the mood for authentic dishes, I recommend choosing another location in the area.
ANDHRA KITCHEN
Location: 3-20-2, B1, Ueno, Taito City, Tokyo 110-0005
Directions: About a three-minute walk from Okachimachi Station.
Hours: Open for lunch 11:15 a.m. to 3 p.m. weekdays, and 11:30 a.m. to 3 p.m. weekends. Open daily for dinner, 5 p.m. to 11 p.m.
Prices: Most dishes run between 790 yen and 1,390 yen.
Information: Phone: 03-5818-6564; Online: facebook.com/AndhrakitchenTokyo
---
---
---
---