Krispy Kreme or Mister Donut: Choose your tasty treat for Halloween in Japan
by
Ray Mcintosh
For Stars and Stripes 
October 26, 2021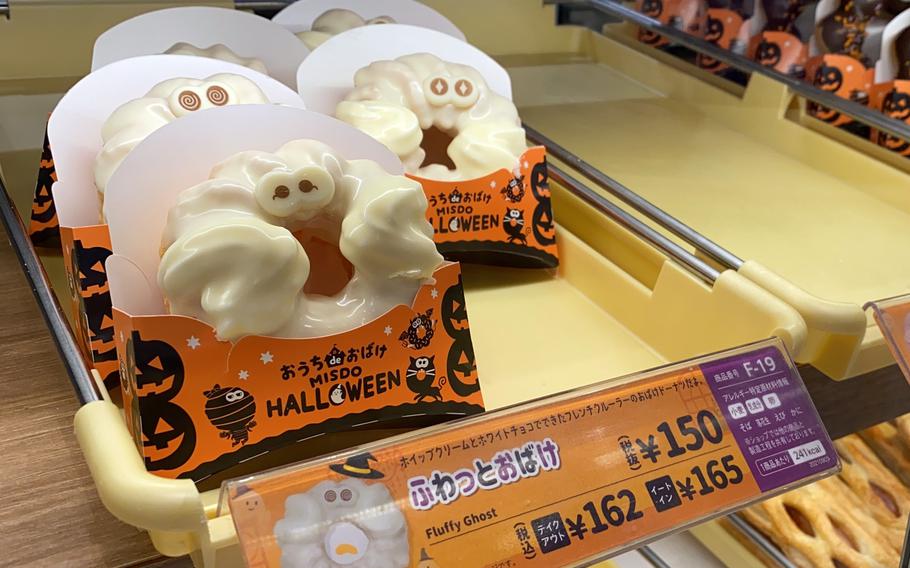 Two prominent doughnut chains in Japan — Mister Donut and Krispy Kreme – are selling autumnal flavors and Halloween designs to get you in the holiday's spirit.
Mister Donut has five uniquely named and flavored Halloween treats: Fluffy Mummy, Pink Frankenstein, Pon de Choco Devil, Makuro Chocolate Cat and Fluffy Ghost.
Fluffy Mummy features a layer of whipped cream sandwiched in a yeast doughnut and a coating of hardened, strawberry-flavored white chocolate. Pink Frankenstein has hard, pink frosting on a chewy fruit stick that resembles a dry fruitcake.
The Pon de Choco Devil is a chewy mochi doughnut covered in chocolate and sprinkles. The Makuro Chocolate Cat is made of a moist cake doughnut sandwiching a layer of whipped cream. It is coated in chocolate with white chocolate "whiskers" and chocolate cat ears.
And the Fluffy Ghost is a French cruller doughnut dipped in buttery white chocolate.
All of Mister Donut's Halloween treats are decorated with eyes of white and milk chocolate. Its sweet potato, or ube, flavored treats are also popular around fall.
Individual Halloween doughnuts cost 150 yen, or about $1.30, while a set of five that includes a haunted house-themed gift box costs 810 yen.
Find more information at www.misterdonut.jp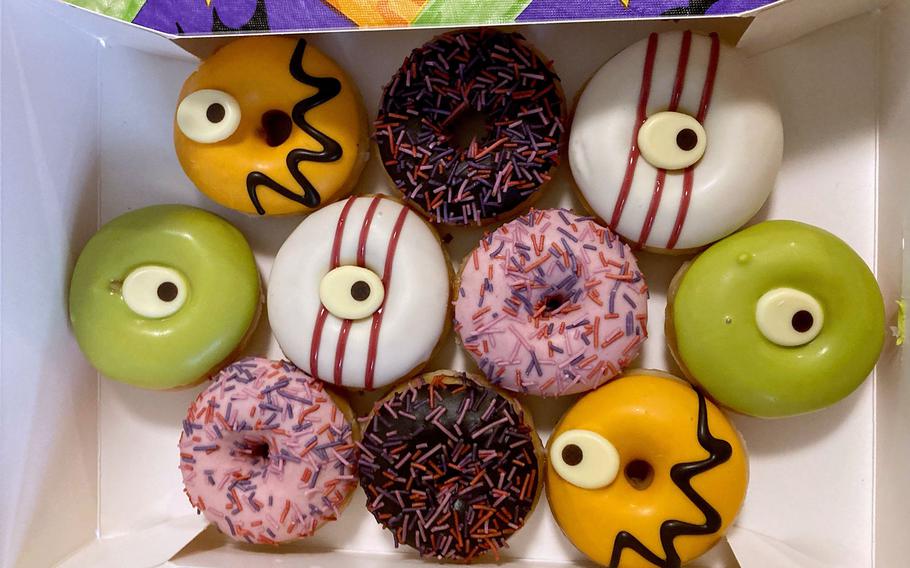 Japan's Krispy Kreme locations offer two sets of Halloween treats: minimonster-themed doughnuts and seasonal full-sized doughnuts.
The three full-sized doughnuts include a jack-o'-lantern pumpkin doughnut with caramel cream that has a taste reminiscent of creme brulee; a spider-themed doughnut filled with Bavarian cream, topped with a brownie batter frosting and a white chocolate spiderweb; and a skull doughnut with a white chocolate and bitter dark chocolate exterior and a strawberry jam filling.
Of the three, the skull doughnut tastes less sweet than a traditional American doughnut.
The "minimonsters" are a pumpkin monster covered in orange-colored white chocolate with a strong vanilla flavor; a green monster, which has green-colored white chocolate and a subtle grape flavor; and a white monster, which has a faint marshmallow flavor and a few lines of raspberry jam piped on top. All three minimonsters have a white- and milk-chocolate eyeball for decoration.
A pack of all three full-sized Halloween doughnuts costs 759 yen. A six pack, which includes two classic glazed and one with chocolate sprinkles, costs 1,254 yen, and a dozen (six Halloween special doughnuts, four classic glazed and two with chocolate sprinkles) will run you 2,200 yen.
Minidoughnuts cost 517 yen for three, 1,441 yen for a packet of 10 and 2,268 yen for 20. Individual full-sized doughnuts cost 237 yen. The minimonster doughnuts are available only in sets.
Krispy Kreme has at least 20 locations in the greater Tokyo metro area, from Chiba to Shibuya and Saitama, including Kanagawa prefecture.
Find more information at krispykreme.jp
For lovers of adventure or of simple variety in their doughnuts, Mister Donut is the way to go. If you yearn to celebrate Halloween with foods that remind you of America, Krispy Kreme may be the better choice.
---
---
---