Try a bold, northern Japanese ramen on its southernmost island
by
Frank Andrews
Stars and Stripes
September 30, 2021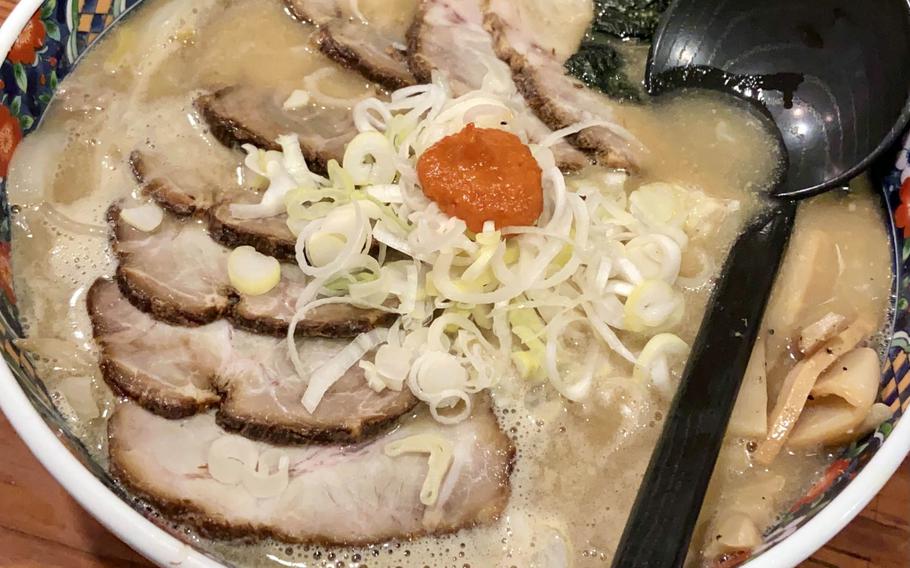 Fresh out of quarantine and eager to experience new Japanese food, I came across an authentic Japanese restaurant on Okinawa with no sign that it accommodated English speakers.
Hayate Maru is a northern-style Japanese ramen restaurant. There are just three employees: two cooks and one waiter. It is hidden within the maze of Colonial America-themed buildings known as American Village in Okinawa's Chatan area.
I walked in and was immediately greeted with hot and cold sensations carrying the fragrances of noodles, vegetable and meat, a breeze courtesy of the air conditioning pushing the aroma from steaming ramen pots blown outward from the kitchen.
An employee quickly ushered me to my seat, one of seven bar-style seats facing the kitchen. The outside patio accommodates three round tops able to seat up to eight people per table. It's a small place.
I sat down to look at the menu while listening to a light but steady soundtrack of kitchen clatter, mixed with Japanese modern pop music. Together it created an ideal background for a private conversation with friends, and to disguise any slurping-up of broth.
I caught the waiter mid-stride, grasping two bowls of piping hot ramen. "Sumimasen," I said, practicing the Japanese word for "excuse me." "What type of ramen restaurant is this, Okinawan?"
"Hokkaido," he answered. "Arigato," I replied.
Hokkaido is Japan's northernmost main island. The cold winters there demand a bold, heartier bowl of soup.
The menu opens to reveal seven customizable ramen soups, two rice bowls and sides including gyoza, kimchi, grilled chicken and mackerel. The menu is written in Japanese but includes entrée photos with English names. It was easy to order. I tried two ramen soups and one rice bowl, consuming one, then ordering the next.
First, I tried the white miso ramen, then the red miso ramen and finished with the roasted pork filet bowl. Each ramen bowl consisted of a blend of ingredients steeped together in a meaty broth crowded with vegetables and noodles.
The white miso ramen for 810 yen (about $7.40) was my favorite of the three. I've never tasted ramen with this flavor of barbecued meat smoke.
The red miso ramen was a typically hearty, satisfying bowl of delicious ramen, at 800 yen.
The waiter described the roasted pork filet bowl, for 330 yen, as a "rice bowl." It had chunks of smoked pork, the staple ramen vegetables and shredded red ginger, topped off with a slightly cooked, runny egg and resting on a bed of white rice. It was also tasty.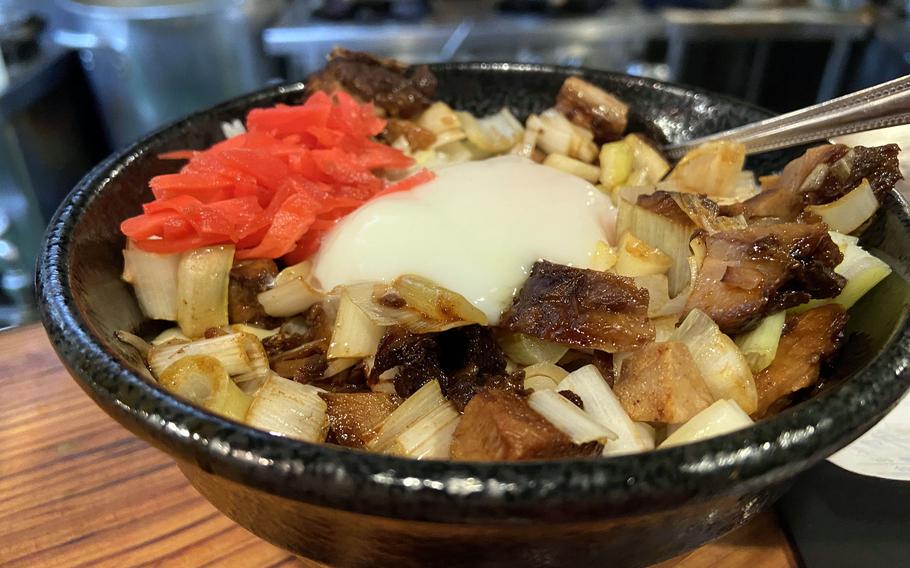 These three entrees each were more than enough to fill up one person.
The staff spoke "chotto Eigo," or little English, but it was easy to order using the menu.
This bold Japanese ramen is for the sodium-starved, hearty meal-seeking type. Well worth it. Priced right.
Hayate Maru offers dine-in and pick-up. To order online or to see the menu completely in English, scan the menu code titled "Multi Language Menu" with your smartphone. It will take you to a third-party site where you can place an order.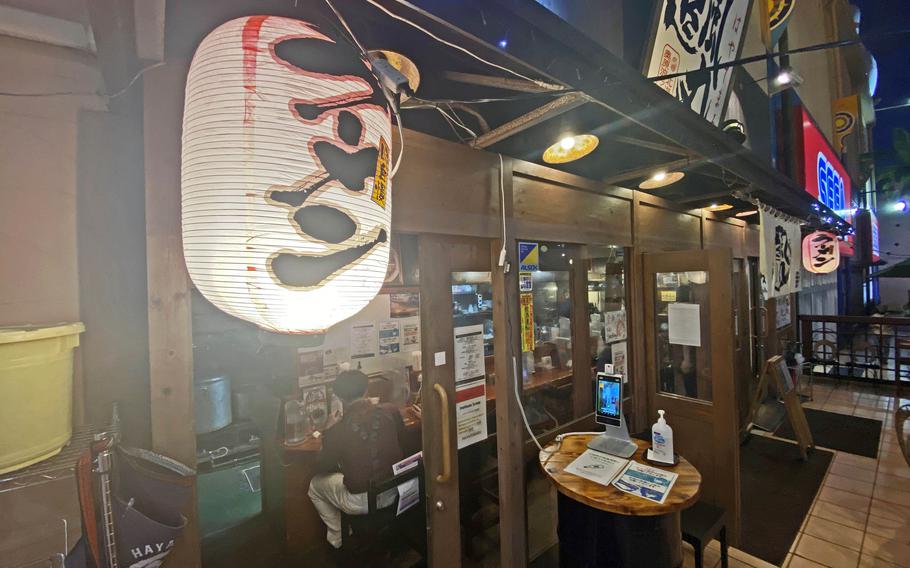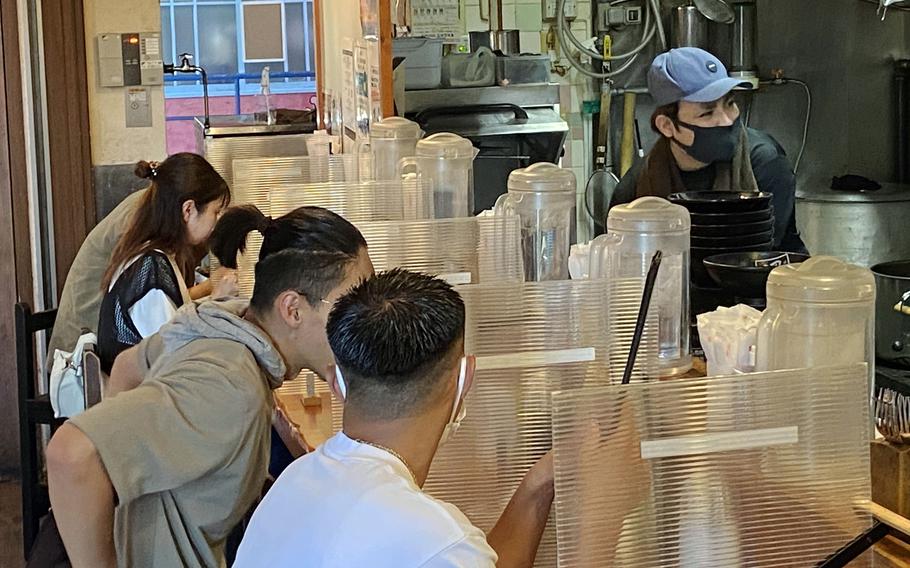 Location: 9-8 Mihama, Chatan, Nakagami District, Okinawa 904-0115
Directions: You'll find this eatery in American Village, on the first floor of Seaside Square.
Hours: Open seven days a week, 11:30 a.m. to midnight, with last orders at 11:45 p.m.
Price: Yen and dollars are accepted, but not credit cards.
Dress: Casual
Information: Phone: 098-926-0027; Online: hayatemaru.com; Instagram: @ramen_hayatemaru