Moose-sized burgers near Mount Fuji attract large, hungry crowds
by
Theron Godbold
Stars and Stripes
September 16, 2021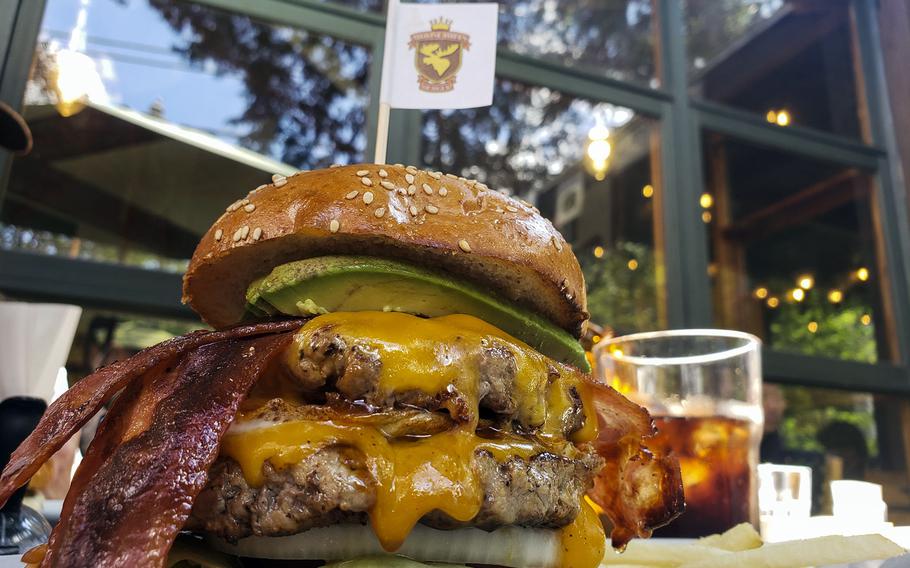 Japan's Yamanashi prefecture is loaded with destinations and activities, from Mount Fuji itself to Fuji-Q Highland amusement park and many other things to see and do.
All that adventure-seeking builds an appetite, and Moose Hills Burger has what you need. The size of these Australian-beef burgers lives up to the restaurant's name.
My group of motorcycle riders left Yokota Air Base at 8 a.m. on a recent morning, bound for Yamanashi and, specifically, lunch at Moose Hills. We arrived after a few hours of spirited riding to find that a line had already formed.
A sea of Harley-Davidson motorcycles, cars and bicycles filled the lot. Parking was free but hectic; an overworked attendant marshaled incoming customers as they jockeyed for a spot.
We were directed to park about a block away and hiked to the entrance.
Moose Hills opens at 11 a.m., about the time we arrived, and was already teeming with people waiting to be seated. I recommend arriving a bit earlier if time is a premium for you.
The restaurant, which has room for about 60 people, was packed, but despite that we waited only about 30 minutes before we were seated and promptly presented with English menus.
As the name implies, burgers are the staple here, but the lineup includes some custom creations like pineapple burgers, guacamole cream cheeseburgers and a chili Mexicana burger.
If you aren't in the mood for a burger, Moose Hills makes fried chicken, hot dogs and other staple sandwiches and sides.
No matter what your budget, you'll find something to snack on, with sides starting at about $4.50 and meals going up to about $20, with fries and a drink included.
I chose the deluxe. A burger about the size of a moose, it's built with two beef patties, two thick slices of bacon, eggs, avocado and cheese. I was not disappointed.
The buns were fresh and lightly toasted; the egg was a strange addition, but added a unique flavor to the meal. The bacon was the perfect amount of crispy for a burger, and its smoky, salty flavor was perfectly offset by the avocado.
The best parts of the burger are the patties and the cheese. Unlike other Japanese burger patties I've eaten, these held together under the strain of being devoured. The meat had a clean flavor that the sharp cheddar complemented perfectly.
We finished up and hit the road again to Yokota, feeling full on a relaxing ride through great mountain scenery.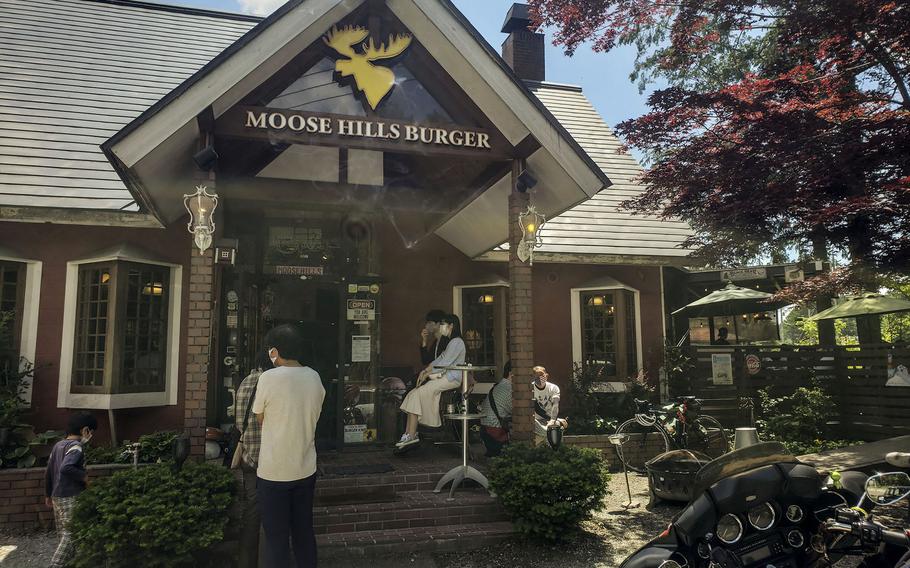 Location: 3290-1 Katsuyama, Fujikawaguchiko, Minamitsuru District, Yamanashi 401-0310
Directions: Exit the Kawaguchiko IC on the Chuo Expressway and head toward Fujinomiya; Moose Hills is two miles farther on Highway 139 on the left. Google plus code is FPPM+MG Fujikawaguchiko, Yamanashi.
Hours: Open daily, including holidays, 11 a.m. to 8:30 p.m.
Prices: meals average between $7 and $20
Dress: Casual
Information: Phone: 0555-72-6691; Online: moosehills.jp