No mystery here: Sherlock Holmes serves up sizzling hamburger and steak meals in Tokyo
by
Juan King
Stars and Stripes
August 26, 2021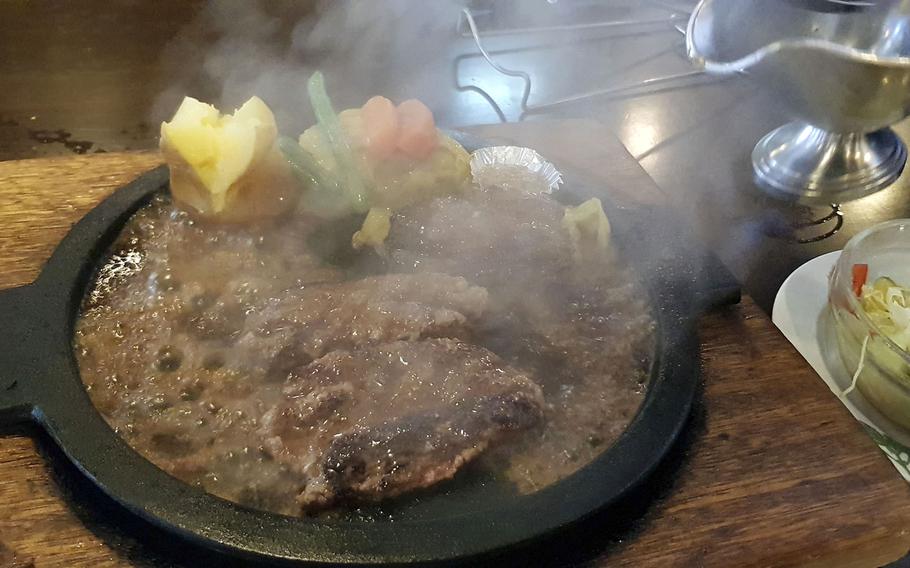 During a recent ride home to Yokota Air Base, I stumbled on a not-so-hidden spot in Tachikawa, the Sherlock Holmes Hamburg and Steak Restaurant, and decided to visit for lunch.
Finding the restaurant is simple – it's only a short drive from the base's east gate. From the street, it does not look very big, but inside I found plenty of seating with 22 tables available. A few more than a handful of customers were inside.
Greeted at the door with "Irasshaimase!," Japanese for "welcome," I was promptly seated and given a menu in Japanese and English. An English-speaking waitress took my order, although I try to challenge myself to use Japanese while out in town. It is a work in progress.
From the main dishes to the drinks, the Sherlock Holmes menu has a good selection. I ordered the charcoal-grilled hamburger-and-lamb set with vegetables and a baked potato for 2,080 yen, about $19.
I opted for the smaller, 100-gram (about 3½ ounces) portion of meat. The 170-gram portion (nearly 6 ounces) costs 2,280 yen, about $21. Grilled pork sausage or chicken are also options. With my set was salad and corn soup as an appetizer, a choice of rice or bread, a drink and dessert.
From the first bite, I knew I would visit again. The salad, topped with a ginger dressing, was a good start to the meal. The corn soup, cooled for the summertime, was a little different for me since I have only eaten it hot. It was still a good addition.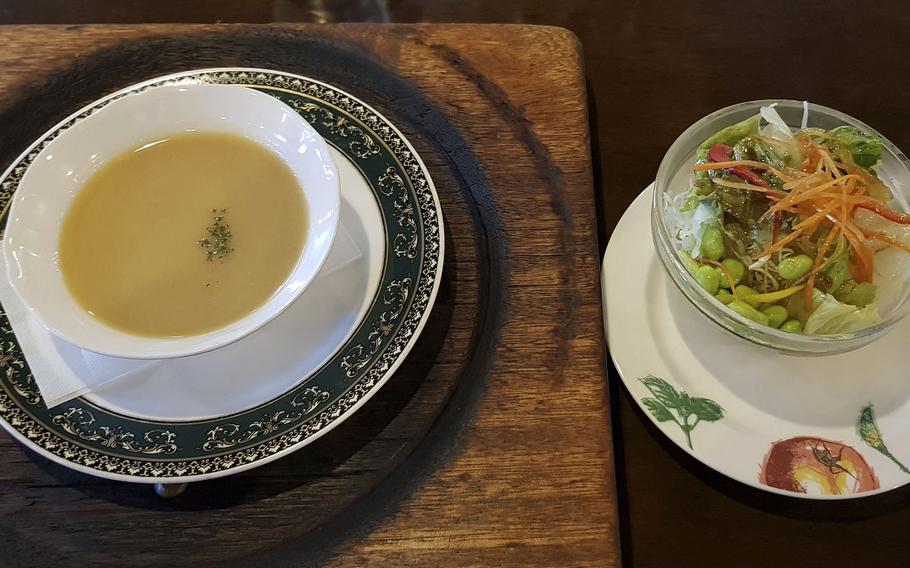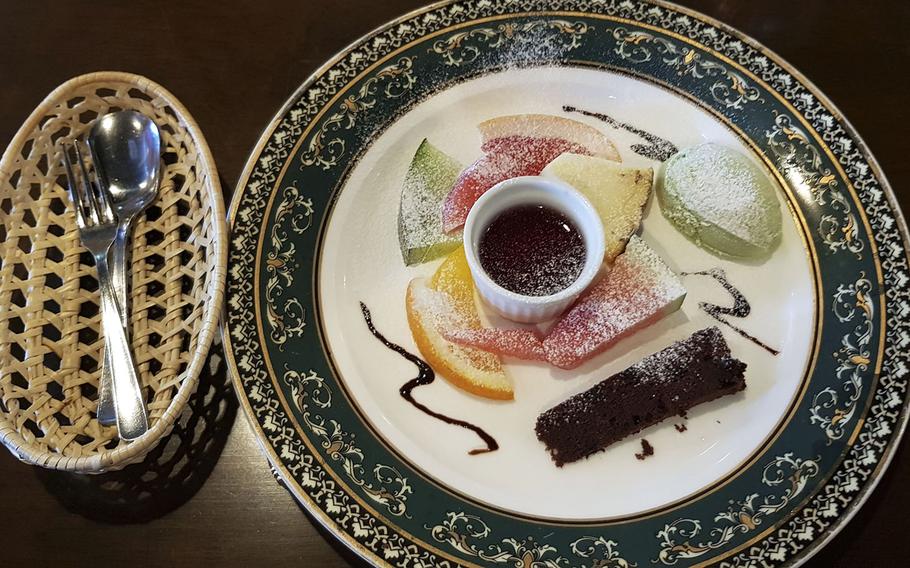 After a short wait, the main dish arrived, steaming and sizzling on a hot skillet plate. The waitress placed it carefully on the table and asked if I would like it cooked more. I did, so she sliced and grilled the meat a bit more while adding my selection of ginger-soy sauce to dress it up. Other sauces, like garlic brown, pepper and tomato are on the menu.
Both the hamburger and the lamb were extremely tender and well-seasoned, but not too salty. I savored every bite. The side dishes, including a plate of perfectly cooked rice, enhanced the meal.
After finishing my entrée, I received an artistically decorated plate of dessert suitable for the summer heat. Several slices of cool, fresh fruit, a wedge of chocolate cake and a small dish of Japanese fruit jelly arrived with a scoop of green tea ice cream that melted in my mouth and capped off a delicious meal.
The portions I received there were more than enough for lunchtime. I left satisfied and even purchased bento meals to go. Yes, they do have a takeout menu. Children are also welcome.
Location: 2 Chome-6 2-1 Tachikawa, Nishisunacho, Tokyo, 190-0034
Directions: A short drive from Yokota Air Base's east gate. Google Plus Code: P9J7+3P Tachikawa, Tokyo.
Hours: Open 11:30 a.m. to 2 p.m. weekdays for lunch; 5:30 p.m. to 9 p.m. for dinner; open 11:30 a.m. to 9 p.m. Saturday and Sunday. Takeout available.
Prices: Lunch menu ranges from 1,500 yen to about 2,300 yen. Dinner can range to more than 3,500 yen on select sets.
Dress: Casual
Information: 042-531-7856
king.juan@stripes.com