Ramen Square, a Tachikawa landmark, hits the spot
by
Juan King
Stars and Stripes
August 12, 2021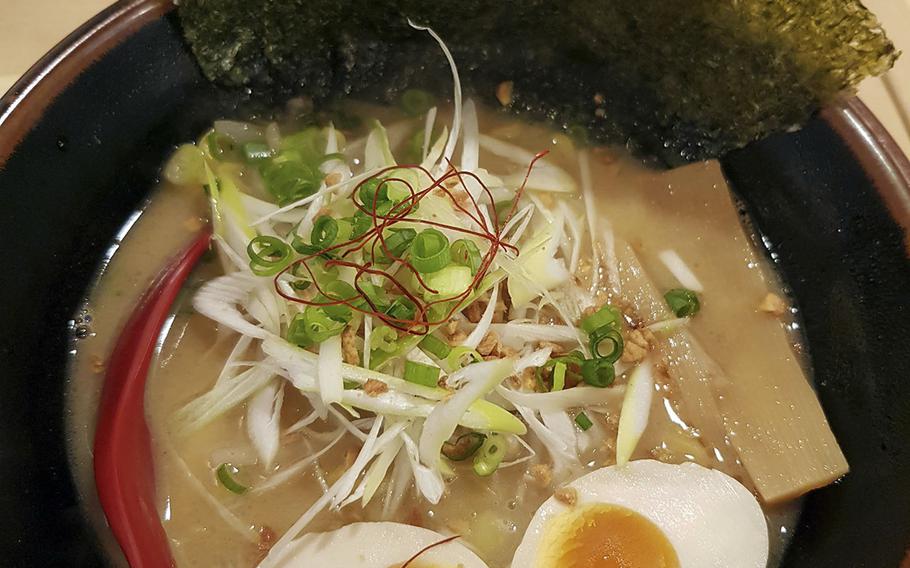 Ramen Square in Tachikawa, a half-hour drive from Yokota Air Base in western Tokyo, is a popular place to enjoy a superbly delicious bowl of ramen at one of seven clustered ramen shops.
The aroma alone will draw you in, and the stylized city-square layout lends an urban atmosphere with a little New York flair.
Of the seven shops, I chose Hokkaido Miso Asayo, which had just opened in April and advertised Hokkaido-style ramen.
I used the vending machine conveniently located outside the restaurant and hesitantly selected a ramen dish on display as there was no menu in English.
I chose something that was close to my plant-based diet, the special Hokkaido miso ramen. I was glad to get help from a Japanese customer who relayed my message to the waiter to please remove the pork. Although for anyone with pork allergies, most ramen soup bases may still include it.
It cost me 1,180 yen, about $11.80, for a portion that was basically the right size to satisfy me but not get me too full.
Most ramen shops in Japan are very small, but this one had a decent amount of space with about eight tables and counter seating.
The side dishes could have been better. The chahan, or Japanese fried rice, was a little undercooked and the gyoza lacked the crispy outside texture that I prefer. That didn't discourage me, though.
I suspect that a visit to any of the other six shops in Ramen Square would not leave me disappointed. Next time, I'll certainly bring a friend to soak up the atmosphere and the ramen.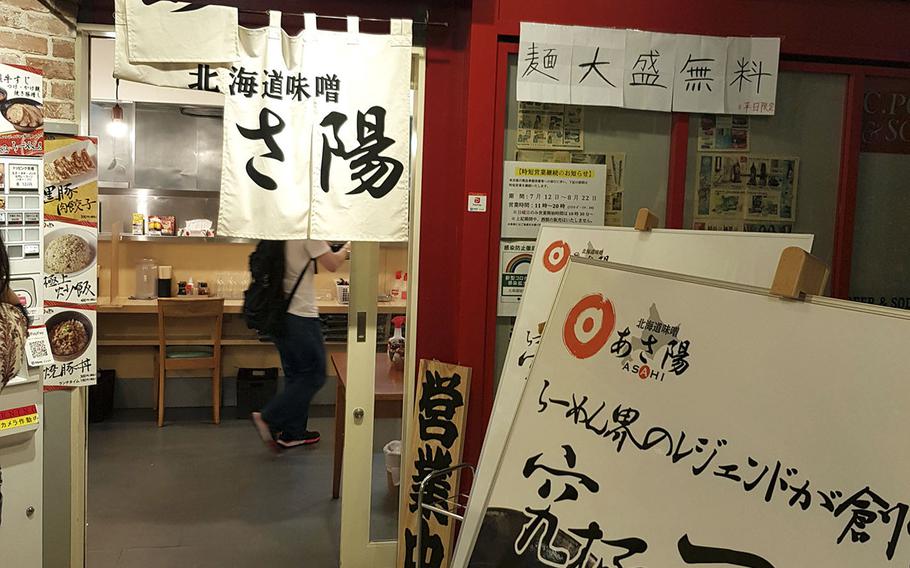 Location: 3-6-29 Shibasakicho Arearea 2, 3F, Tachikawa 190-0023 Tokyo
Hours: 11 a.m. to 11 p.m. Monday-Saturday and 11 a.m.-10 p.m. on Sundays.
Prices: Meals start at around $8.50.
Dress: Casual
Directions: A 30-minute drive from Yokota Air Base, Japan. The Google plus code is MCW7+F6 Tachikawa, Tokyo.
Information: info@ramen-square.com