Discover a South Korean celebrity chef's udon paradise near Camp Humphreys
by
David Choi
Stars and Stripes
August 5, 2021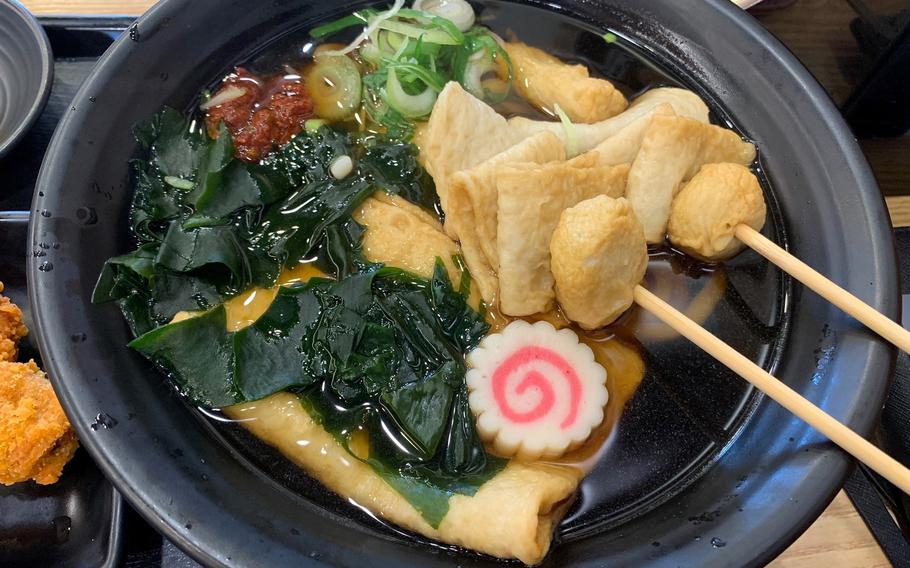 A junior enlisted soldier with a weekend pass should be intimately familiar with how precious time and money are.
Thankfully, there's a restaurant a stone's throw away from Pyeongtaek Station near Camp Humphreys that caters to the budget-conscious troop on a tight schedule.
Yeokjeon Udong 0410 specializes in re-creating the "memory of a warm bowl of udon that we've come to know," according to a description from the franchise CEO and South Korean celebrity chef Baek Jong-won.
The restaurant's menu centers on udon, a thick Japanese-style noodle in a soy-sauce broth, but also includes rice bowls and side dishes that represent the uniqueness of Korean cuisine.
There are several varieties of udon bowls, from old-fashioned to Korean beef bulgogi, that will cater to many tastes.
The soy-sauce broth is much like those served in traditional Japanese restaurants: mild with no sharp notes. If you want to add a little kick to your bowl, you can also opt for the spicy fish cake udon, which includes sticks of fish cakes and a dash of hot pepper paste.
The noodles, arguably the most important ingredient to a bowl of udon, are chewy but firm, accurately representing the consistency of the Japanese-style udon. Even after being placed in a steaming hot broth, this particular udon avoids becoming bloated or swollen quickly — the inevitable death sentence for most inferior noodles.
My spicy fish cake udon came at 5,500 won, or about $4.77, which is an acceptable price in South Korea and a steal compared to similar restaurants back in the United States.
While Yeokjeon Udong 0410 offers several side dishes, the fried spicy chicken drumstick prompted this amateur food critic to question the legitimacy of the chicken-sandwich craze back home.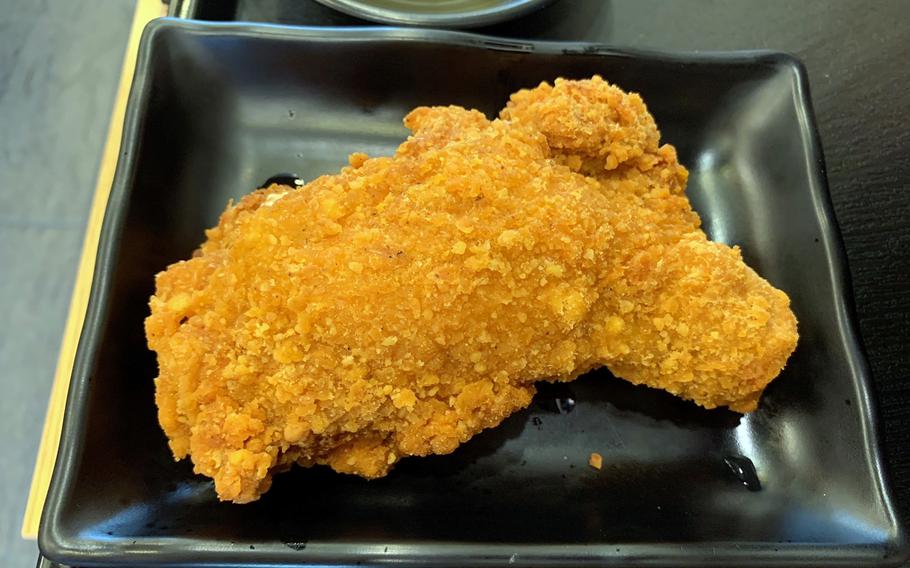 Unlike the fast-food chicken franchises typically found in the U.S., this chicken wasn't dripping with grease or consisting primarily of batter. It was juicy in all the right ways and the batter was flaky enough so that it provided the perfect amount of contrast to the moistness of the meat. However, the price tag for a single drumstick is relatively steep at 2,500 won.
Despite being a franchise owned by a celebrity, Yeokjeon Udong 0410 personifies the "hole in the wall" vibe of a small-town eatery. Sandwiched between a convenience store and a hallway, the nondescript building is easily missed. Just one sign outside advertises its existence, and a coin-operated coffee machine blocks the view of the building.
But therein lies the true purpose of Yeokjeon Udong 0410, according to the franchise owner. The name, which translates to "udon in front of the station," is a homage to Baek's experience eating udon in Japan: a commuter meal meant to be eaten alone or with one other person.
The seating inside also reflects this mood. Patrons can dine in small tables with two chairs, or at the front counter, where they can watch the cooks prepare their meals.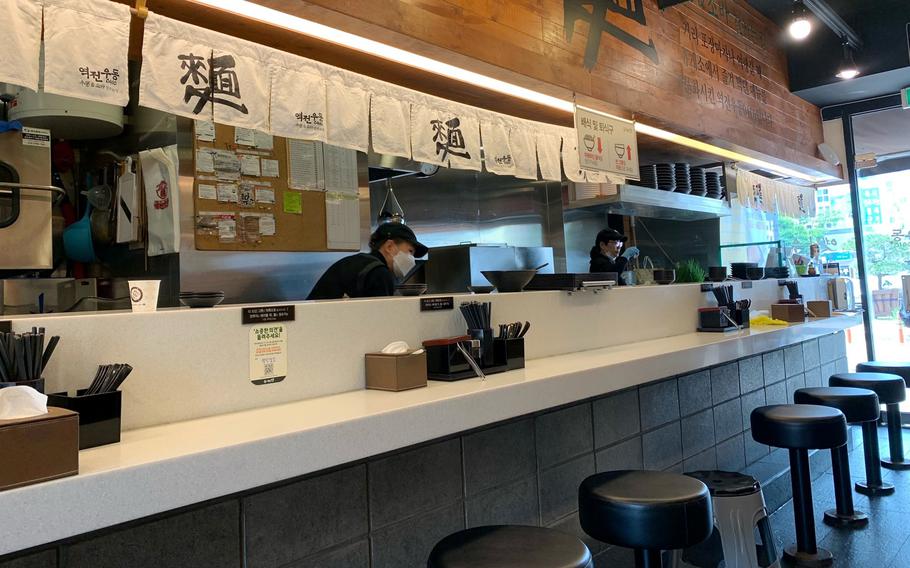 Orders are taken only at the automated ticketing machine, which has several language options, including English. However, the staff, who will yell out order numbers, speak limited English — so be prepared to take your ticket to the counter if you feel like you've been waiting too long.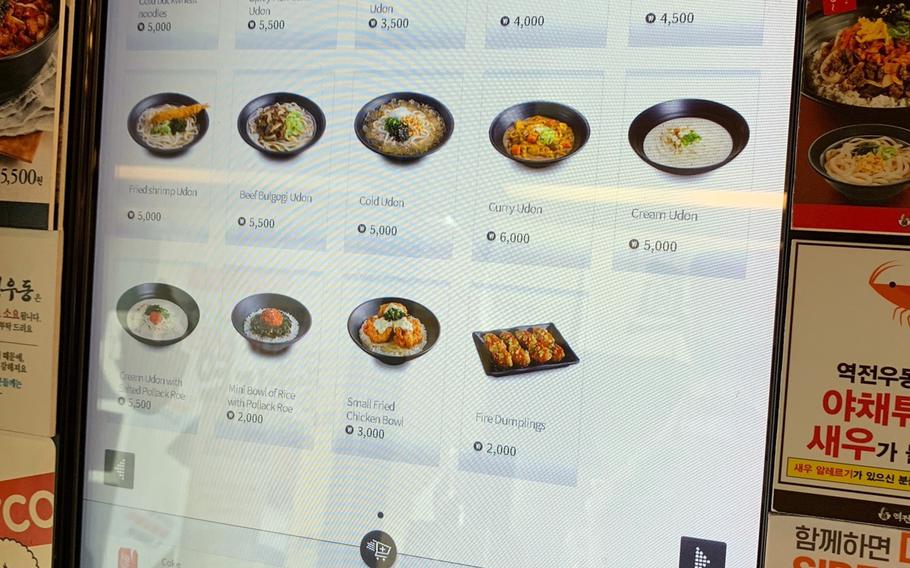 Location: 41 Pyeongtaek-ro, 39 beon-gil, Pyeongtaek-si, Gyeonggi-do
Directions: Across the street from Pyeongtaek Station and AK Plaza
Hours: Open daily, 6:30 a.m. to 11 p.m.
Prices: About 5,000 won for udon bowls and 2,000 won for side dishes. Cash and credit cards are accepted only at the automated machine in front of the store.
Dress: Casual
Information: Online: udon0410.com/udon_history/#tab1